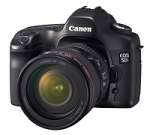 Combining the high-end specifications of the EOS-1 Line and the operational ease of the EOS 20D model, the new Canon EOS 5D digital SLR is a premium digital SLR designed for a wide range of photographers. While a 35mm full-size image sensor is already available on the groundbreaking Canon EOS-1Ds Mark II camera, many photographers have been asking for a DSLR with a full-frame sensor that is smaller, lighter and more affordable

DC Resource reviewed Canon EOS 5D and wrote:
"

Photo quality was excellent as well. The 5D takes well-exposed, colorful images with nearly no noise or purple fringing. Photos are as smooth as butter, as is the case with Canon's D-SLRs. Even at high ISO sensitivities, noise levels are remarkably low. The only downside here is that you need some nice glass attached to the camera in order to get the most out of it. Even with some pretty nice lenses I still saw some blurry edges and corners here and there. I snuck most of my negatives in the previous paragraphs, but here's one more for you. Straight out of the box, the 5D's low light focusing was not great -- you really need an external flash with an AF-assist lamp to get decent results. It's hard not to like the EOS-5D. It offers amazing performance and photo quality and a full-frame sensor in a body that doesn't weigh almost three pounds (like the 1Ds Mk II). If you want a camera that lets your lenses be used as intended (without any crop factors) then it may be worth spending the extra cash on the 5D over the 20D. If all this full-frame isn't too important to you, the 20D will probably satisfy you as well. Whichever one you choose you'll have an excellent digital SLR.

"
Read whole review here
Sample images

Digital Camera Info reviewed Canon EOS 5D and wrote:
"

Following our period of evaluation with the Canon EOS 5D, we can fully confirm that the camera is indeed all it's slated to be. Images produced with the camera's 35.8mm x 23.9mm 12.8 megapixel full frame CMOS sensor were sharp and contained low noise. While the camera is not meant for speed, its 4-channel readout and DIGIC II processor handled volumes of large files with ease – processing 15 RAW images in under 22 seconds. However, the biggest surprise was the effectiveness of the newly implemented Picture Style settings. While it is slightly deceiving at first (since "0's" are not equal to other "0" settings), the amount of control provided by the parameters was enlightening. Colors can be made to accurately reproduce the scene or slightly embellish the look and saturate the tones nicely, adding vibrancy. The design of the camera made it easy to handle and it fit my hands better than any Canon DSLR released to date. Other than a disappointing LCD screen and limited x-sync, the EOS 5D is about all consumers can ask for at a retail price of $3299. Currently, the 5D is truly without competition.

"
Read whole review here
Sample images

Let's go digital reviewed Canon EOS 5D and wrote:
"

To be honest, there is not much to complain about with the EOS 5D. Maybe not every button is in the right spot for everybody, but that is a personal matter. Canon proved with the Canon EOS 5D that digital photography has reached an astonishing high level. And that it has become affordable, although investing in the EOS 5D isn't that cheap. I am bold enough to say that we have reached a turning point now and that the introduction of the Canon EOS 5D is the first step for a new generation of photographers that will have the possibility to go for the full-frame sensor now and enter the professional photography path.

"
Read whole review here

Pocket Lint reviewed Canon EOS 5D and wrote:
"

What we have here is a very highly specified machine indeed, but given its professional bent, there are a couple of surprising omissions. There's no water or dust resistance and there's no sound memo feature. While the latter is a minor omission, the former may be off putting, particularly for any professional that regularly shoots outdoors. However, given the projected pricing of the new camera of around £2540 it is still very temping, we'll just have to wait until the review sample arrives to see just how well it performs in earnest rather than the hands on look we got while at the launch.

"
Read whole review here

EPhotozine reviewed Canon EOS 5D and wrote:
"

If the idea of having a camera with a sensor the same size as 35mm film is just too much for you to resist, at any price, then the Canon EOS 5D is clearly for you. If, on the other hand, other factors such as speed when shooting RAW, being able to shoot wide-angle lenses wide open without dark corners, or value for money appeal to you, then it may be worth thinking long and hard about whether this camera is really for you.

"
Read whole review here

CNET Australia reviewed Canon EOS 5D and wrote:
"

Finally, it's worth noting that mediocre lenses will take a big bite out of the Canon EOS 5D's image-quality advantages. These lenses -- and there are quite a few, including many from Canon itself -- don't deliver enough detail, especially near the edges of the frame, to fully exploit the sensor's resolution. You may also notice problems such as light falloff and chromatic aberration more easily than you did with film. In short, to get your money's worth out of the EOS 5D, you'll need top-notch optics.

"
Read whole review here

Think camera reviewed Canon EOS 5D and wrote:
"

The EOS 5D isn't the ideal camera for everyone and there are some minor compromises as well as some excellent features. It isn't a point and shoot camera by any means and both the body and the price tag are substantial - but it's smaller and better priced than many full-frame sensor cameras. If this is your first foray up the chain of D-SLR's and you don't want to spend too much first time round, the EOS-5D is a good starting point. Performance is neither exceptional nor lacking: for example whilst it doesn't compete with extra-fast models designed for sports photography, you won't find it slowing you down even when you're shooting in RAW. It should be viewed as a very good prosumer camera rather than a professional one - many pros use it but they are generally happier to work within its limitations than spend 3 times as much on a 1DS MkII.




The EOS-5D demands high-quality lenses, but when you use them the image quality is superb. Be sure to factor in the cost of lenses before signing on the dotted line.

"
Read whole review here

Camera Labs reviewed Canon EOS 5D and wrote:
"

When the 5D was first announced it was met with mixed feelings. On the one hand were former 35mm users who rejoiced at the first 'affordable' full-frame body, while on the other were photographers who'd got used to coupling cropped bodies with ultra wide optics and wondered if there was any point.




At first this seemed to significantly reduce the 5D's potential market, especially with a successor to the 20D expected a few short months later. Then the Nikon D200 arrived and proved you could enjoy fractionally lower resolution with tougher build quality and faster continuous shooting, not to mention a popup flash at a considerably lower price. For a short while, the 5D looked like a luxury which only former 35mm owners would covet.

"
Read whole review here
Sample images

Good Gear Guide reviewed Canon EOS 5D and wrote:
"

The 5D is a wonderful camera, but you're paying a high premium for the full-frame sensor. D-SLRs with similar resolution but cropped sensors should arrive later this year at considerably lower prices; indeed, if you don't mind multiplying all your lenses by 1.6, stick with these cropped bodies. However, for wide-angle fanatics who want lenses to act as they would on a 35mm body and enjoy high-resolution, low-noise images, the 5D is a dream come true. It may not be cheap, but it's a relative bargain compared with the only full-frame alternative.

"
Read whole review here

PC Advisor reviewed Canon EOS 5D and wrote:
"

Canon's EOS 5D is the most affordable full-frame D-SLR yet, allowing lenses to be used without affecting their field of view. At £2,539 for the body alone, it's quite a premium to pay even considering the 12.8Mp resolution. But if you curse the cropped view of cheaper D-SLRs, this could be the camera you've been waiting for.

"
Read whole review here

DP Expert reviewed Canon EOS 5D and wrote:
"

Body construction of the 5D is metal and the camera is heavy (810 grams) but well balanced in the hand. All controls are well placed and intuitive in operation for anyone who has used a digital camera. The viewfinder is large and bright with all the necessary exposure information displayed below the image.




Controls are well damped. Focus is quick and accurate. Images are well exposed and clean of noise, even using the 1600 ISO setting. In fact the H setting -- which is 3200 ISO -- produces remarkable photos with much less noise than there is grain in film of the same speed.

"
Read whole review here

Steve's digicams reviewed Canon EOS 5D and wrote:
"

With its 12.8-megapixel full-frame imager, accurate autofocus system, precise metering system and responsive performance, the EOS-5D fills a big gap in Canon's dSLR product line between the 20D and 1DS Mark II. To some users of Canons Digital Rebel/10D/20D dSLR's, the 5D's combination of additional resolution, high-ISO image quality and wide angle-friendly full frame image sensor will be very attractive. But the camera body is only part of the system and, depending on your existing inventory of lenses and computer equipment, an upgrade to the 5D may cost far more than its $3300 MSRP would suggest. To realize the best that the 5D is capable of delivering, you'll need Canon's professional L-series lenses, whose total cost may exceed that of the camera body. In addition, the file sizes of the 5D's 12.8-megapixel images are enormous, requiring additional CF memory capacity and placing even more demands on your digital darkroom; additional RAM and hard disk capacity may be required, and a DVD-RW drive would be recommended for archiving your work.

"
Read whole review here
Sample images



Press release:



Photographers who have yearned for a full-frame digital SLR that won't break the bank—or their backs—just got their wish with the new compact Canon EOS 5D digital SLR, which offers a full-frame CMOS sensor with 12.8 megapixels of resolution, available in October for an estimated selling price of $3,299*. As the world's smallest and lightest** full-frame digital SLR, the EOS 5D model features Canon's proprietary DIGIC II Image Processor, which allows users to shoot up to 3 frames per second and record up to 60 full-resolution JPEGs and 17 RAW images in a single burst. The camera includes a new 9-point AF system with six supplemental AF points for fast and precise focusing and a new 2.5" LCD/TFT screen with 230,000 pixels that's viewable even at extreme angles.



Canon 5D dSLR camera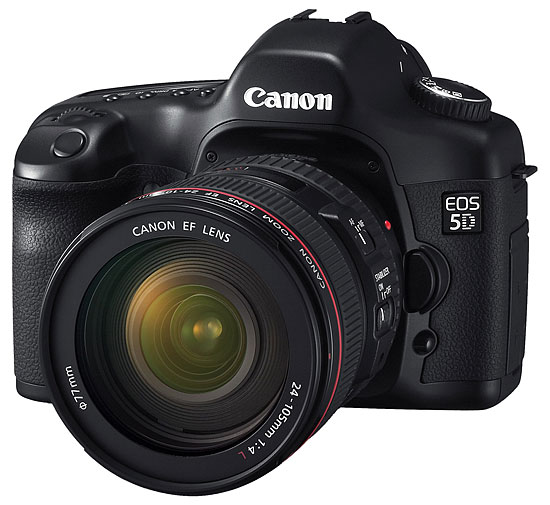 "

The Canon EOS 5D digital SLR is the camera that will make quality-minded 35mm and medium format film shooters switch to digital once and for all,

" said Yukiaki Hashimoto, senior vice president and general manager of the Consumer Imaging Group at Canon U.S.A., Inc., a subsidiary of Canon Inc. "

Wedding and portrait photographers who need facial detail in their group shots require the large file sizes the EOS 5D model can provide. For landscape and nature photographers who want to enjoy the entire range of their wide angle lenses, the EOS 5D DSLR's full-frame sensor is a dream come true. And for those photographers who hesitate at carrying around EOS-1 Series heft, they will love the EOS 5D digital SLR's lightweight feel almost as much as their accountants—or spouses—will love the price.

"



Canon 5D dSLR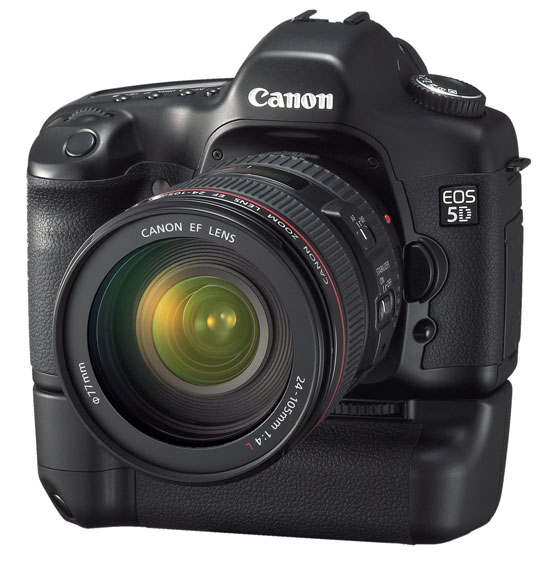 A Premium DSLR with Outstanding Image Quality


Combining the high-end specifications of the EOS-1 Line and the operational ease of the EOS 20D model, the new Canon EOS 5D digital SLR is a premium digital SLR designed for a wide range of photographers. While a 35mm full-size image sensor is already available on the groundbreaking Canon EOS-1Ds Mark II camera, many photographers have been asking for a DSLR with a full-frame sensor that is smaller, lighter and more affordable. Enter the Canon EOS 5D digital SLR. Boasting a 12.8 megapixel, 35mm full-size image sensor in a magnesium alloy body weighing just 28.6 ounces (810 grams), the EOS 5D digital SLR is a petite but powerful imaging machine. Perhaps best of all, the EOS 5D model is a great value at $3,299 for the complete Power Kit with a full software package including the new Digital Photo Professional v2.0.

The heart of the Canon EOS 5D digital SLR is its extraordinary new, Canon-designed and -manufactured CMOS image sensor. At 12.8 megapixels, there is enough resolution for a double-page spread in a magazine, a large print of the bride and groom, facial detail in group shots or a landscape of impressive dimensions. The sensor's 35.8 x 23.9mm size means that each pixel can be a generous 8.2 microns, resulting in exceptionally low shadow noise. The sensor's low power consumption extends battery life and lowers noise. A finer CMOS production process and optimized photodiode construction increase the light-sensitive area of each pixel and improve dynamic range as well.



Canon 5D dSLR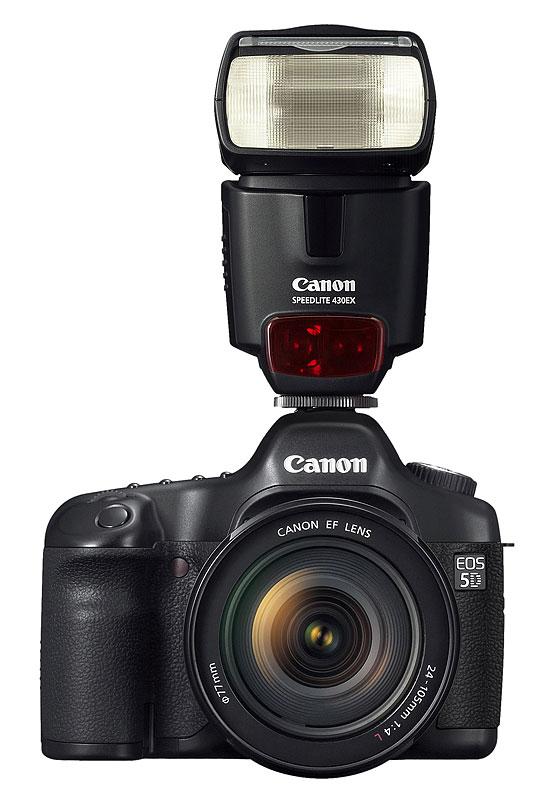 The full-size sensor maximizes the performance of Canon EF lenses, the world's largest selection of autofocus lenses. With the full-size sensor, EF lenses—even wide-angle lenses—have the same look and feel they have with conventional SLR cameras, preserving their optical signatures. Imaging quality in the EOS 5D is enhanced with the addition of the DIGIC II image processor, which provides detailed and natural color reproduction and fast image processing, including an incredible burst performance of 60 Large/Fine JPEGs or 17 RAW images at 3 fps. DIGIC II also enhances start-up time on the EOS 5D DSLR, bringing it down to a lightning fast 0.2 seconds.



Picture Styles for Better Pictures


In the analog era, photographers would select the brand of film that suited their own shooting style or the subject being photographed. In the digital era, they have to rely on the image quality features and settings provided by the camera manufacturer. Some users, though, have experienced confusion about what effects these settings would have on the image. To provide better clarification, a new feature called Picture Styles combines processing parameters and color matrix settings into easy settings designed to obtain the desired effect, almost like choosing a type of film to obtain a specific result.

For users who do not want to bother with post processing, there is the Picture Style called Standard that produces images that look crisp and vivid with the sharpness set to mid-scale and the color tone and saturation set to obtain vivid colors. In the Portrait setting, the color tone and saturation are set to obtain nice skin tones with the sharpness set one step weaker than the Standard setting so the skin and hair look softer. Under the Landscape setting, the color tone and saturation are set to obtain deep blues and greens, the sharpness is set one step stronger than Standard so the outline of mountains, trees, and buildings look crisper. The Neutral setting is the same as the default setting for EOS-1 series cameras where natural color reproduction is obtained and no sharpness is applied. This is the ideal setting for post-processing. The Faithful setting is the same as Digital Photo Professional's Faithful, so when the subject is photographed under a color temperature of 5200K, the color is adjusted colorimetrically to match the subject's color with no sharpness applied. Monochrome is the same as the EOS 20D camera's monochrome setting and with User Defined, the user can create and save their own preferred settings.



Canon 5D dSLR camera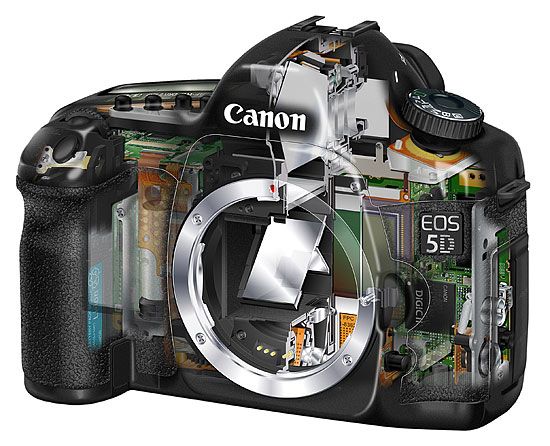 Sophisticated New Autofocus System


The Canon EOS 5D digital SLR has a new nine point AF system with six Supplemental AF points, a new AF algorithm and a new AF circuitry. The new AF system improves subject detection and focusing precision at the center, the most frequently used area, and significantly enhances subject tracking performance.

On the EOS 5D model, the nine AF points are concentrated at the center, but the extreme left and right points are located in the same positions as the corresponding AF points on the EOS-1Ds Mark II. In addition, the six invisible Supplemental AF points, grouped around the center of the image, provide highly accurate focusing and do a great job of tracking the subject in the AI SERVO AF mode. In addition, three AF points on the new EOS 5D model work with f/2.8 or faster lenses for enhanced precision.



Highly Durable New High-Speed Shutter


The EOS 5D digital SLR has a newly developed, high-speed and highly durable shutter unit that was designed to meet the demanding requirements of a full-frame sensor in a relatively compact body. The shutter is a vertical travel, focal plane type with two parallelogram link curtains. Each curtain has four blades, three made from KN Mylar and one from Duralumin, to create a professional-level shutter with a durability rated at 100,000 shots.



Premium Design and Construction


The EOS 5D digital SLR has a solid, substantial and organic feel along with its compact dimensions and relatively light weight. With the top, front and rear covers and battery grip made from light and highly durable magnesium alloy, this new model is truly a premium camera. The EOS 5D model also has an improved grip and mode dial, a modified terminal cap share and clearer rear controls.

The pentaprism has an all-new shape necessitated by the full-frame sensor and all associated components such as the mirror, mirror box and shutter. Thanks to Canon design and manufacturing know-how along with having the low-pass filter integrated with the CMOS cover glass, the EOS 5D digital SLR is unusually streamlined for a camera with a full-frame sensor.

The camera body consists of a stainless steel chassis and a mirror box made of high-strength engineering plastic. Since the grip and front cover are one piece, body rigidity on the EOS 5D DSLR is excellent. The exterior surface is a high-density black satin finish with a leathery touch that feels smooth in the hands. The three grip surfaces are covered with rubber and the electroplated "EOS 5D" badge and recessed and painted Canon logo give a quality appearance to the camera.



High Performance LCD Monitor


The EOS 5D model has a 2.5" polysilicon TFT LCD monitor with approximately 230,000 pixels. At 170 degrees, it has an exceptionally wide viewing angle. In contrast, picture brightness on older LCD screens was often lost if viewed from even a slight angle, so oftentimes image review involved a lot of guesswork. The new LCD on the EOS 5D model, however, maintains the same brightness from almost any viewing angle. Brightness on the monitor is also adjustable in five levels and the screen's backlight feature uses six LED modules, as opposed to three on previous models, to help illuminate the 2.5" LCD evenly. Along with the larger monitor, the menu text is also larger and easier to read. The full-featured INFO screen includes files sizes, RGB histogram and AF frame displays. In addition, Quick Review images are now enlargeable.



New Automatic and Intelligent Noise Reduction Function


Because noise is difficult to see on a camera's LCD monitor, even one as large and detailed as the EOS 5D camera, it is hard to know whether noise reduction should be turned on or not. Thanks to a new automatic noise reduction feature on the EOS 5D DSLR, getting rid of unwanted noise has been made even easier than with previous models. In the C.Fn-02-1 setting, automatic noise reduction occurs when noise is detected for exposures of 1 second or longer, regardless of ISO. In the C.Fn-02.2 setting, full-time noise reduction for exposures of 1 second of longer occurs regardless of whether noise is detected and regardless of ISO. With these two options, photographers using the Canon EOS 5D DSLR can adjust the camera's noise reduction capabilities to suit a particular situation.



Other High-End Features


The EOS 5D DSLR has a bevy of other high-end features including the same ISO range as the 1Ds Mark II—ISO 100-1600 in 1/3-step increments and ISO speed extended at L:50, H:3200. Also included on the camera is ultra-precise white balance with nine types of white balance settings, white balance bracketing (blue-amber and magenta-green, even on RAW and RAW+JPEG shots) and white balance correction. Other features include enhanced 35-zone exposure metering; spot metering in approximately 3.5 percent of the viewfinder area; six selectable JPEG recording modes including RAW and simultaneous RAW+JPEG; a large bright viewfinder with three interchangeable focusing screens; new flexible and convenient folder creation and selection; and more advanced PictBridge functions.