In the dorm room or in the home office, the new Canon Pixma iP4300
Photo Printer offers affordable solutions to photo and document
printing needs. Just in time for the back-to-school season, this
devices break price barriers by offering valuable yet useful features
like individual ink tanks with the smart LED system and advanced paper
handling capabilities.

PCWorld reviewed Canon Pixma iP4300 printer and wrote:
"

Though printed and HTML-based documentation for this printer is generally good, the Easy Setup Instructions poster doesn't always make things easy. It assumes that you know what and where all the parts are (for a detailed explanation, you must consult the HTML-based guide). An illustration of how to adjust the paper size in the tray mounted beneath the printer fails to explain how all the sliders work--and they're tricky.

"
Read whole review here

CNET reviewed Canon Pixma iP4300 printer and wrote:
"

In total, we were able to print 20 A4 high resolution colour photos, 10 B/W A4 photos and over 120 5x7 and 4x6 prints before the printer gave a warning through its flashing LED light that the ink cartridge level were getting low. Even after the ink warning there were still no obvious visual signs of colour degradation in our prints. Those that featured a lot of light causing background gradients were clean and smooth; skin tones were realistic and didn't appear to be either sunburnt, too pale or washed out; and there were no obvious signs of noise in the darker regions of close up photographs. In short, all of our photos were clear and detailed. To sum up, if you are looking for a competitively priced printer that gives you the flexibility of high volume text printouts as well as the photo printing capabilities for your home or office without compromising quality, then the Canon Pixma iP4300 is ideal.

"
Read whole review here

Good Gear Guide reviewed Canon Pixma iP4300 printer and wrote:
"

The Pixma iP4300 has automatic duplexing (allowing for two-sided printing)--a great bonus for a photo printer at this price. It comes with two 150-sheet input trays, one vertical and one flat-mounted underneath. To designate which tray to use, you press a slim button on the front control panel; next to it, a lighted diagram confirms your choice. The supplied output tray can hold 75 pages.

"
Read whole review here

PCMag reviewed Canon Pixma iP4300 printer and wrote:
"

Just as important for photos you want to keep for a long time, Canon claims lifetimes of 100 years for photos kept in an album, 30 years for photos framed behind glass, and 10 years for photos exposed to the air. The photos are also highly water-resistant, which I proved by holding one freshly printed photo under running water while rubbing it. Some of the dye migrated into the white border as it dried, but the photo itself looked fine. As a practical matter, you can safely handle the photos without worrying about ruining them with moist hands.

"
Read whole review here

PC Advisor reviewed Canon Pixma iP4300 printer and wrote:
"

Print quality is extremely good, with bucket loads of crisp detail and bright punchy colours that are both accurate and richly saturated. Flesh tones are adeptly handled and the Pixma manages to capture subtle tonal variations. Our only minor gripe concerns a slight print texture, but this isn't enough to detract from the excellent detail.

"
Read whole review here



Press release:



In the dorm room or in the home office, the new Canon PIXMA iP4300 Photo Printer and PIXMA MP510 Photo All-In-One offers affordable solutions to photo and document printing needs. Just in time for the back-to-school season, both devices break price barriers by offering valuable yet useful features like individual ink tanks with the smart LED system and advanced paper handling capabilities. The PIXMA MP510 model provides consumers with both great photos and the resourcefulness of a multi-function device that copies and scans, for an estimated selling price of $149.991. With the PIXMA iP4300 printer, consumers can create long lasting lab quality photos from an exceptional every-day printer for an estimated selling price of $99.991.

"C

anon gives consumers more options for their photo printing needs, and offers them a choice of great photos from a single-function or a multi-function device,

" said Yukiaki Hashimoto, senior vice president and general manager of the consumer imaging group at Canon U.S.A., Inc. "

Now all generations can explore the versatility of a multi-function device or the speedy simplicity of the single-function home photo printer.

"



The PIXMA MP510 Photo All-In-One: Universal Idea for the University or Home


The MP510 Photo All-In-One copies, scans and makes high quality photo prints without taking up a lot of space. Even the 1.9-inch color LCD display folds down to form a flush surface, exposing a machine that compliments any workspace with its rounded corners and elegant design. Two paper trays are built-in, which increase paper capacity and/or house different types of paper to suit printing needs. Users can also find card slots on the front of the machine for direct photo printing from supported memory cards3, or a PictBridge port for compatible digital cameras or DV camcorders.

When printing, the MP510 Photo All-In-One can yield a borderless 4 x 6 inch photo in as little as 47 seconds4. With a minimum two-picoliter droplet print head design and a resolution maximum of 4800 x 1200 color dpi5, text and documents are crisp and clear, while photos are perfect for framing. The MP510 model, as well as all new PIXMA products, support the new 8 x 10 inch sized Photo Paper Pro (estimated selling price $17.99) and Semi-Gloss (estimated selling price $12.99) specialty papers being introduced by Canon this Fall. The MP510 Photo All-In-One's copy and scan features increase overall productivity. As an example, Canon's Z-lid feature allows for easy scanning of bulkier objects like personal notebooks, by lifting vertically and laying flat, improving overall scan quality.

The PIXMA MP510 Photo AIO employs advanced copy technology to help give the user amazing reproductions of original images and documents. Dual Color Gamut Processing Technology improves color accuracy by independently controlling brightness, hue, and other elements to make sure that there are minimal differences between the original and the copy. In addition, with Text and Image Separation Technology, the system can actually differentiate text from an image, making black text and fine lines dark and sharp when printed with pigment black ink. Now when black text appears over an image, the text on the following generations of copies can be virtually as clear as the first. These technologies plus hardware improvements in scanning and printing can help make a copy almost indistinguishable from the original.



Pixma iP4300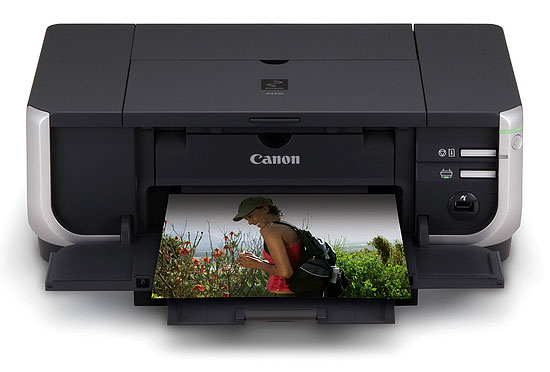 The PIXMA iP4300 Printer: Single Function Simplicity


As a follow-up to Canon's award-winning PIXMA iP4200 model, the new PIXMA iP4300 Photo Printer builds upon that success, delivering ease of use, reliability and overall improvements in design. Canon designed this printer for consumers that want great photos with no compromise on text speed or quality. The printer features four dye-based ink tanks, plus a pigment black ink tank, which deliver sharp text and professional-grade documents, making the iP4300 printer optimal for everyday tasks like printing web pages, text documents, and presentations. With the front panel PictBridge port, consumers can directly connect any PictBridge enabled digital camera or DV camcorder to print beautiful photos with high-intensity vivid colors. The ChromaLife100 system2 helps ensure that the photos will last, while the individual ink tanks also incorporate the Smart LED system to alert the user to low ink levels and to easily troubleshoot issues.

The printer delivers lab quality photos, thanks to a print head that incorporates the Canon FINE (Full-photolithography Inkjet Nozzle Engineering) technology with 3,584 precision nozzles that produce a dazzling 9600 x 2400-color dpi5 maximum resolution, with droplets as small as one picoliter. Resolution this high is a first in a product at this price point in the Canon Lineup. More nozzles mean faster printing. The PIXMA iP4300 Photo Printer blazes through lab quality borderless 4 x 6 inch photos in an astounding 36 seconds4. For printing of important documents, print speeds can reach up to 30ppm for that black and white term paper or up to 24ppm for that full color presentation4. Besides saving time, the printer also saves paper with Auto-Duplexing, which can print on both sides of a sheet of paper.



ChromaLife100 System


These newest PIXMA models use the Canon ChromaLife100 system, including the FINE print head technology for great photo printing. When using select genuine Canon photo papers and inks, prints can resist fading for up to 100 years when stored in an archival quality photo album. The up to 100-year-lifespan rivals that of many traditional film based photos, long considered by consumers to be the benchmark for image permanence. Prints produced on Canon Photo Paper Pro with ChromaLife100-compatible inks have an up to ten-year gas fastness when exposed to open air. Prints created with the ChromaLife100 system, comprised of genuine Canon ink and photo paper like Photo Paper Pro or Photo Paper Plus Glossy, have up to 30-year lightfastness when displayed under glass.



Canon Creative Park


Looking to extend creativity beyond just photos and documents? Consumers can now try Canon's new Creative Park website at www.canon.com/c-park. The site offers free 3-D paper craft projects, scrapbooking templates and embellishments, novel greeting cards, educational materials and the opportunity to learn more about digital photography.