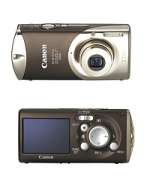 Available in four new colours, the 7.1 Megapixel Digital IXUS i7 zoom incorporates a 2.4x optical zoom and Canon's new DIGIC III processor . In addition to rapid performance and improved image rendering, DIGIC III significantly reduces noise at speeds up to ISO 1600. The processor also brings Canon's Face Detection AF/AE1 system to the Digital IXUS i7 zoom. This new technology automatically detects the faces of up to nine subjects within a frame and intelligently tailors focus and exposure to optimize the result, making it perfect for use at parties and other social situations.

Cameras.co.uk reviewed Canon PowerShot SD40 / IXUS i7 and wrote:
"

The Canon IXUS i7 zoom is very difficult to judge. In my opinion the picture quality does not match up to that produced by other more standard Canon digital cameras. If you would like a camera looks different to all the rest and will draw admiring glances from others then this is one of the very few digital cameras capable of achieving that.

"
Read whole review here

Steve's Digicams reviewed Canon PowerShot SD40 / IXUS i7 and wrote:
"

Bottom line - The Canon PowerShot SD40 Digital ELPH is an awesome pocket-sized digicam. That said, I feel it will make just about any user who wants an ultra-compact model, very happy by offering great image quality, robust performance, ease of use, and let's not forget the stylish and durable body that comes in four different colors. With an MSRP of about US$399, I feel it offers a good value for a model in this category.

"
Read whole review here
Sample images

Imaging resource reviewed Canon PowerShot SD40 / IXUS i7 and wrote:
"

These low-light deficiencies are a shame since in bright outdoor shooting conditions, the Canon SD40 performed well. The biggest plus on this model -- in addition to its fashion-conscious style -- is that it uses Canon's latest image processor, DIGIC III, which sped up overall camera operation while reducing battery drain and virtually eliminating shutter lag when you pre-focus. The SD40's Face Detection technology was also a lot of fun to use and was great for taking group portraits, with the camera able to lock in on up to nine people. The SD40 also had good dynamic range and produced relatively clean images in contrasty shooting situations. On the downside, the camera could have used a larger LCD, especially since many competing models have displays of 2 inches or more. So while Canon SD40 has a lot going for it in terms of looks and speed, image quality issues prevent me from making this a Dave's Pick.

"
Read whole review here
Sample images

CNET reviewed Canon PowerShot SD40 / IXUS i7 and wrote:
"

The i7 zoom's photos were its biggest downfall -- not something to be taken lightly as you can have all the bells and whistle you like, but when it comes to the crunch, that is a digital camera's primary function. Although our images were bright and colours were accurate, the auto white balance leaned a little towards the yellow side, sometimes making subjects look slightly jaundiced. Clarity also didn't fare too well, with noticeable image noise on lower ISO settings and an extremely grainy effect when trying to use the impressive-sounding ISO 1600 sensitivity.

"
Read whole review here

T3.co.uk reviewed Canon PowerShot SD40 / IXUS i7 and wrote:
"

Like male supermodel Derek Zoolander, this semi-chromed, all-metal snapper is really, really good-looking, but simple. Available in a range of four chic colours, it has the bare minimum of confusing buttons, while Face Detection autofocus means beautiful people can be snapped without an excess of thought.

"
Read whole review here

Good Gear Guide reviewed Canon PowerShot SD40 / IXUS i7 and wrote:
"

However the area where the i7 most stands out is its design. As stated before, the slim, boxy shape makes it look more like a mobile phone than a camera. Our test unit came in black with silver etching, but it is also available in blue, red and silver. Measuring 96.1mm x 45.1mm x 23.9mm and weighing about 105g, it is one of the smallest, lightest cameras on the market, and is easily be stored in a pocket or small bag. The largely metal design feels quite sturdy, and we would have no issues with carrying the i7 around for day-to-day use.

"
Read whole review here



Press release:



Available in four new colours, the 7.1 Megapixel Digital IXUS i7 zoom incorporates a 2.4x optical zoom and Canon's new DIGIC III processor . In addition to rapid performance and improved image rendering, DIGIC III significantly reduces noise at speeds up to ISO 1600. The processor also brings Canon's Face Detection AF/AE1 system to the Digital IXUS i7 zoom. This new technology automatically detects the faces of up to nine subjects within a frame and intelligently tailors focus and exposure to optimize the result, making it perfect for use at parties and other social situations.
Digital IXUS i7 zoom will be available from early October



The Digital IXUS i7 zoom features:


* Slim design in four new colours
* 7.1 Megapixels and 2.4x optical zoom
* DIGIC III with Noise Reduction Technology and Face Detection AF/AE
* Extra telephoto reach with Safety Zoom
* 17 shooting modes, including movies
* ISO 1600
* My Colors photo effects
* Camera Station with Wireless Controller for easy charging, direct printing, PC connection and AV out
* Vertical shutter release for portrait orientation shooting



Canon PowerShot SD40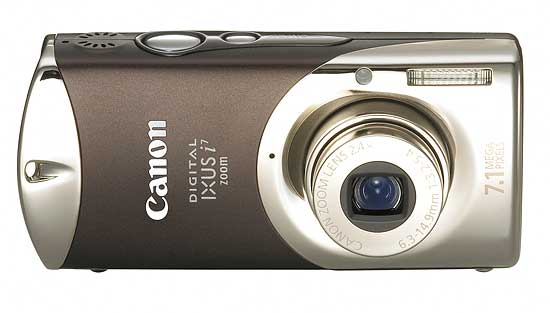 Eye Catching


The ultra compact Digital IXUS i7 zoom (96.1 x 45.1 x 23.9 mm) can be carried comfortably and conveniently in pockets or small bags. With an all-metal body available in four chic colours - Denim Blue, Steel Grey, Sepia and Sizzling Pink – there is an Digital IXUS i7 zoom to suit each user's individual style. A 7.1 Megapixel sensor gives the user great cropping capabilities while capturing enough fine detail to guarantee high quality at large print sizes.



Safety Zoom


Canon's new Safety Zoom has been included in the Digital IXUS i7 zoom, giving users a feature that offers greater telephoto reach and better results when framing distant subjects. By using Safety Zoom, the photographer can expand the possible zoom magnification when shooting smaller size images without worrying about reduced image quality.



DIGIC III with Face Detection AF/AE


Improved responsiveness and colour rendering is driven by Canon's new DIGIC III image processor. The processor also brings increased noise reduction, extending the camera's ISO range to ISO 1600.

Utilising Canon's new hardware-based Face Detection AF/AE technology, the Digital IXUS i7 zoom is ideal for parties and other social events. The system is capable of detecting up to nine faces within a frame and optimising focus and exposure accordingly. In situations where there is strong backlighting, Face Detection AF/AE will automatically use fill-in flash to correctly expose the human subject(s) while maintaining the correct exposure for the background. The camera automatically recognises and reverts back to the 9-point AiAF system when the intended focus of attention is not a face.



Canon PowerShot SD40 / IXUS i7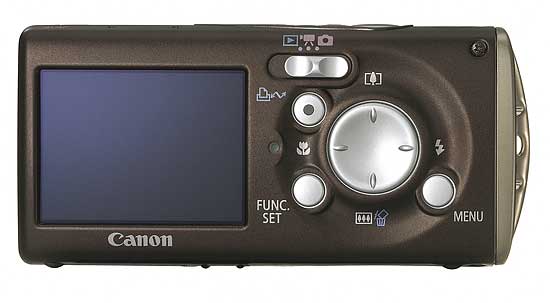 Creative Shooting


Boasting 17 different shooting modes – including Special Scene modes and movie modes – the camera gives the user a wide variety of creative options. A new Aquarium scene mode optimises colours and controls the flash and ISO when photographing underwater life in glass tanks.



Image Management and printing


Image management is made easier by My Category , an addition that automatically assigns each photo with a category – People, Scenery or Event - depending on the shooting mode used and whether Face Detection was activated. These customisable categories are also recognised by Canon's software package, ZoomBrowser EX, which is included for easy PC-based image management.

One-touch direct printing and uploading is made possible with the camera's Print/Share button, which also acts as a vertical shutter release to make portrait shooting easier. Canon's unique Intelligent Orientation Sensor automatically rotates any vertically shot images or movies (VGA at 30fps and QVGA up to 60fps) to the correct orientation for LCD, TV or PC playback.



Camera Station


The Digital IXUS i7 zoom comes with a convenient Camera Station dock that serves as a base for quick and easy printing, PC uploads and battery charging. The dock's Wireless Controller gives the user the ability to control slideshows and movie playback on the TV, straight from the camera's AV Out connection.