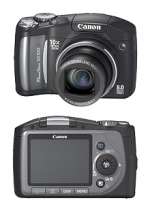 Though simple to operate, the PowerShot SX100 IS digital camera offers photo enthusiasts many creative possibilities, including the ability to shoot VGA movies of the very highest quality. In fact, the PowerShot SX100 IS provides two VGA 30 fps recording modes: Standard mode for maximum image quality, and the new 640 LP mode for maximum recording time and reduced file sizes. In either mode, the PowerShot SX100 IS can capture individual movies up to one hour or 4GB per clip, whichever comes first. Budding filmmakers simply switch to movie mode to capture video more easily than ever before, and then clearly view it on the bright 2.5-inch wide-angle LCD display or through a connected TV set or video monitor. Movie clips can also be uploaded to compatible personal computers for sharing on the World Wide Web.

EPhotozine reviewed Canon Powershot SX100 and wrote:
"

Aesthetically, the camera is pleasing and even the lens sticking out doesn't bother me now. They have made it look very futuristic and, as I said earlier, the only thing that brings it back to the 21st century with a bump is the mode dial which hasn't changed style in years. The introduction of the navigation wheel is something being seen in more and more models and appears to be the way forward.

"
Read whole review here

PopPhoto reviewed Canon Powershot SX100 and wrote:
"

The Canon PowerShot SX100 IS is a cute camera with some powerful functionality hidden beneath an easy-to-use interface. Despite the composite body, it feels good and solid in the hand and it produces very nice images at ISOs 80 and 100. The 10x optically stabilized 36-360mm zoom give a great reach from normal to supertelephoto, and the IS system works to keep the camera steady in both still and video shooting modes. Unfortunately, the low-resolution LCD can be very noisy during capture and medium and high ISO image quality is lacking. The 10x stabilized pocket superzoom category is gaining in popularity, and we're happy to see this. Canon's first jump into this arena brings some interesting features and functions (and lack thereof) into this new category. However, the low-resolution LCD and mid and high ISO image quality are disappointments.

"
Read whole review here

CNET reviewed Canon Powershot SX100 and wrote:
"

What the camera sacrifices in speed, however, it makes up for in photo quality. Perhaps it's just the result of an extra few months of tweaking since the S5 shipped, but the SX100's photo quality, especially at higher ISO sensitivity settings, clearly improves upon its siblings. At ISO 800, for example, there's far less of a mottled look in the SX100's shots, but with no increased loss of detail. The new lens has better distortion characteristics--less distortion and more symmetry--and photos look sharp without looking oversharpened. While there's a bit of magenta, yellow, and purple fringing, it's not nearly as severe in the SX100's photos as those of the S5 (or S3). Plus, the good aspects of those models' images--predominantly excellent exposure and color--highlight the SX100's photos, as well.

"
Read whole review here



Press release:



Canon today introduced a brand new PowerShot line – the SX series – and the first camera in that line-up, the ultra-zoom PowerShot SX100 IS digital camera. The PowerShot SX100 IS digital camera features a 10x optical zoom, an Optical Image Stabilizer (OIS) and an extended grip, making this light and small shooter capable of capturing magnificent images clearly, even at long range.

In addition to its powerful zoom lens, the PowerShot SX100 IS digital camera is loaded with a full complement of performance and convenient features that camera aficionados have come to expect from Canon – 8.0 megapixel resolution for crisp, vibrant images, a DIGIC III image processor for speed, power and performance, Canon's Genuine Face Detection Technology (with Face Selector capability), a large 2.5-inch LCD screen for easy image previews and reviews, and much more.

This technology, coupled with a 10x optical zoom and OIS, enables soccer moms who are perched in the bleachers to have the ability to shoot photos of their superstars playing on the field that will look like photos taken from the sidelines. Alternatively, a parent sitting in the balcony with their sights set on capturing their little ballerina's face as she pirouettes through the air for the first time can easily keep the focus framed on their daughter's moving image throughout the performance. And, since the PowerShot SX100 IS Digital Camera is part of Canon's "A-Team" (powered by AA batteries), it's quick and simple to power up.



Canon PowerShot SX100 IS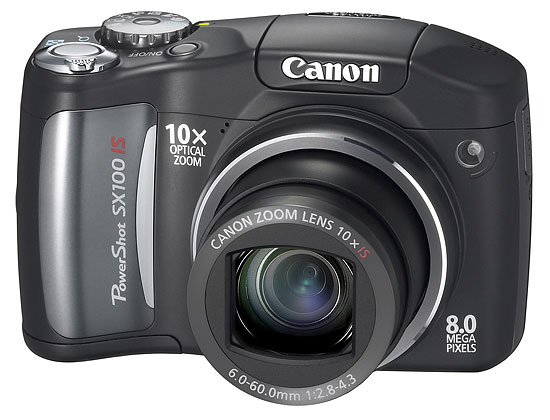 Though simple to operate, the PowerShot SX100 IS digital camera offers photo enthusiasts many creative possibilities, including the ability to shoot VGA movies of the very highest quality. In fact, the PowerShot SX100 IS provides two VGA 30 fps recording modes: Standard mode for maximum image quality, and the new 640 LP mode for maximum recording time and reduced file sizes. In either mode, the PowerShot SX100 IS can capture individual movies up to one hour or 4GB per clip, whichever comes first. Budding filmmakers simply switch to movie mode to capture video more easily than ever before, and then clearly view it on the bright 2.5-inch wide-angle LCD display or through a connected TV set or video monitor. Movie clips can also be uploaded to compatible personal computers for sharing on the World Wide Web.

Additionally, the PowerShot SX100 IS digital camera comes equipped with 19 shooting modes, ranging from fully automatic to fully manual, and easily accessible through an SLR-style mode dial on top of the camera. Shooting modes include Full Auto, Program, Shutter-Priority, Aperture-Priority and Manual, as well as special scene modes including Portrait, Landscape, Night Scene, Sports, and Kids & Pets.



Canon PowerShot SX100 IS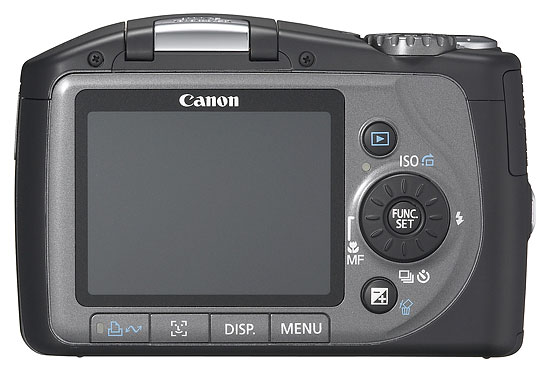 "

We developed the PowerShot SX100 IS digital camera with all the zooming power and creative control a traditional photo-taker could ever want in a compact and value-priced package,

" said Yuichi Ishizuka, senior vice president and general manager, Consumer Imaging Group, Canon U.S.A. "

At a price point of just under $300 with a simple and intuitive user interface, this camera is just as appropriate for beginners as it is for more seasoned enthusiasts with a need to capture quality images from a distance.

"

Setting it apart from competitors, the PowerShot SX100 IS digital camera gives consumers interested in the ease of a point-and-shoot camera many of the technological advancements that are the result of Canon's 70-year heritage as an imaging innovator.



New Canon PowerShot Digital Camera Lines Shared Technological Advancements




DIGIC III


The "brain" of this new PowerShot camera is DIGIC III, the gold standard on all new Canon digital cameras. The DIGIC III image processor accounts for the camera's higher performance levels, including faster start-up, faster autofocus and quicker shutter response times that leave long-lag competitors in the dust. The DIGIC III chip design improves image quality and offers more efficient power consumption, resulting in extended battery life under typical shooting conditions.



ADVANCED FACE DETECTION


With Canon's new Genuine Face Detection technology, the camera can detect, lock-on and track multiple human faces in a scene. The Face Detection algorithm automatically prioritizes and selects faces and not simply the closest object (based on Canon's Intelligent Scene Analysis/iSAPS technology). It will then optimize the focus, exposure and flash to ensure the best possible results. Using Canon's Face Detection, photographers can keep up to nine forward-looking faces in focus at any one time no matter where they are within the image. The PowerShot SX100 IS digital camera also introduces an exclusive new function called Face Select and Track using the convenient Face Selector button. With this feature, when multiple faces are detected, photographers can select any individual face they want the camera to track. This feature is ideal for many shooting situations such as birthday parties or graduation ceremonies, where many people are present, but the photographer is primarily interested in just one of them. Working in concert with Face Detection, the SX100 IS's "Red-Eye Correction" feature helps to detect and correct red-eye during playback mode. Images can be corrected automatically or manually while viewing photos on the LCD screen. All in all, Canon's new Face Detection Technology makes for even easier picture-taking moments, helping users ensure in-focus smiles and accurately exposed faces.



OPTICAL IMAGE STABILIZATION (OIS)


The extended zoom range of the camera makes optical image stabilization (OIS) essential. Canon's lens shift OIS provides an effective antidote to camera shake, particularly at longer zoom focal lengths or during long exposures when even the slightest hand-held shake is magnified to picture-blurring proportions. Superior to electronic image stabilization systems that simply use software to mask movement, OIS actually shifts the lens proportionately to compensate for unwanted motion, making it easier to snap great images. The OIS found in Canon PowerShot digital cameras is based on technology originally developed for Canon's renowned high-end professional EOS SLR cameras.

The steady effectiveness is further enhanced when paired with the new "Auto ISO Shift" feature which, at the touch of a button, can automatically increase the ISO speed setting as required to maintain fast shutter speeds when shooting in low light conditions without a flash.



PRINTING MADE EASY


All Canon PowerShot digital cameras work seamlessly with Canon's compact photo printers to deliver stunning high-quality borderless prints. Consumers simply connect their PowerShot digital camera to a Canon compact photo printer, press the Print/Share button, and moments later a brilliant, borderless 4" x 6" print begins to emerge; it's that simple. Canon's compact photo printers are PictBridge compatible, so they work with PictBridge enabled digital cameras to provide users with excellent image quality and ease-of-use, especially when paired with a Canon digital camera.



HIGH-CAPACITY MEMORY CARD CAPABILITY


As an added convenience, Canon PowerShot digital cameras also accommodate MultiMedia MMC memory cards, as well as standard SD memory cards and the new, high-capacity SDHC memory cards. This way, consumers do not have to carry around multiple memory cards in order to be able to continue to save those special moments during extended vacations or high-photo-taking adventures. Canon PowerShot camera owners can shoot uninterrupted.

The PowerShot SX100 IS digital camera will be available in ever-classic, never goes out of style black or silver colors. In stores beginning in October 2007, the PowerShot SX100 IS camera kit includes two AA Alkaline batteries, a 16MB MMC plus memory card, a USB interface cable, an AV cable, a neck strap, and Canon's software suite at an estimated selling price of $299.99.