DX-D80 underwater housing
Home
news posted on September 21, 2006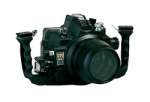 Our new DX-D80 compact housing is aimed squarely at professionals, but is easy enough to use for photographers at any level. It's packed with sophisticated features that include a leak sensor, a shutter lever that detects halfway presses, and an ergonomic grip for a comfortable hold. It accepts an interchangeable pickup viewfinder (optional) for vision correction, and its carefully designed controls make it easy for anyone to use the camera intuitively underwater.
The DX-D80 comes standard with two N-type connectors (one 2-pin and one 5-pin connector). The 2-pin connector is compatible with SEA& SEA YS series strobes. The 5-pin connector accepts the optional TTL converter that enables automatic TTL strobe photography. This housing works with NX ports designed for the NX housing series to provide maximum flexibility for the lenses you choose to shoot.



[Specifications]


- An optional TTL converter enables automatic TTL strobe photography.
- The front section of the body is made of a corrosion-resistant aluminum alloy for maximum rigidity and a solid feel.
- A 0.66x pickup viewfinder displays the full frame of the camera's viewfinder. Accepts an optional interchangeable viewfinder.
- The shutter lever provides instant response to a gentle finger press.
- Ergonomic grips provides a firm and comfortable hold underwater.
- Accepts the full variety of NX lens ports and accessories.
- Controls almost all of the Nikon D80's essential functions underwater.
- The quick shoe makes the camera easy to install and remove from the housing.
- A port lock mechanism secures the port from accidental loosening.
- Comes standard with two kinds of N-type connectors: one 2-pin connector and one 5-pin connector.
- Three locking latches prevent accidental opening.
- A built-in leak sensor alerts immediately you to any water.
- Construction: Front case: corrosion-resistant aluminum alloy; rear case: polycarbonate; grip: corrosion-resistant die-cast aluminum alloy - Depth rating: 60m / 200ft- Dimensions (WxHxD): 350x180x135mm / 14x7.2x5.4inch- Weight: Approx. 2,700g / 94.5oz (Housing only)


[Option]
Customization can offer additional functions.
Replacement of the strobe synchronizing connector. (5-pin→2-pin)

Customizing the housing offers additional functions. You can replace the 5-pin strobe connector on the top of the housing with a 2-pin strobe connector for an additional cost. This modification provides two 2-pin connectors so you can connect two SEA&SEA series-YS strobes.

- This modification does not support automatic TTL flash adjustment.
- It requires the 5-pin Sync Cord/N.

0.8x interchangeable pickup viewfinder

We recommend this viewfinder for near-sighted users and for photographers who want to make sure the focus is clear in the center of the image during macro photography. You can interchange this viewfinder with the standard pickup viewfinder to best suit your needs.

- The reflected image appears in the four corners of the viewfinder.
- The DX-D80 housing comes from the factory with these type-N connectors: one 2-pin connector and one 5-pin connector.
- To use two SEA&SEA Series-YS strobes with the factory-equipped type-N connectors, you must use the 5-pin Dual Sync Cord/N.

Specifications are subject to change without notice.

Digg this story |

del.icio.us |

Furl this story |

Netscape |
Recent news:
KoffeePhoto adds online photo backup service
Pentax DA 17-70mm f/4 AL [IF] SDM lens
Nikon introduces upgraded Capture NX 2 photo editing software
Silicon-Power Releases Its Touch 210/ 212 Series with 16GB capacity
SanDisk Launches Solid-State Drives Aimed at Ultra Low-Cost PCs
Win a free trip to Photokina with Think Tank Photo
RAID in the Size of a Single 2.5" Hard Drive - Sans Digital Compact Flash Enclosures
Silicon-Power Touch 610 flash disk
Nikon's Small World Contest leads the way
Silicon-Power launches the elegant new Ultima 150

All trademarks mentioned are the property of their respective owners.
Copyright 2006 Digital Photo News. All rights reserved.