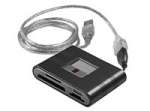 Kingston today announced the new Kingston(R) Media Reader, an external, hi-speed reader designed to support 19 popular types of Flash memory cards, is now shipping. The reader is the perfect solution for moving data between Flash cards and a computer or other device with a USB port as it requires no adapters or power cable.

"

The new media reader handles so many different card types that it's ideal for the consumer or business professional who uses multiple card formats to transfer data, music, photos, videos and other files between mobile phones, cameras, PCs and other devices,

" said Jean Wong, Flash memory product manager, Kingston. "

Its compact size makes it easy to carry while traveling or keeping on the desktop for quick access.

"

With four built-in slots to handle the various card formats, the Kingston Media Reader (Kingston part #: FCR-HS219/1) has a unique retractable chassis that keeps inserted cards safe. It also houses a short, compact USB cable for use on the go with a notebook or other portable device with a USB port. A detachable three-foot extension USB cable is also included for use at home or at the office.

The Kingston Media Reader carries a two-year warranty and an MSRP of $17.00 (U.S. only).



Kingston Card Reader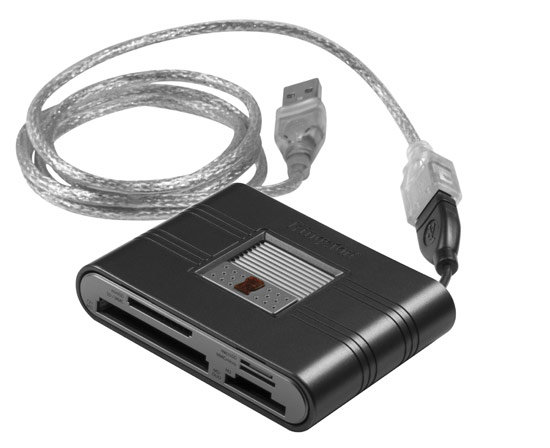 Features/Benefits:



- Slider Chassis: built-in LED indicator and self-contained 3" USB cable (Type A plug)
- Portable: convenient small size; no power cable required
- Extension Cable: includes an additional three-foot USB cable for stationary use
- Versatile: with four slots, supports 19 different Flash card formats: CompactFlash(R) Type I and II, SD(TM), SDHC(TM), miniSD(TM), miniSDHC(TM), microSD(TM), microSDHC(TM), MMC, MMCmobile(TM) (DV RSMMC), MMCplus(TM), MMCmicro(TM), RS-MMC, Microdrive; as well as Memory Stick(R) Micro (M2), Memory Stick(R), Memory Stick(R) PRO, Memory Stick(R) Duo and Memory Stick(R) PRO Duo(1)
- Standardized: complies with USB 2.0 specification standards; backwards compatible with USB 1.1
- Easy: plug-and-play into any USB 2.0 or 1.1 port



Specifications:



- Dimensions: 3.61" x 2.71" x 0.79" (91.72mm x 68.82mm x 20.06mm)
- Speed Rating(2): USB 2.0, up to 480Mbps data transfer speed
- Operating Temperature: 32 degrees to 140 degrees F / 0 degrees to 60 degrees C
- Storage Temperature: -4 degrees to 185 degrees F / -20 degrees to- 85 degrees C
- Weight: 0.1585 lbs (71g)
- Operating System Compatibility: Windows 2000 (SP3 and above), XP (SP1 and above) and Vista(TM); Mac OS (10.x and above)
- Guaranteed: two-year warranty



(1) All brand and product names mentioned herein are for identification purposes only. Memory Stick and Memory Stick PRO Duo are trademarks of Sony Corporation. Kingston is not affiliated with Sony Corporation. Other product names are trademarks or registered trademarks of their respective holders.




(2) Speed may vary due to host and device configuration

.