Konica Minolta introduces two new color lasers
Home
news posted on January 09, 2007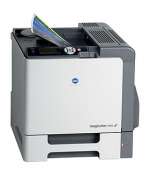 Today Konica Minolta introduced two new high-performance color laser printers: the magicolor 5550 and magicolor 5570. Based on award-winning KONICA MINOLTA single-pass color laser engine technology, these two new models are equipped with the power, quality, and functionality to turn any small business team or large workgroup into an efficient and productive unit. Yet they feature the competitive pricing and ease of use for which Konica Minolta is known.

Power and Performance for High-Volume Printing

Employing the innovative KONICA MINOLTA Emperon printing architecture, an ultrafast processor, 256 MB DDR SDRAM, and a 120,000 print per month duty cycle, these color laser workhorses easily handle all of the printing demands a productive office generates, including high-volume documents, high-quality photographs, and large, graphic-intensive presentations. More than just a controller, Emperon is a combination of hardware and software that drives superior printing performance; unsurpassed compatibility with the most popular printing languages, operating systems, and network environments; industry-leading color quality; and desktop printer management for both general staff and system administrators.

With a first-page-out time of 14 seconds, the magicolor 5550 delivers 27 dazzling color or 31 crisp black & white pages per minute. The magicolor 5570 produces pages at 31 color or 37 black & white pages per minute. Both printers are network-ready, equipped with a Gigabit Ethernet interface for high-speed business networks. They also include Hi-Speed USB 2.0 and parallel interfaces for local printing. The onboard 256 MB DDR SDRAM, which doubles data throughput and consumes less energy than conventional SDRAM, can be upgraded to a maximum of 1024 MB for even more processing power and productivity.

"The magicolor 5500 Series printers are ideal for any large workgroup or department that needs affordable, quick-turn, high-volume printing but at the same time requires professional-quality color printing," commented Stephen Fletcher, President and COO of KONICA MINOLTA PRINTING SOLUTIONS U.S.A., INC. "These workhorse printers give our customers the printing muscle they need--not just to keep up with the printing demands of their office, but to stay ahead of them."

Multi-platform Compatibility

Perfectly suited to today's multi-platform business environments, the magicolor 5550 and 5570 support Windows, Macintosh, or Linux users with PostScript 3 or PCL 6 emulations, allowing the seamless development and printing of color documents from virtually all business applications. Direct PDF, JPEG, and TIFF printing is available with an optional hard disk, compact flash card, or USB flash drive. These printers also feature mixed network support for TCP/IP, EtherTalk, NetWare, NetBEUI, and other common network protocols to ensure easy integration into almost any IT environment.

The magicolor 5500 Series printers offer helpful status and management utilities for both individual staff and IT professionals. Using a web browser and PageScope Web Connection, individual staff can view real-time supply status as well as manage and troubleshoot the printers from virtually any location. Network administrators can count on PageScope Net Care web-based tools for remote installation, management, and configuration of both KONICA MINOLTA and non-KONICA MINOLTA printers. Enterprise Management System Plug-Ins are available for seamless printing from OpenView, NetView, Unicenter, and Microsoft Management Console.

Photorealistic Image Quality and Consistent Color

Using the 9600 x 600 dpi-class Photo ART quality and dynamic contone screening provided by KONICA MINOLTA Emperon controllers, the magicolor 5500 Series printers deliver ultrafine photographic detail, smooth color gradients, and crisp text for striking business and professional documents. Dynamic contone screening optimizes color output by analyzing the elements of a page and then automatically adjusting the color quality settings to provide the best possible printed image. The KONICA MINOLTA smart calibration system--enhanced Automatic Image Density Control (eAIDC)--further enhances prints by automatically calibrating the print engine for optimal color quality. Brilliant, consistent color is ensured on every print of every document every day through long print runs and heavy-volume printing.

Both printers use KONICA MINOLTA Simitri HD (high-definition) toner, the company's signature polymerized toner, enhanced especially to meet the needs of high-volume environments. Simitri HD Polymerized Toner features a new lower-temperature fusing process that results in higher-quality output and lower energy consumption. Combined with the printers' C-shaped media path, this new fusing process also dramatically reduces curl on thicker paper stocks.

"While the magicolor 5550 and 5570 are designed for demanding workloads, we don't sacrifice color quality for performance," added Fletcher. "These two printers deliver quality as well as quantity, so business workgroups no longer have to waste premium time and money outsourcing print jobs. Colorful, high-impact presentations and marketing pieces are always available right on the desktop. It's never been easier to create everything from multi-page business documents to glossy sales and marketing materials to banner prints."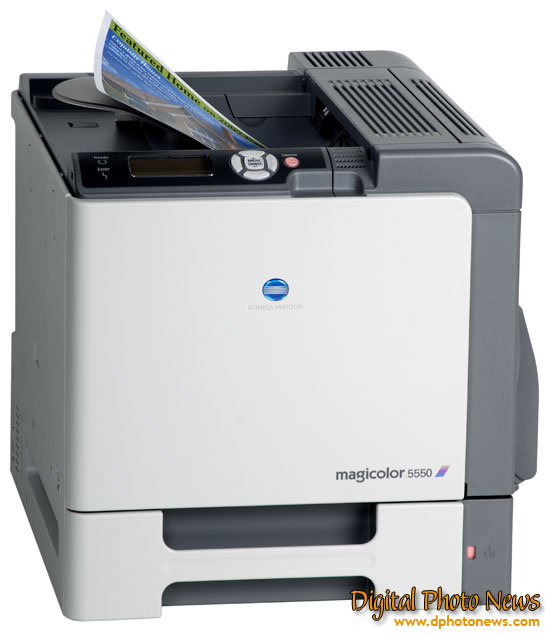 It's also never been easier to ensure that printed materials are up-to-date and cost-effective. When customers keep their printing in house, they retain control over the whole process. On-demand printing means that documents can be changed whenever necessary, so paper is not wasted, outdated information is not distributed, and inventory remains manageable.

Exceptional Media Handling

Effective daily business practices require documents on a wide variety of media types and sizes, and the magicolor 5500 Series printers handle them all. They support not only standard and custom media sizes, from 3.6" x 5.8" to legal (8.5" x 14"), but also banner sizes up to 8.5" x 47.24". In addition, it's as easy to print on thick stock, glossy stock, photo media, transparencies, labels (mailing, CD-ROM, etc.), and envelopes as it is on plain paper. The standard 600-sheet paper input capacity can be increased to a generous 1,600 sheets by adding up to two optional 500-sheet lower input feeders while an optional automatic duplexer provides professional-quality, two-sided printed documents. In addition, an optional two-bin staple finisher provides stapling, job separation, and offset stacking.

Productivity Features

The magicolor 5500 Series printers are true business printers with 120,000 print per month duty cycles. Several standard and optional features enhance their productivity even more. Both camera direct photo printing and USB flash drive direct printing provide a whole new level of convenience, allowing busy staff to print directly from a digital camera or USB flash drive via the USB 1.1 Host Port without the additional need for a computer or software. PictBridge-enabled cameras can be used to print photos on glossy photo stock up to 8.5" x 11", including standard 4" x 6" media. Print commands are delivered through the camera. PDF, TIFF, and JPEG files can be direct-printed from a USB flash drive through the printer control panel. USB flash drive direct printing requires an optional hard disk or compact flash card.

The USB Host Port is conveniently located on the side of the control panel for unparalleled ease of operation. For security, the system administrator can easily lock this port, so that can be used by only approved staff members. An optional hard disk or compact flash card also provides additional storage for fonts, forms, and profiles; electronic collation; job accounting; direct PDF, TIFF, and JPEG printing; and secure printing functions.

User-friendly Design

Despite such an extensive list of features and options, the magicolor 5550 and 5570 are easy to use and desktop friendly. In minutes, these printers are up and running with pre-installed supplies and auto-run software that automatically detects the printer on the network and guides the customer through setup. Comprehensive printer drivers simplify printing with such options as collation, fit-to-page scaling, separation pages, watermarks, tray selection, and secure printing.


Digg this story |

del.icio.us |

Furl this story |

Netscape |