M-ROCK Announces Zion & McKinley EXTREME Backpacks
Home
news posted on March 26, 2008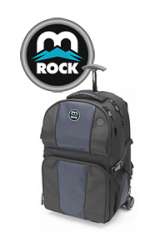 M-ROCK announces the addition of two versatile backpacks, the Zion 523 and the McKinley 524, to its M-ROCK EXTREME line of camera bags, introduced at the PMA Show this week. The Zion 523 has been designed for the outdoors while the McKinley 524 has been designed for the city.
Both backpacks come with a single front access flap and can hold a SLR body with a battery pack and up to an eight inch lens attached. There is also room for four to six additional lenses or photo accessories.
The top section inside the backpacks come with a nylon bag to transport hiking gear, lunch, and other electronic accessories. This bag is remov- able and the backpacks come equipped with spare dividers that can be expanded into the top section to increase the capacity of the camera com- partment.



EXTREME Zion 523

: Outdoor The Zion 523, designed for out- door enjoyment and transporta- tion, comes equipped with a hydration water system, a com- fortable and supportive neo- prene waist belt with compres- sion straps, and a front tri-pod bungee strap carrying system with platform pocket.



Extreme Zion 523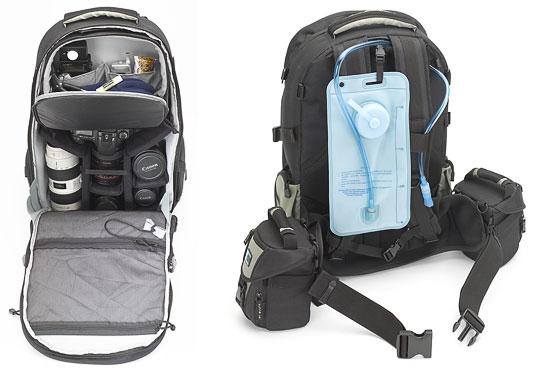 EXTREME McKinley 524

: City The McKinley 524, designed for the city use, features large wheels, a telescope handle, a 17 inch laptop compartment, and a large rear belt loop that can accommodate M-ROCK's Modular Belt.
M-ROCK's three modular lens/camera bags can be attached to the neoprene waste belt on the Zion 523 and to the shoulder straps on both the Zion 523 and McKinley 524.



Extreme McKinley 524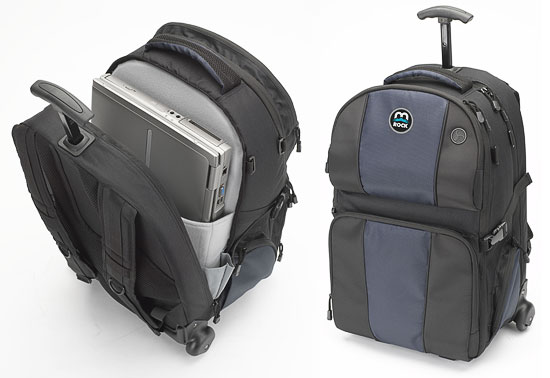 EXTREME Zion and McKinley Backpack Features:


• Two deep front pockets and two soft mesh pockets on interior of flap
• An ultra soft lining with non abrasive interior
• A weather jacket with draw string closure that envelopes around the bag for additional protection against extreme weather conditions
• Soft cloth on a cord for covering the LCD screen on the camera body; may also be used as a lens cloth
• Two shoulder straps on rear of backpacks are designed with a thick mesh padding for extreme comfort
• Security buckles to stop front flap from opening too far
• Snap hook in front pocket for carrying car keys
• Wire port in top front pocket for electronic wires
• Padded and comfortable mesh handle on top
• Structurally strong design with contents protected by tough, water resistant materials, plastic panels and dense closed cell foam
• Lifetime warranty to protect against defects in workmanship and materials with normal use of the bag

The EXTREME line includes 22 unique items including mini point n' shoot digital camera bags, medium digital camera and digital camcorder bags, lens bags, a V-shaped top load holster, square gadget SLR bags, backpacks and sling bags, as well as accessory items such as a modular belt, camera strap, memory card wallet and a padded U shaped lens cradle. M-ROCK EXTREME bags range in price from $10 up to $250 and offer the most EXTREME protection, functionality and durability.
M-ROCK's mission has been to provide all levels of photographers with the ultimate camera bags since 1995. Its new EXTREME line of camera bags is about attention to detail, unsurpassed quality and innovative features, without the hefty price tag that normally accompanies luxury products.

Digg this story |

del.icio.us |

Furl this story |

Netscape |
Recent news:
KoffeePhoto adds online photo backup service
Pentax DA 17-70mm f/4 AL [IF] SDM lens
Nikon introduces upgraded Capture NX 2 photo editing software
Silicon-Power Releases Its Touch 210/ 212 Series with 16GB capacity
SanDisk Launches Solid-State Drives Aimed at Ultra Low-Cost PCs
Win a free trip to Photokina with Think Tank Photo
RAID in the Size of a Single 2.5" Hard Drive - Sans Digital Compact Flash Enclosures
Silicon-Power Touch 610 flash disk
Nikon's Small World Contest leads the way
Silicon-Power launches the elegant new Ultima 150

All trademarks mentioned are the property of their respective owners.
Copyright 2006 Digital Photo News. All rights reserved.