New Innovative Solar Bags From Eclipse Solar Gear
Home
news posted on October 20, 2006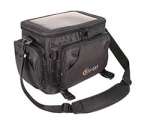 Eclipse Solar Gear is proud to announce a number of new products, accessories, and options for the holiday season. The new 'Nova' Solar Camera Bag is ideal for the avid outdoor photographer using a digital SLR camera. The versatile camera bag is feature rich and includes adjustable dividers, and foam inserts to customize the bag to your needs. It also includes an integrated solar panel providing power to trickle charge your AA batteries or camera batteries while spending time at your favorite outdoor events and locations.

The new 'Nomad' Bicycle Trunk Bag is a first from Eclipse Solar Gear. The bicycle bag features a large main cavity, an upper cavity, side and rear pockets, as well as the solar panel designed to trickle charge your electronic gadgets and batteries during casual rides or long treks out on the trail. The 'Nomad' Bicycle Bag straps to most standard rear bike racks and includes a removable shoulder strap for convenient carrying. It is also available in a Police version.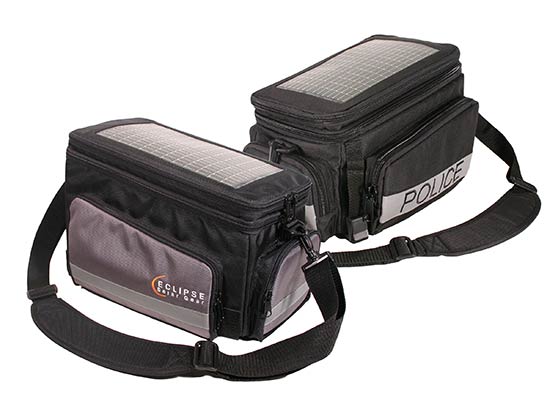 The top cover features a light-weight, flexible solar charging module that utilizes your existing 12V auto adapter (cigarette lighter adapter). Camera batteries will require a DC charger. The bags and the solar panels are made to withstand the environment and provide a long-lasting source of solar energy. The bags carry a limited lifetime warranty for materials and workmanship. If a product fails due to a manufacturing defect and/or material defect, Eclipse Solar Gear will repair or replace the product.

Visit our site at http://www.eclipsesolargear.com to purchase one of our products or to locate a store in your area.


Digg this story |

del.icio.us |

Furl this story |

Netscape |
Recent news:
KoffeePhoto adds online photo backup service
Pentax DA 17-70mm f/4 AL [IF] SDM lens
Nikon introduces upgraded Capture NX 2 photo editing software
Silicon-Power Releases Its Touch 210/ 212 Series with 16GB capacity
SanDisk Launches Solid-State Drives Aimed at Ultra Low-Cost PCs
Win a free trip to Photokina with Think Tank Photo
RAID in the Size of a Single 2.5" Hard Drive - Sans Digital Compact Flash Enclosures
Silicon-Power Touch 610 flash disk
Nikon's Small World Contest leads the way
Silicon-Power launches the elegant new Ultima 150

All trademarks mentioned are the property of their respective owners.
Copyright 2006 Digital Photo News. All rights reserved.