New KODAK CCD image sensor
Home
news posted on November 07, 2007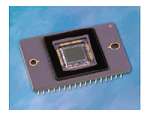 Eastman Kodak Company has introduced a new advancement in Charge Coupled Device (CCD) image sensor technology that significantly improves performance for applied imaging applications. Kodak's new Interline Transfer CCD technology platform will be the basis for a full portfolio of image sensor products targeted to markets such as industrial and scientific imaging, starting with the newly announced KODAK KAI-01050 Image Sensor.

The eighth generation of Interline Transfer CCD technology developed by Kodak, this new platform reduces pixel size by almost 50%, doubles the maximum frame rate available from the image sensor, and provides a significant increase in image quality compared to the previous technology generation. With these advancements, customers working in applied markets will have access to new levels of performance, improving the capabilities and performance of their imaging systems.

"Exceptional imaging performance is vital to the success of applied imaging applications," said Chris McNiffe, General Manager of Kodak's Image Sensor Solution group. "This new technology platform was developed specifically to address this need by improving key sensor parameters such as pixel size, frame rate, and image quality. As camera manufacturers develop products with our new KAI-01050 image sensor, and later with other image sensors developed using this new technology, they will be able to offer a new generation of cameras that provide improved throughput, performance, and quality for their customers."

Kodak has a rich history of supplying image sensors for use in applied imaging markets. With a broad portfolio of interline transfer CCDs ranging from VGA to 16 megapixels in resolution, Kodak is a leading supplier of image sensors used today in applied applications such as the automated inspection and assembly of electronics components, traffic monitoring, and medical and scientific imaging. As these applications have evolved, the ongoing requirement for improved throughput and imaging performance has driven the development of this new sensor technology to address these needs.

Kodak's new Interline Transfer CCD platform was developed using a "clean sheet" approach, leveraging best practices in Kodak sensor design to optimize the imaging performance available from these new devices. To facilitate the design process for camera manufacturers, Kodak will also use a common package layout with shared electrical specifications where possible for image sensors commercialized using this new technology, allowing manufacturers to develop a single camera design that can easily support multiple sensors.

The KODAK KAI-01050 Image Sensor is the first product to be commercialized using Kodak's new Interline Transfer CCD technology. With a 1024 x 1024 array of 5.5 micron pixels, the sensor provides a readout speed of up to 120 frame-per-second in a ½-inch optical format. Engineering grade devices of the KAI-01050 are currently available, with volume production planned for early 2008.

Digg this story |

del.icio.us |

Furl this story |

Netscape |
Recent news:
KoffeePhoto adds online photo backup service
Pentax DA 17-70mm f/4 AL [IF] SDM lens
Nikon introduces upgraded Capture NX 2 photo editing software
Silicon-Power Releases Its Touch 210/ 212 Series with 16GB capacity
SanDisk Launches Solid-State Drives Aimed at Ultra Low-Cost PCs
Win a free trip to Photokina with Think Tank Photo
RAID in the Size of a Single 2.5" Hard Drive - Sans Digital Compact Flash Enclosures
Silicon-Power Touch 610 flash disk
Nikon's Small World Contest leads the way
Silicon-Power launches the elegant new Ultima 150

All trademarks mentioned are the property of their respective owners.
Copyright 2006 Digital Photo News. All rights reserved.