New waterproof Pentax Optio W60
Home
news posted on June 02, 2008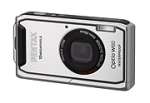 Pentax Imaging Company has announced the Pentax Optio W60 compact digital camera. Lightweight and fully waterproof, the Optio W60 features 10 megapixels and a 5X zoom lens with 28mm wide-angle capability. The enhanced design of the Optio W60 allows the camera to operate up to 13 feet underwater for two hours and at extreme temperatures well below freezing.
Perfect for photography in adventurous as well as everyday settings, the 5X optical zoom refraction lens never protrudes from the Optio W60, yet it covers focal lengths from 5mm to 25mm (approximately 28mm to 140mm in 35mm format). This range allows the camera to capture a wide variety of scenes including expansive landscapes, architecture, and group photos in confined spaces as well as close-up telephoto shots of subjects. A Digital Wide function merges two shots into one image for ultra-wide-angle image capture (equivalent to a focal length of 21mm in 35mm format).



Pentax Optio W60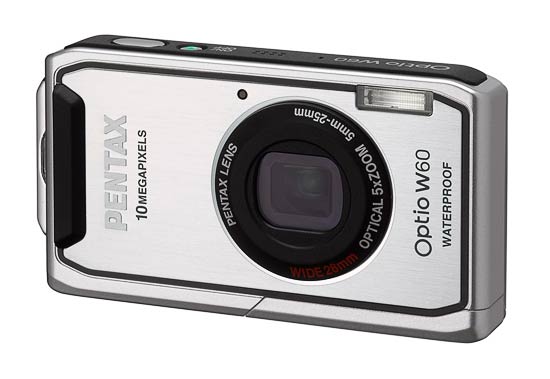 The Optio W60 also accompanies users to new aquatic depths. With improved design and construction of the shutter button and controls, as well as reinforced, airtight joints, the Optio W60 allows underwater photography up to 30 percent deeper than previous Pentax waterproof models. In addition to the JIS Class 8 waterproofing standard, the camera is JIS Class 5 dustproof against dirt, sand and dust and operates in extreme temperatures as cold as 14 degrees Fahrenheit (minus 10 degrees Celsius).
Other important features and modes of the Pentax Optio W60 include a High-Quality Movie mode with HD resolution up to 1280 x 720 pixels (comparable to a 720p HDTV at 15fps) as well as Auto Picture mode, fast Face Recognition, Smile Capture, Blink Detection, an Underwater Movie mode, High Sensitivity Digital SR mode that automatically adjusts the sensitivity up to ISO 6400, and an LCD monitor with a 170 degree wide-angle view and Anti-Reflection coating to reduce glare.



Pentax Optio W60





A perfect companion for indoor and outdoor enthusiasts, the Pentax Optio W60 performs well during winter and summer activities as well as in and around water and sand. The Pentax Optio W60 will be available in July 2008 for US $329.95 in a choice of two colors: Ocean Blue and Silver.
More information is available here: www.h20camera.com.

Digg this story |

del.icio.us |

Furl this story |

Netscape |
Recent news:
KoffeePhoto adds online photo backup service
Pentax DA 17-70mm f/4 AL [IF] SDM lens
Nikon introduces upgraded Capture NX 2 photo editing software
Silicon-Power Releases Its Touch 210/ 212 Series with 16GB capacity
SanDisk Launches Solid-State Drives Aimed at Ultra Low-Cost PCs
Win a free trip to Photokina with Think Tank Photo
RAID in the Size of a Single 2.5" Hard Drive - Sans Digital Compact Flash Enclosures
Silicon-Power Touch 610 flash disk
Nikon's Small World Contest leads the way
Silicon-Power launches the elegant new Ultima 150

All trademarks mentioned are the property of their respective owners.
Copyright 2006 Digital Photo News. All rights reserved.