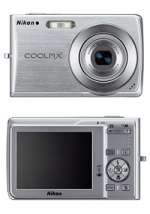 Building on the success of the COOLPIX Style Series of digital cameras, Nikon is pleased to introduce the S200 and S500. Boasting 7.1 megapixels, a 3x Zoom-Nikkor glass lens, VR Image Stabilization technologies, and sleek metal bodies, these cameras exude high performance and exquisite design. Both cameras feature a classic camera design as the lens extends from the camera's body when the cameras are turned on; the S200 is constructed from brushed aluminum and the S500 from stainless steel.

Good Gear Guide reviewed Nikon CoolPix S200 and wrote:
"

The S200 fairs a little better in design. It is as slim, metallic unit which slips easily into a pocket and has a sturdy, tough feel to it. The somewhat angular shape, combined with minimalist aesthetic makes it look quite smooth, and it should suit people after an eye catching device to show off to their friends. The controls are all fairly standard, with a five-way directional pad and menu key doing the brunt of the work. Nikon has forgone a function wheel or mode switch on this model, instead using a simple 'Mode' button to switch between the various configurations. Everything is relatively easy to use and the menu is kept nice and simple, so novices will have no trouble.

"
Read whole review here

Digital Camera Review reviewed Nikon CoolPix S200 and wrote:
"

I recently spent a month using Canon's new SD1000 Digital Elph and while the tiny S200 doesn't match the SD1000 in creative flexibility or manual exposure options - it is only half as thick – and it does (in my opinion) compete on equal terms with the SD1000 in the image quality department.

"
Read whole review here

Pocket Lint reviewed Nikon CoolPix S200 and wrote:
"

The S200 could be looked at as a Coolpix S500-lite, but that fails to recognise the excellent build and features that make the S200 an accomplished machine in its own right at a good price. Yes, the e-VR foibles mean if you have an extra £50, the S500's optical image stabilisation might be a better option for you, but the otherwise excellent image quality, particularly below ISO 200 means the S200 is well worth looking at. Overall, then, the camera works well, looks nice and takes cracking pictures.

"
Read whole review here

CNET reviewed Nikon CoolPix S200 and wrote:
"

To its credit, the S200 does some things right. For example, its automatic white balance does a very nice job of neutralizing colors in incandescent and fluorescent lighting, and its tungsten preset was able to cope with our tough tungsten studio lights. Plus, the camera did a decent job of balancing flash with ambient light sources. The Nikon Coolpix S200 suffers from a bad case of style over substance. Its ultraslim, attractive metal body looks great sliding into your pocket. When you slide it out of your pocket and start shooting, though, its image-quality issues and slow low-light performance severely tarnish the pretty camera's shine.

"
Read whole review here



Press release:



Building on the success of the COOLPIX Style Series of digital cameras, Nikon is pleased to introduce the S200 and S500. Boasting 7.1 megapixels, a 3x Zoom-Nikkor glass lens, VR Image Stabilization technologies, and sleek metal bodies, these cameras exude high performance and exquisite design. Both cameras feature a classic camera design as the lens extends from the camera's body when the cameras are turned on; the S200 is constructed from brushed aluminum and the S500 from stainless steel.

Advanced performance is particularly pronounced in the S500. Among compact digital cameras, the COOLPIX S500 is fast; start up time is an amazing 0.6 seconds and shutter lag, in release priority mode, is just 0.005 seconds.

"

With the S200 and S500, Nikon is further distinguishing itself as a leader in compact camera design and innovation,

" says Bill Giordano, General Manager Marketing, COOLPIX for Nikon Inc. "

These cameras pack style and performance into sleek, metal bodies, allowing even the most style-savvy consumer to enjoy the ease and quality of COOLPIX technology.

"



Nikon CoolPix S200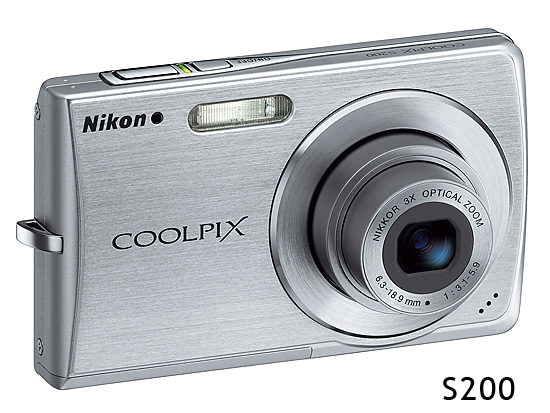 In addition to the aforementioned features, the COOLPIX S200 and S500 feature several imaging innovations designed to encourage carefree shooting for the consumer. The S200 utilizes Electronic Vibration Reduction (e-VR) Image Stabilization, a feature that electronically overcomes camera shake for sharper results. For greater vibration control, the S500 features Optical VR Image Stabilization, a feature that compensates for camera shake ensuring sharp images at shutter speeds up to three times slower than would normally be possible. Both the S200 and S500 have High ISO capabilities; the S200 up to 1000 and the S500 up to ISO 2000, ideal for capturing images in low-light situations. On the S200, the e-VR Image Stabilization feature is activated by utilizing the camera's easy-to-use menu system. The S500 features a new Anti-Shake button, located on the top of the camera, which activates high ISO, VR and Best Shot Selector (BSS) at the same time to produce clearer results in low light or at telephoto zoom settings.

For image sharing, the S200 and S500 have incredible, bright, high resolution 2.5 inch LCD monitors with an anti-reflective coating, easing the composition of photos, even in direct sunlight. These cameras also have a 16:9 aspect ratio option, making them perfect for sharing images via a high-definition television.



Nikon CoolPix S200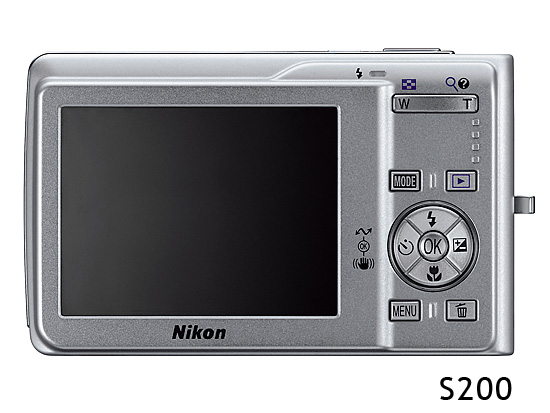 In order to simplify the picture taking process, Nikon has incorporated a new menu interface into the S200 and S500, employing illustrated help dialogs for easy navigation and mode selection. This menu also provides direct access to Nikon's triad of Image Innovations; in-camera functions for enhancing or correcting images including:

• In-Camera Red-Eye Fix™: automatically detects and corrects red eye, a common problem that occurs in flash photography.

• Face-Priority AF*: automatically finds and focuses on a persons face within the frame, providing sharp focus to produce clear, crisp portraits wherever the subject is positioned in the frame.

• D-Lighting: in playback, the user selects and creates a copy of images with excessive backlight or insufficient flash illumination, adding light and detail where necessary.

On the S500, these features can be activated by pressing the One-Touch portrait button, located on the top of the camera, or selected in the scene modes in the S200.

Both the COOLPIX S200 and the COOLPIX S500 come bundled with Nikon's exclusive PictureProject software. The PictureProject software is powerful and user-friendly and makes transferring, organizing, editing and sharing photos a snap. Both cameras are SDHC compatible and utilize the new ultra-compact EN-EL10 rechargeable Li-ion battery.

The COOLPIX S200 and the COOLPIX S500 will be available at photo-specialty stores nationwide in March 2007 at an MSRP of $249.95 and $299.95 respectively. For more information about these and other COOLPIX cameras, please visit www.nikondigital.com.

*

Face-recognition capability may be limited in some shooting conditions.