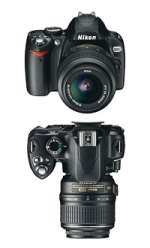 Nikon introduced the new D60 digital SLR camera, which provides consumers with stunning picture quality and versatility in an easy-to-use, compact camera design. The D60 joins Nikon's award-winning line of D-series digital SLR cameras and shares a form factor similar to the D40 – Nikon's smallest D-SLR camera ever. With 10.2 effective megapixels and a wealth of innovative and user-friendly features, the D60 enables both photo enthusiasts and those new to digital SLR photography to capture incredible images like never before.

PhotographyBLOG reviewed Nikon D60 and wrote:
"

Where the D40x was essentially a 10 megapixel version of the 6 megapixel D40, the new D60 is a very slightly improved version of the D40x. The D60 retains the same core competencies - 10 megapixels, 3 point AF, 3D Colour Matrix Metering II, 3fps burst mode - whilst adding a small number of new features that are nice-to-haves, rather than being essential. The EXPEED image processing engine delivers very similar image quality to the D40x, namely impressive results at fast ISO speeds (even ISO 3200 is useable for small prints), accurate colour and pleasing tonality. Similarly I didn't see any noticeable improvements in dust reduction via the Airflow Control System, although more long-term testing may prove Nikon right. The Eye Sensor control and orientation of the LCD display are nice touches, as is the ability to apply D-Lighting before taking a shot, but I suspect that most owners of the D60 will never use the stop-motion movie or in-camera RAW processing features. The single most important new addition is the availability of the new 18-55mm VR lens, which greatly extends the low-light capabilities of the D60. In kit form with this lens, the D60 isn't a whole lot more expensive than with the standard 18-55mm lens, so I'd strongly advise every prospective new D60 owner to choose the VR option. Ultimately the new Nikon D60 remains an intuitive camera that clearly meets the main needs of its target audience, whilst still retaining enough complexity to allow your photography to grow and improve in the future. Nikon D40x owners won't be rushing out to upgrade, but the D60 is a compelling option for users of compact digital cameras looking to upgrade to a DSLR. The additional new features, and particularly when purchased with that VR lens, mean that we can award the D60 our Highly Recommended rating.

"
Read whole review here
Sample images

CNET reviewed Nikon D60 and wrote:
"

As has been the case with other Nikon SLRs recently, the D60 does a very good job of keeping noise in check. At ISO 100 and ISO 200, noise is virtually nonexistent and only starts to creep in at ISO 400, though it doesn't take away any significant amount of sharpness or shadow detail. By ISO 800 a minor amount of grain is present, a very minor amount of sharpness becomes softened, and an equally small amount of shadow detail falls away. Even at ISO 1,600 there is a decent amount of shadow detail and a ton of sharpness given such a high sensitivity in an entry-level SLR. At ISO 3,200, which Nikon calls Hi1, noise is quite heavy, a large amount of shadow detail is lost, and while noise obscures a lot of sharpness, there's still quite a bit. Still, we suggest sticking with ISO 1,600 and below whenever possible.

"
Read whole review here

Cameralabs reviewed Nikon D60 and wrote:
"

The Nikon D60 may not be a world apart from its predecessor, but it remains a good, solid, 10 Megapixel entry-level DSLR. It's very easy to use, handles well and produces great looking – if slightly over-saturated – images in its fully automatic modes. As such it's an ideal model for first-time DSLR buyers who are perhaps upgrading from a point and shoot. And of course there's wealth of manual control for when they're ready to get creative.

"
Read whole review here
Sample images

EPhotozine reviewed Nikon D60 and wrote:
"

Nikon are in a position where they have an almost biblical status with a group of followers that are so loyal, it borders on fanaticism. Nikon could, in fact, sit back on their laurels, soaking up the limelight and spit out camera after uninspiring camera. Luckily, they don't. They carry on bringing out new cameras with innovative ideas that push others into rethinking their products. I'm surprised at the resolution being only 10Mp, but hopefully this is an indication of the pixel race slowing down and it's not a bad thing.

"
Read whole review here

Trusted reviews reviewed Nikon D60 and wrote:
"

I can't say this is my favourite of Nikon's cameras, the auto focus in particular is lacklustre, and there are a few niggles, such as the odd patch of underexposure. Overall though it's a good entry level model, which is easy and straightforward to use, with plenty more features under the hood to progress and improve your photography.

"
Read whole review here

PC Advisor reviewed Nikon D60 and wrote:
"

All that's missing in the Nikon D60 is Live View, an increasingly common function on DSLRs whereby the rear LCD can be used to compose and check images; useful if you're shooting flush to the floor, whereupon it's impossible to get your eye level with the viewfinder. Plus you need to opt for the most expensive Nikon D60 kit to get image stabilisation. Still, if you're replacing an existing camera with your first digital SLR, the Nikon D60 represents a very user friendly, good value option.

"
Read whole review here



Press release:


Nikon introduced the new D60 digital SLR camera, which provides consumers with stunning picture quality and versatility in an easy-to-use, compact camera design. The D60 joins Nikon's award-winning line of D-series digital SLR cameras and shares a form factor similar to the D40 – Nikon's smallest D-SLR camera ever. With 10.2 effective megapixels and a wealth of innovative and user-friendly features, the D60 enables both photo enthusiasts and those new to digital SLR photography to capture incredible images like never before.



Nikon D60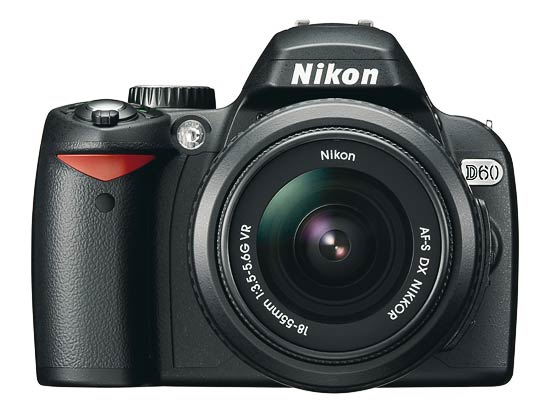 "

The Nikon D60 makes stepping up to digital SLR photography easy for anyone, but is also a wonderful choice for photo enthusiasts looking for remarkable performance in a compact package,

" said Edward Fasano, general manager for marketing, SLR System Products at Nikon, Inc. "

This model, like the wildly popular Nikon D40, greatly simplifies use and builds confidence in the user. With a host of innovative features, such as a visually intuitive LCD information display, Nikon's highly regarded EXPEED image processing concept, new dual dust reduction countermeasures, in-camera editing tools and exciting creative options, the D60 enhances the picture-taking experience for picture-takers of all skill levels.

"



Nikon D60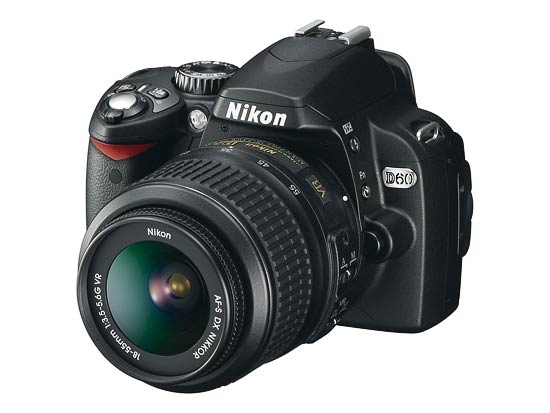 Users will immediately appreciate the D60's fast 0.18-second start-up time and split-second shutter response, which combine to eliminate the frustration of shooting lag – a common issue with many point-and-shoot digital cameras. With a fast and accurate autofocus and the ability to shoot continuously at up to three pictures-per-second, the D60 faithfully captures pictures that other cameras often miss. The D60 does all this while delivering extraordinarily vivid and detailed pictures, ensuring that fleeting expressions, special moments and memorable events are captured beautifully.

Packaged with Nikon's new AF-S DX NIKKOR 18-55mm f/3.5-5.6G VR image stabilization lens, the D60 camera and lens outfit delivers striking image sharpness. What's more, Nikon's proprietary VR (Vibration Reduction) image stabilization technology also dramatically reduces blur caused when shooting handheld pictures, especially in low light.

The camera's 10.2 megapixel CCD sensor delivers crisp, high-resolution images with astounding color and clarity, while Nikon's advanced 3-D Color Matrix Metering II ensures that images are exposed beautifully and automatically, even in challenging lighting conditions. Additionally, Nikon's new digital image processing concept, EXPEED, delivers smooth tones and accurate color for vibrant pictures and flattering portraits.



Nikon D60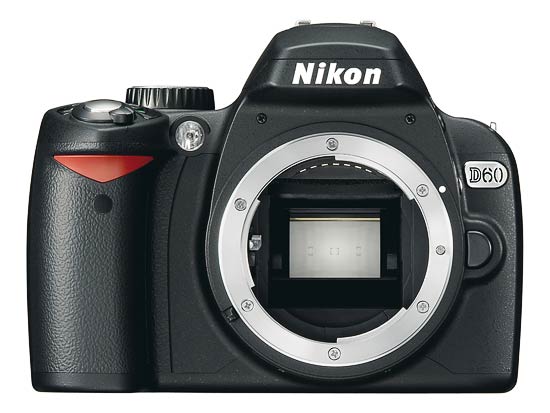 The D60 also offers consumers comprehensive in-camera functionality, such as Active D-lighting. Through this innovative Nikon feature, the camera can, with the option selected, further optimize shadow and highlight detail—as pictures are taken. Shots that once required adjustment with photo editing software can now go straight to the printer, bypassing the computer altogether.

For added fun and creativity while reducing or helping to eliminate time spent manipulating pictures later, the D60's In-camera Retouch Menu enables users to accomplish a wide variety of tasks without a computer. The D60 offers new in-camera editing capabilities, including adjustable cross-screen star effects, color-intensifying filters as well as D-lighting, Red-eye correction, Image Trim and more. The D60's Stop-Motion Movie mode is a D-SLR first that enables users to create stop-animation movie clips from a series of as many as 100 consecutive JPEG picture files. More experienced photographers will also enjoy shooting in the lossless NEF (RAW) format, and then adjusting image parameters, such as size, format, and white balance, all within the camera.



Nikon D60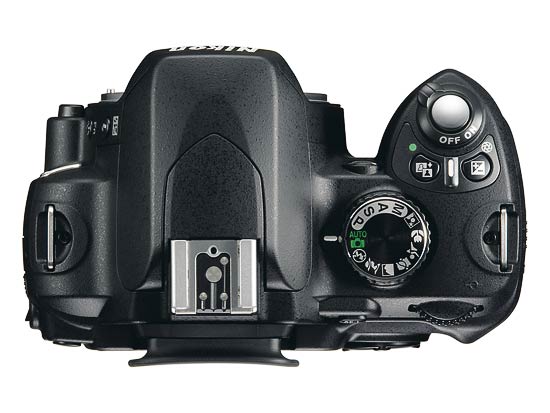 While many cameras now feature a dust cleaning function, the D60 takes this idea one step further. In addition to offering an Image Sensor Cleaning function that quickly and silently shakes off specks of image degrading dust, the camera also minimizes the dust that can come into contact with the sensor through a unique Airflow Control System. This design works to channel particles away from the sensor with every click of the shutter, resulting in even further reduction of dust particles and the spots they can leave on pictures.

Ergonomically designed with intuitively placed controls, the D60 is a camera that's compact and ready to go wherever life leads. It also features a new power conserving Eye Sensor that turns the big 2.5-inch color LCD monitor on and off automatically when the user alternates between taking pictures and reviewing camera settings.

A customizable LCD monitor user interface rounds out the D60's convenient features, as users can create their own wallpapers and adjust color settings to adapt to their preferences. The D60's design also supports Eye-Fi memory card functionality, enabling the convenient wireless transfer of images from the D60 to a computer, when using Eye-Fi memory cards.* Additionally, photos can be securely written to readily available SD cards, high-capacity SDHC cards and Eye-Fi memory cards, offering users a range of data storage options.

The D60 will be packaged with the 3x zoom AF-S DX NIKKOR 18-55mm f/3.5-5.6G VR lens and will be available throughout the United States beginning in February 2008. Pricing information will be available approximately 30 days prior to sales availability. For more information, please visit www.nikonusa.com.