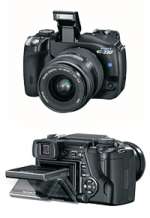 With the new Olympus E-330, the specialist in opto-digital technology once again expands the horizons of photography. For the first time, the comfort and flexibility of continuous live views directly on the LCD is available to digital SLR users. This ground-breaking innovation enables framing of shots without the need to look through the ocular. Users can therefore see what's going on around them while they shoot, which is a significant advantage for reportage or sports photographers – as well as in other situations where it is difficult to frame using the viewfinder, such as under water. Moreover, thanks to a large tilting, multi-angle LCD measuring 2.5"/6.4cm, the Olympus E-330's versatility is extended even further. It makes capturing shots from unusual angles, such as in crowds or during macro photo sessions, a breeze. To ensure image quality is second to none, Olympus has fitted this model with the latest-generation MOS sensor for high speed and sensitivity, delivering incredibly true-to-life, 7.5 megapixel results. As with all models in the Olympus E-System line-up, users will enjoy the benefits of dust-free photography thanks to the Olympus-exclusive Supersonic Wave Filter. And for the ultimate in versatility, the Olympus E-330 is compatible with the full range of Olympus E-System accessories. It is shipped with a ZUIKO DIGITAL 14-45mm 1:3.5-5.6 lens (equivalent to 28-90mm on a 35mm camera).

DC Resource reviewed Olympus EVOLT E-330 and wrote:
"

The EVOLT E-330 is a fairly large digital SLR. It's very well built for the most part, though the two protective doors on the camera could've been stronger. The camera feels solid in your hands, but I wish the right hand grip was larger. The controls are all well-placed and Olympus didn't go overboard with "button clutter" like some other D-SLRs. In fact, Olympus made it really easy to change the settings on the camera, with commonly accessed settings right on the four-way controller. You can also use this controller to navigate the "info screen" in record mode to change other settings. The E-330 uses the new 7.5 Megapixel Live MOS sensor and supports all of Olympus' Zuiko digital lenses. It has two memory card slots, supporting both CompactFlash (including Microdrives) and xD media. The most notable feature on the E-330 is definitely its 2.5" live view LCD display. The screen is big, it's sharp, and it tilts so you can take overhead or ground level shots. There are two live view modes on the camera, though one is restricted to manual focus use only. In Mode A the E-330 acts just like your fixed-lens digicam (though it's not as sharp or bright), except when light levels get low. Once there you have a choice of not seeing anything or getting a grainy black & white view instead. If you're coming from a modern fixed-lens camera then you'll be a bit disappointed in that regard. In Live Mode B you must use manual focus, but you get the bonus feature of being able to digitally enlarge the frame by ten times, so you can make sure that your subject is in focus. Live Mode B is brighter and sharper than Mode A, as well.

"
Read whole review here
Sample images

Trusted reviews reviewed Olympus EVOLT E-330 and wrote:
"

This is a camera that you could use professionally and be assured of good results. Although it may look a little strange, it performs as well as any of its direct mid-range competitors. It has a full range of professional options, including excellent colour options. The live monitor view is a very welcome bonus on an excellent camera.

"
Read whole review here
Sample images

Imaging resource reviewed Olympus EVOLT E-330 and wrote:
"

Most consumers without a special need for a utilitarian camera would do better learning to love the greater speed offered by a single-viewfinder SLR. You'd think you'd get that greater speed with this spiffy hybrid Olympus E-330 SLR, but I think most users will be so overwhelmed by the viewfinder choices that they'll only use one. Those who will spend enough to buy an SLR with a Live View LCD will probably default to the LCD, and they'll never know the value of real-time image framing with a big, bright viewfinder. Because I'm used to shooting more conventional SLRs, I default to the optical viewfinder, and I use the LCD after capture, just like I do with other SLRs. The E-500 offers only one viewfinder, is lighter, and is a joy to use, for $200 to $300 less. The viewfinder on the E-330 is just too dim to give you the full benefit, and the other two modes are also compromises. The Olympus E-330 is very much a niche camera. It's not bad, it's just not for everyone.

"
Read whole review here
Sample images

Digital camera info reviewed Olympus EVOLT E-330 and wrote:
"

In terms of imaging performance, the E-330 loses its competitive edge against similarly-priced DSLRs. For $1100, the resolution is there, but the high ISO performance and low light capture still hovers in an area that's more competitive with compacts. The camera's true Achilles heal, however, still seems to be its outdated autofocus system. With just three sensor sites, the technology was substandard on the camera's predecessor, the E-300, when it was announced in September, 2004. For $1100, there are many DSLRs out there that out-perform the E-330, however, there's currently only one that offers interchangeable lenses and live preview.

"
Read whole review here

PC Mag reviewed Olympus EVOLT E-330 and wrote:
"

One thing the L1 and the Evolt E-330 will have in common is that they both employ a Four Thirds sensor and lens-mount system, which Olympus and other camera and lens manufacturers are trying to make a standard. For example, the lens manufacturer Sigma announced at this year's PMA show that they'll have a number of new Four Thirds lenses that will work on a camera like the E-330. And Leica is building image-stabilized lenses for the L1 that will also work on the E-330. These means that Evolt owners can choose selected lenses from Sigma and Leica when looking to expand their systems.

"
Read whole review here

Mac World reviewed Olympus EVOLT E-330 and wrote:
"

The E-330 provides a full complement of features, including Priority and Manual modes as well as various custom scene modes. This model has three different spot meters alongside the matrix and center-weight metering systems, so the E-330 does a good job with metering. Other nice improvements include a slightly faster burst rate of three frames per second; the ability to adjust ISO sensitivity in 1/3 stop increments; support for both CompactFlash and xD-Picture Card storage; and an effective in-camera noise filter for high-ISO shooting. The camera's interface is decent, providing relatively speedy access to essential controls. And the Evolt continues to include Olympus' excellent automatic sensor-cleaning mechanism.

"
Read whole review here

Good gear guide reviewed Olympus EVOLT E-330 and wrote:
"

All the controls were well laid out and the menu was natural and intuitive. Most SLRs offer the ability to manipulate camera settings on the LCD by default since it has no other purpose during picture taking. Obviously the screen on the E-330 is occupied most of the time with live review, however there is the option to use it like a normal SLR screen and simply display your current settings. Overall we feel this is a solid camera, but it is outdone by the fantastic E-500. You pay $500 more for the E-330 and you exchange image quality and design for live review. If the pictures were of a similar standard, and live review was implemented fully, then the cost could maybe be justified, but unless you desperately want to take snaps with your LCD, then you'll probably be better served with the E-500.

"
Read whole review here

CNET reviewed Olympus EVOLT E-330 and wrote:
"

In general, however, the camera maintains a relatively low noise profile across all the ISO settings; noise remains generally unnoticeable up through ISO 400. Overall, our test photos indicate that the E-330's metering system has a tendency to underexpose, which is fine if you shoot raw, but there's not a lot of latitude in the shadows of the JPEG images to bring the exposure up without encountering posterizing or noise. Another surprise to watch for is that the camera ships with the default sharpness set to the minimum.

"
Read whole review here

PC World reviewed Olympus EVOLT E-330 and wrote:
"

Other nice upgrades over the E-300 include a slightly faster burst rate of 3 frames per second, the ability to adjust ISO sensitivity in increments of one-third stop, support for both CompactFlash and XD-Picture Card storage, and an effective in-camera noise filter for shooting at high ISOs. The camera's interface is adequate, permitting relatively speedy access to essential controls. And the E-330 includes Olympus's excellent automatic sensor-cleaning mechanism to keep dust from marring your images.

"
Read whole review here

Photoxels reviewed Olympus EVOLT E-330 and wrote:
"

The only time where the EVOLT E-330 may have some difficulty focusing is in extreme low-light. In that case you need to manually raise the pop-up flash (make sure it is disabled in the menu if you do not want it to fire) and a brief strobe of white light functions as an AF Illuminator.

"
Read whole review here

Press release:

With the new Olympus E-330, the specialist in opto-digital technology once again expands the horizons of photography. For the first time*, the comfort and flexibility of continuous live views directly on the LCD is available to digital SLR users. This ground-breaking innovation enables framing of shots without the need to look through the ocular. Users can therefore see what's going on around them while they shoot, which is a significant advantage for reportage or sports photographers – as well as in other situations where it is difficult to frame using the viewfinder, such as under water. Moreover, thanks to a large tilting, multi-angle LCD measuring 2.5"/6.4cm, the Olympus E-330's versatility is extended even further. It makes capturing shots from unusual angles, such as in crowds or during macro photo sessions, a breeze. To ensure image quality is second to none, Olympus has fitted this model with the latest-generation MOS sensor for high speed and sensitivity, delivering incredibly true-to-life, 7.5 megapixel results. As with all models in the Olympus E-System line-up, users will enjoy the benefits of dust-free photography thanks to the Olympus-exclusive Supersonic Wave Filter. And for the ultimate in versatility, the Olympus E-330 is compatible with the full range of Olympus E-System accessories. It is shipped with a ZUIKO DIGITAL 14-45mm 1:3.5-5.6 lens (equivalent to 28-90mm on a 35mm camera).



Olympus E-330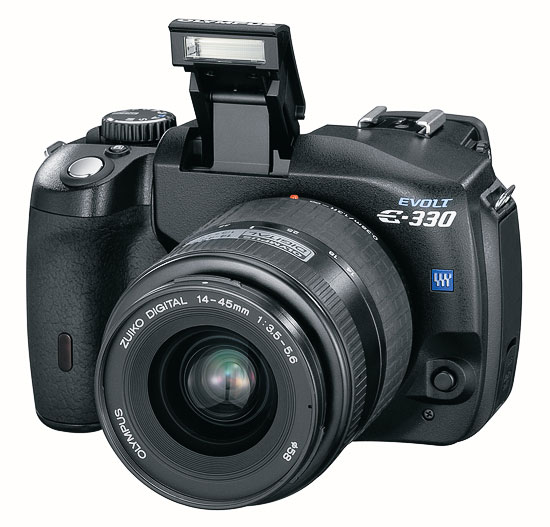 Shoot what you see, see what you shoot


As the world's first* digital SLR camera to feature a continuous live view on its LCD, the Olympus E-330 arms photographers with shooting flexibility that was unheard of, until now. Thanks to the camera's TTL optical porro design, this model could be fitted with two separate image sensors enabling two different live view modes. Mode A, for Full Time Live View framing, utilises a CCD mounted in the viewfinder's optical path to return a 92% field of view and retains full AF functionality. Meanwhile, Mode B locks the mirror in the up position and uses the camera's Live MOS sensor to enable a Macro Live View with a 100% field of view. This latter mode is especially helpful for visual focusing on macro subjects, providing the freedom of complete manual focus control which is additionally aided by the possibility to enlarge the selected section of the displayed image by 10x. In addition, two passport templates and various framing grids make composing shots easier.



Olympus E-330




Reaping maximum benefit from the dual live views, Olympus has equipped this model with a large, 2.5"/6.4cm multi-angle LCD. Users therefore not only profit from a continuous view of the subject clearly on the monitor, but can also adjust the screen angle for great ergonomic comfort in just about any shooting situation. In this way, even photos taken above the head or shot from the hip, for example, are sure to be framed correctly. Macro photographers will particularly appreciate the fact that they don't need to contort themselves to look through the viewfinder during the framing process. Moreover, the LCD employs HyperCrystal technology, assuring extra-fast response times and providing viewing-angles of 160°.



High-performance 7.5 million pixel Live MOS sensor


Naturally, the Olympus E-330 also excels in terms of imaging performance. It incorporates a newly-developed MOS sensor of the latest generation with 7.5 million pixels. This type of sensor offers image quality comparable to an FFT-CCD but with the low power requirements of an MOS. A simple amplifier in each pixel reduces the number of circuit paths, minimising the surface area that is unresponsive to light. The effectively enlarged photosensitive area thereby helps to provide superior image quality as well as higher sensitivity with less noise. Responsiveness is likewise enhanced for fast processing. The camera is capable of delivering a high burst rate for continuous shooting at 3.0fps. Matched with the TruePic TURBO image processor, results will convince even professional users.



Olympus E-330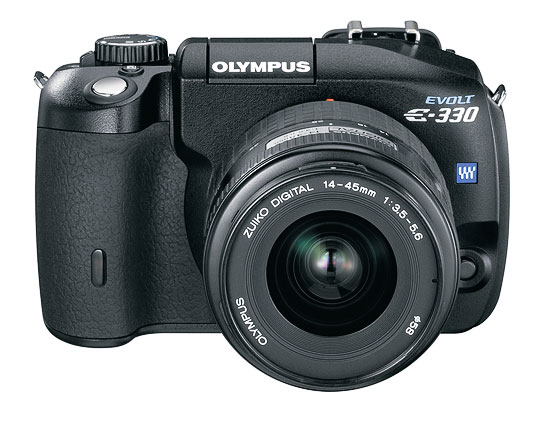 Thanks to both CompactFlash and xD-Picture Card slots, photographers can choose the type of media on which they wish to record their results. Compatibility with the new Olympus High Speed xD-Picture Cards opens up further possibilities: they provide data transfer rates 2-3 times faster than previous models and additionally incorporate a Panorama function and allow special editing options such as for 3D or art effects.



Professional results for everyone


Whether photographers want to go it alone and give free reign to their creative impulses in full manual mode, make use of the semi-manual aperture or shutter priority options, or prefer the convenience of automatic shooting, the Olympus E-330 caters for every user. On top of the four exposure modes, 20 pre-defined scene modes and 7 creative modes are available to suit most situations. These include modes for Nature Macro and xD-Panorama shooting as well as two underwater modes and an Anti-blur option. The special Live View Boost function is particularly helpful for framing in low light as it significantly improves contrast and brightness of the view on the LCD.

A 49 area AE sensor provides accurate exposure values for ESP metering using an advanced evaluation algorithm, with conventional centre-weighted average and spot metering also available. Moreover, tremendous exposure control is provided by high light and shadow basis spot metering. A Histogram function is also included as well as professional AE Lock functionality for camera customisation. Of course, for additional lighting requirements, the built-in flash can always be used.



Olympus E-330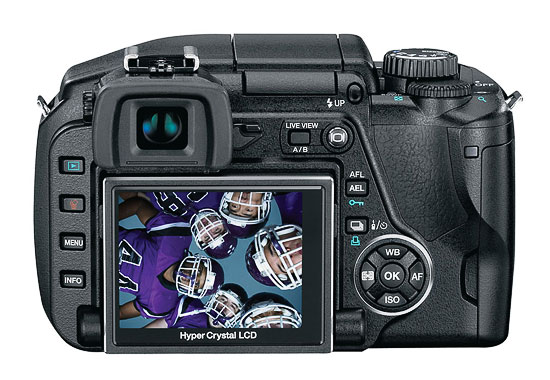 Pro-level features including one-touch white balance, depth of field preview and bracketing functions for exposure, white balance and focus all considerably enhance the shooting experience. Black & white shooting is also available with the possibility to add colour filters – as used in analogue photography. Users can save data in JPEG, TIFF and RAW formats.

Keeping an overview of the many functions the Olympus E-330 offers is easy. Its large monitor displays details of the current camera settings – and users have the choice of viewing the advanced information or just the general details.



Busts the dust


Like all Olympus E-System cameras, incorporation of the Supersonic Wave Filter means that the problem of dust entering the camera body and landing on the image sensor while changing lenses is completely eradicated. The patented technology ensures worry-free lens changing anywhere and anytime, enabling users to really experience the brilliance of dust-free pictures. Developed by Olympus, the Supersonic Wave Filter generates ultra-high-speed vibrations that shake off dust and other particles, which are then captured on a special adhesive membrane. This function is invoked at each start-up of the camera but may also be manually effected. This ingenious solution also spares users the otherwise necessary time and expense of cleaning dusty image sensors.



Olympus E-330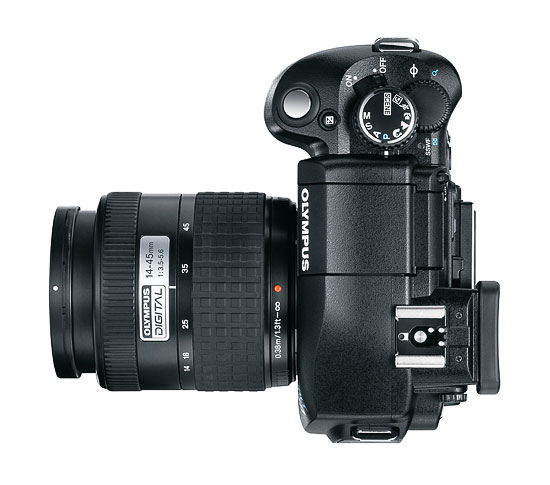 Primed for all types of applications
Of course, one of the main benefits of an SLR is its ability to extend the photographic possibilities through specialised accessories. Here the Olympus E-330 profits from the broad Olympus E-System line-up. The current choice of lenses covers a focal range of 7-300mm (equivalent to 14-600mm on a 35mm camera). From unique, wide-angle perspectives right through to ultra-magnification power with large apertures, Olympus provides a solution for any situation – and of special interest to macro enthusiasts are the ZUIKO DIGITAL 35mm 1:3.5 Macro and the bright ED 50mm 1:2.0 Macro lenses. Every lens features nearly telecentric construction to enhance digital image capture. Various external flash units are available too, including standard types such as the FL-36 or FL-50 as well as ring and twin flash units to cater for specialist applications.

From May 2006, a special underwater case (PT-E02) will be available for the Olympus E-330. Waterproof to 60m, it opens a new dimension to professional digital SLR photographers by enabling the framing of compositions under the water using the live view on the LCD, rather than needing to try looking through the ocular while wearing a diving mask, as was the case previously.

The Olympus E-330 represents a technological breakthrough. For the first time it is possible to enjoy the quality of SLR photography matched with the comfort of continuous live views directly on the LCD. Packed with further advanced features including a new 7.5 million pixel MOS sensor, the surprisingly compact camera is ideal for ambitious users looking for pro results as well as semi-professional photographers. The Olympus E-330 comes in a kit including a high-performance ZUIKO DIGITAL 14-45mm 1:3.5-5.6 lens (equivalent to 28-90mm on a 35mm camera), and will be available from March 2006.