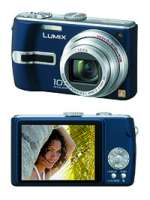 The DMC-TZ3 boasts 7.2 megapixels and a large, 3.0-inch LCD, and the
DMC-TZ2 has 6.0 megapixels and a large, 2.5-inch LCD. The TZ3 and TZ2
are the latest members of the Lumix TZ family of digital cameras, which
is renowned for packaging a remarkable 10x optical zoom lens in a
compact, stylish body. The TZ3 is successor to the DMC-TZ1, a camera
Panasonic conceived as a 'World Traveller' that not only offered a 10x
optical zoom and compact styling, but also incorporated a host of
unique, traveller-friendly functions that have earned worldwide praise.

CNET reviewed Panasonic Lumix DMC-TZ3 and wrote:
"

The DMC-TZ3 performed admirably in our tests. The camera's shutter lagged only 0.6 seconds for our high-contrast target and 1.3 seconds in low-contrast conditions. We waited a mere 1.3 seconds between shots, and that wait increased to 2.4 seconds with the onboard flash enabled. Burst mode took five shots in just less than 2 seconds for a satisfying rate of 2.5 shots per second.

"
Read whole review here

Imaging Resource reviewed Panasonic Lumix DMC-TZ3 and wrote:
"

We were impressed with the Panasonic TZ3's images, but were interested to find that they actually looked better onscreen than they did printed. They're still good either way, except for some muddiness in red areas as the ISO goes up. Still, for a 7-megapixel digital camera with a 10x zoom to produce quality 11x14 images: that's worthy of note, and a Dave's Pick.

"
Read whole review here
Sample images

DC Resource reviewed Panasonic Lumix DMC-TZ3 and wrote:
"

Panasonic cameras have always been great performers, and the DMC-TZ3 is no exception. While it doesn't start up as fast as its predecessor, the TZ3's 1.7 second startup time is still respectable. Focus times are great, especially when you use the high speed modes, even at the telephoto end of the lens. Low light focusing was quick and accurate, thanks to the TZ3's AF-assist lamp. Shutter lag was not a problem, and shot-to-shot delays were minimal. Like all Panasonic models, the TZ3's continuous shooting modes are great, especially the infinite mode, which lets you keep shooting at 2 frames/second until your high speed memory card fills up. Battery life was above average compared to other compact ultra zooms.

"
Read whole review here
Sample images

Neo Camera reviewed Panasonic Lumix DMC-TZ3 and wrote:
"

The main problem with the Panasonic TZ3 is its excessive image noise and loss of details as ISO is increased. This leave ISO 100 images looking great and ISO 200 ones looking quite acceptable too. At ISO 400, details start disappearing. However, since the TZ3 features optical stabilization, lower ISO sensitivities can be used for non-moving subjects. By default, the TZ3 produces images with rather dull colors but that can be fixed by changing the color-mode to Vivid. Otherwise, the Panasonic Lumix DMC-TZ3 has a lot going for it, most notably its speedy performance and accurate white-balance system.

"
Read whole review here

Camera Labs reviewed Panasonic Lumix DMC-TZ3 and wrote:
"

The Panasonic Lumix DMC-TZ3 is without a doubt one of the most flexible compact cameras on the market today – and one which has few if any rivals. It may not be the slimmest compact out there, but manages to pack in a genuine 10x optical zoom lens complete with image stabilisation and a 28mm equivalent wide angle.

"
Read whole review here
Sample images

PC Authority reviewed Panasonic Lumix DMC-TZ3 and wrote:
"

The size of the lens means that depth of field can be impressive, though you can't take full advantage of this due to the lack of manual exposure settings. ISO goes all the way to 1250 but the excessive grain enormously affects sharpness. We judged ISO 800 the maximum useable setting. Video mode records near-DVD quality Quicktime video at up to 848 x 480 pixels (16:9) and 30fps. Usefully, a JPEG image of the first frame is recorded too, so that you can easily see what's on that video. However, sound is a little muffled and focus and zooming are fixed while filming, so be sure to focus before shooting.

"
Read whole review here

Digital Camera Info reviewed Panasonic Lumix DMC-TZ3 and wrote:
"

Panasonic TZ3 is a good value for a select niche market of consumers looking for a small point-and-shoot with a longer, stabilized zoom lens. There are plenty of image-stabilized, 10x optical zoom cameras out there, but none retain the point-and-shoot simplicity and basic design of the TZ3. It competes with tiny, itsy-bitsy point-and-shoots that don't offer the high zoom, and heavier, SLR-styled compacts; however, no other camera currently offers its feature set in a point-and-shoot design.

"
Read whole review here
Sample images

PC Mag reviewed Panasonic Lumix DMC-TZ3 and wrote:
"

I was impressed with the quality of both my lab test shots and my real-world photos. In my lab shots, there was very little noise, and I thought the color saturation and accuracy were excellent. I found very little fringing in the images, too. Also evident was the camera's excellent dynamic range, although some indoor shots were a tad too contrasty. Flash shots were also pleasing, with strong, even illumination throughout the scene and no blown-out highlights.

"
Read whole review here

Computer Active reviewed Panasonic Lumix DMC-TZ3 and wrote:
"

The TZ3 is also user friendly, with fully automatic functionality and a range of common shooting and playback options accessed via a mode wheel atop the camera. Give this a twist while the unit is activated and a 'virtual' version momentarily appears on screen so you don't have to take your eye off your subject when choosing a setting. In terms of images, the TZ3 delivered some of the sharpest most vividly coloured shots we've seen from a compact in recent months – at the wide end of the zoom, that is.

"
Read whole review here



Press release:



Panasonic is pleased to introduce two new Lumix digital cameras, each featuring a 28mm wide-angle Leica DC lens (equivalent to 28-280mm on a 35mm film camera). The DMC-TZ3 boasts 7.2 megapixels and a large, 3.0-inch LCD, and the DMC-TZ2 has 6.0 megapixels and a large, 2.5-inch LCD. The TZ3 and TZ2 are the latest members of the Lumix TZ family of digital cameras, which is renowned for packaging a remarkable 10x optical zoom lens in a compact, stylish body.
The TZ3 and TZ2 are successors to the DMC-TZ1, a camera Panasonic conceived as a 'World Traveller' that not only offered a 10x optical zoom and compact styling, but also incorporated a host of unique, traveller-friendly functions that have earned worldwide praise. The new TZ3 and TZ2 go a step beyond their predecessor by featuring a 28mm wide-angle LEICA DC VARIO-ELMAR lens. While the 10x zoom lets you take close-up shots even when you cannot move closer to your subject, the wide-angle lens is helpful in situations where you cannot step back or move away from the subject. With the TZ3 and TZ2 you can capture portraits of people with expansive scenery or large structures in the background, and you can zoom in or out to magnify a distant subject when desired. Panasonic redesigned the TZ3 and TZ2 inside and out to make each smaller and more stylish. Able to shoot from 28mm at the wide end to 280mm telephoto, these fit-in-your-pocket cameras are fully equipped for any photo shooting situations you are likely to encounter on a journey. They are ideal travelling companions.
The two new models also incorporate the Intelligent Image Stabilization system, which Panasonic is including in other Lumix cameras being introduced simultaneously with the TZ3 and TZ2. This system comprises two features – Mega O.I.S. (Optical Image Stabilizer) and Intelligent ISO Control – that together make it easy to capture beautiful photos every time you shoot. Now recognised as a must-have feature for digital cameras, Mega O.I.S. compensates for the effects of hand-shake, making it possible to capture clear, crisp photos indoors, at night, or when taking macro close-ups or using high powered zooming – situations in which hand-shake is most likely to be a problem. Even Mega O.I.S., however, cannot suppress the motion blur caused by a subject moving as the photo is being snapped. That's where Intelligent ISO Control comes in. In this system, the camera's Venus Engine III image-processing engine detects whether the subject is moving and, as necessary, raises the ISO setting and shutter speed according to how fast the subject is moving and the light conditions. This happens automatically, so you can shoot without the bother of adjusting settings every time conditions change. Lumix and its powerful Intelligent Image Stabilization system do all the work for you. You enjoy easy, trouble-free shooting in any situation and get the satisfaction that comes with capturing clear, beautiful images.
The effective pixels have been increased to 7.2 megapixels in the TZ3 and to 6.0 megapixels in the TZ2, which also supports enhanced functions. For example, Panasonic's Extra Optical Zoom function provides additional magnification – to 15x in the TZ3 and 13.8x in the TZ2 when taking photos with 3-megapixel resolution. Also, the multi-aspect-capable CCD provides a larger recording area than ordinary 7.2-megapixel or 6.0-megapixel cameras, making it possible to capture images from 28mm to 280mm with any of three aspect ratios – 4:3, 3:2 or 16:9.
Other features that improve usability and convenience include a Clipboard function that holds information, several new scene modes, and a Direct Print feature that allows quick, easy printouts. Also, the lens cap is now built into the camera itself and serves as an automatic protective barrier. Around 12.7 MB of built-in memory is provided, and the cameras are compatible with large-capacity SDHC memory cards. Battery life has been extended, with the result that the TZ3 can take around 270 shots on a single charge and the TZ2 around 300 shots (CIPA). Add these features up, and you can see why the DMC-TZ3 and DMC-TZ2 are perfect for capturing images you'll want to remember forever, such as the people you meet and places you visit on a trip.
Clad in sturdy stainless steel, the DMC-TZ3 will be available in silver, black and blue, while the TZ2 will be offered in silver and black.



1. 28mm Wide-Angle* Leica DC Lens and 10x Optical Zoom in a Compact, Stylish Body





Panasonic Lumix DMC-TZ3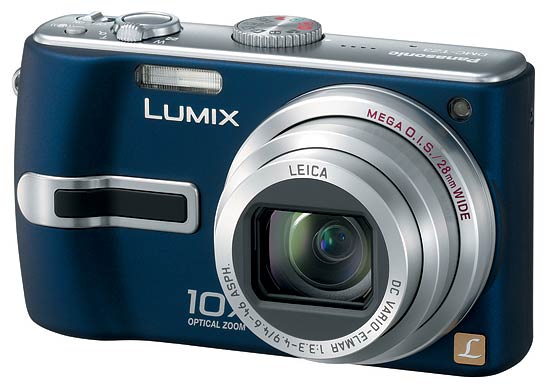 The 7.2-megapixel DMC-TZ3 and 6.0-megapixel DMC-TZ2 package a 28mm wide-angle* LEICA DC VARIO-ELMAR lens with 10x optical zoom into a stylish, compact body. Comprising 11 elements in nine groups, including an ED (extra-low dispersion) lens and three aspherical lenses, this advanced lens unit passes Leica's stringent standards and delivers an exceptional optical performance. The 28mm wide-angle lens makes it easy to fit the whole group into a photo indoors or to capture dynamic wide-perspective shots of a sweeping landscape or large architectural structure. Further, in 3-megapixel resolution mode, the Extra Optical Zoom function provides additional magnification, extending the zoom power to 15x (TZ3) or 13.8x (TZ2) by using the centre part of the CCD. Using this feature in combination with the 4x digital zoom provides a total zoom factor of up to 60x (TZ3) or 55x (TZ2).


*35mm film camera equivalent: 28-280mm





2. Intelligent Image Stabilization: Mega O.I.S. for Hand-Shake, Plus Intelligent ISO Control for Motion Blur


Panasonic drew on its cutting-edge lens technology to invent Mega O.I.S. (Optical Image Stabilizer), an optical image stabilizer that prevents blurring from shaky hands – the leading cause of blurry images. Featured in the entire Lumix line-up since 2005, the optical image stabilizer has earned such high praise from users around the world that it is now a standard feature of digital cameras. In Panasonic's Mega O.I.S., sensors act at a frequency of 4,000 times per second to accurately detect even slight camera movement, such as from unsteady hands, and a corrective lens in the O.I.S. lens unit is shifted to compensate. With Mega O.I.S., it is easier than ever to capture clear, sharp, beautiful images when shooting telephoto shots, indoor portraits, illuminated night scenes or even the scenery you see from a train window.
While hand-shake is the single biggest cause of blurry images, it is not the only one. Another problem is the motion blur that can occur when a subject moves as the shot is being snapped. Incorporating Panasonic's Intelligent ISO Control, Lumix cameras are the first in the world to fight motion blur. This system detects whether or not the subject is moving. If it is, the system automatically raises the ISO setting accordingly, allowing the camera to shoot at a higher shutter speed. If the subject is not moving, the camera shoots at a low ISO setting and captures beautiful, natural-looking images. Intelligent ISO Control is included as one of the corrections in certain scene modes used to shoot subjects that are often moving, such as Sports, Baby and the newly added Pet mode. Simply select the mode that best suits the subject, and Intelligent ISO Control provides the optimal corrections, making it easy to capture crisp, clear photos.
With Intelligent Image Stabilization – Mega O.I.S. to compensate for hand-shake plus Intelligent ISO Control to prevent motion blur – Panasonic has taken image stabilisation a leap forward and equipped the new Lumix TZ3 and TZ2 with the industry's most advanced countermeasures against blurring.

3. High-Quality, High-Performance Image-Processing LSI: The Venus Engine III



Panasonic Lumix DMC-TZ3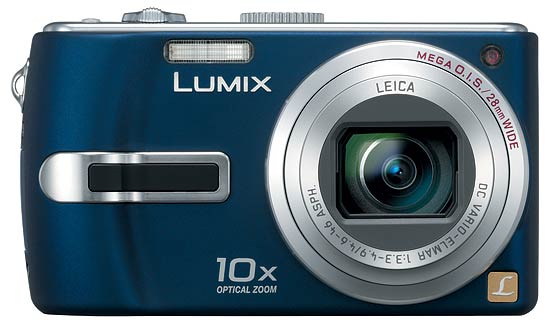 The TZ3 and TZ2 each feature the Venus Engine III, Panasonic's advanced image-processing engine that can record at a sensitivity setting as high as ISO 1250 with full resolution. Noise reduction is also greatly improved, with picture noise removed in stages during image processing. First, critical noise is roughly undraped and chromatic noise and luminance noise are separated. The chromatic noise, which has a greater effect on picture quality, is then selectively suppressed to a substantial degree.
With its multi-task image-processing capability, the Venus Engine III also boasts outstanding response time. Shutter release time lag is as short as 0.006 second. Furthermore, the DMC-TZ3 boasts the shutter interval as short as 0.5 second*. This fast response makes it easy to capture sudden, spur-of-the-moment shots. In burst shooting mode, the TZ3 can fire off three shots per second at full resolution**. Both models also allow unlimited consecutive shooting*** – you can continue snapping shots until the SDHC/SD memory card is full.
Thanks to the energy-efficient Venus Engine III imaging engine, the TZ3 and TZ2 offer a long battery life despite their large, bright LCDs. The TZ3 can take around 270 shots and the TZ2 around 300 (CIPA) on a single battery charge.


*Not including auto focusing time




**Max. seven images in standard mode / five images in fine mode.




***The consecutive shooting speed varies with the memory card, image size, and image compression mode. The number of shots depends on the memory card size, battery life, image size and image compression mode.





4. Large 3.0-inch (TZ3) or 2.5-inch (TZ2) LCD with Advanced Features for Easy Shooting and Playback


The TZ3 boasts a large, easy-to-see 3.0-inch LCD with outstanding 230,000-pixel resolution, and the TZ2 features an easy-to-see 2.5-inch LCD with 207,000-pixel resolution. Taking advantage of its big screen and high resolution, the TZ3 provides a dual image playback feature that lets you display two images at the same time, one above the other, and compare them. Also, to make image playback more entertaining, the TZ3 offers an amusing new Slide Change Effect feature in place of the monotonous frame-by-frame advance.
Also, the pixel-mixed readout method used by the CCD automatically increases the brightness of the live image on the LCD, making it much easier to shoot in low lighting. Thanks to the Power LCD function, which boosts the LCD backlighting by 40%, even shooting outdoors in bright sunshine is no longer a problem. The High Angle mode, which can be accessed quickly and easily via a dedicated button, makes the LCD screen extremely easy to view when the camera is held high, such as to shoot over a crowd.



5. 28mm Wide Angle with Multiple Aspect Ratios





Panasonic Lumix DMC-TZ3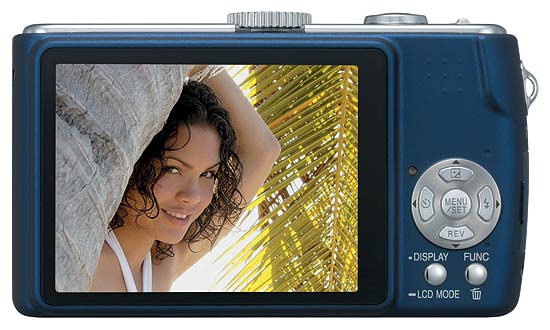 Conventional cameras generally use almost the entire CCD area when recording an image, and the angle of view may be altered regardless of the photographer's intention. The TZ3 and TZ2, however, incorporate a 1/2.35" (TZ3) or 1/2.33" (TZ2) CCD with a total of 8.50 megapixels (TZ3) or 7.39 megapixels (TZ2). This CCD, which is larger than those in conventional 7-megapixel and 6-megapixel class cameras, can reproduce images shot with the lens set from 28mm to 280mm in any of three aspect ratios – 4:3, 3:2 or 16:9 – so you can always capture dynamic, richly expressive shots with a wide perspective.



6. Record Clear, Bright, Wide-Aspect VGA Motion Images – Ideal for Wide-Screen Viewing


In addition to recording standard VGA (640 x 480) motion images at 30 frames per second, the TZ3 and TZ2 can record stunning wide-aspect VGA (848 x 480) motion images at 30 frames per second. These 16:9 motion images look extremely impressive on a wide-screen TV. The pixel-mixed readout method used by the CCD enhances image brightness, so the pictures you see are clear, bright and beautiful.
The TZ3 also offers an exceptional function that lets you select and display thumbnails of nine sequential frames from a motion image. This would be useful, for example, to analyse the way you swing a golf club or tennis racquet.



7. A Variety of Features for the Perfect Travel Companion





Panasonic Lumix DMC-TZ3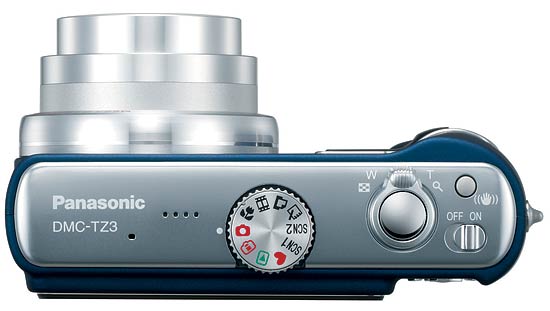 In addition to outstanding basic specifications, a host of traveller-friendly functions make the TZ3 and TZ2 ideal as a travel companion. The camera body has been reduced in size to be more stylish and compact, and the lens cap is now incorporated into the body as a built-in automatic lens barrier.
The TZ3 and TZ2 also offer a new Clipboard function that lets you use the camera to hold and retrieve useful information on a trip. For example, you can quickly and easily take shots of a map or train schedule, and view them when needed. A wide variety of scene modes, including the new Pet and Sunset modes, also make it easy to get beautiful photos in a range of photographic situations. When used with the optional marine case housing, Underwater mode allows underwater shooting with optimal automatic settings that capture subjects and the surrounding water in beautifully natural colours.
Other great travelling features include the Travel Date Setting, which, once you have preset the date of your departure, records and displays the images in chronological order of your trip, and the World Time Setting, which lets you set the times and dates for 74 locations around the world.



8. The Fun Continues Even When the Shooting Is Done


With the TZ3 and TZ2, the enjoyment of photography doesn't end when you're done shooting for the day. One additional function that broadens the fun of photography is Direct Print mode. To select it, simply turn the mode dial on the camera top. Then use a USB cable to connect the camera to a Pictbridge-compatible printer, and you're ready to print beautiful photos. Print all the images you shot or only your favourites, and make one copy or multiple copies as you wish. When you turn the mode dial, the mode selected is indicated on the LCD. This lets you change the mode to recording, playback or direct printing without taking your eyes off the subject.
Also interesting is the new Date Stamp function. In addition to showing the date a photo was taken, the TZ3 and TZ2 can show on which day of the trip a photo was taken. They can also stamp your baby's age in months on a photo, after you've taken the shots.* These dates, which can be helpful when making a photo album, can be stamped on photos whether you print them yourself at home or have a photo shop do them.
With the optional Panasonic DMW-SDP1 HDTV Photo Player, it's easy to have a slide show of Lumix images in 1080i high-definition quality. By simply connecting the SDP1, via a component cable, to a high-definition TV such as a Panasonic Viera, and inserting the SDHC/SD memory card into its slot, users can view their photos on a large display together with family or friends. Like Lumix cameras, the DMW-SDP1 incorporates the Venus Engine III imaging engine. This provides extremely quick advancing from one slide to the next. It also allows playback of wide-aspect VGA (848x 480) motion images** that fit an HDTV's 16:9 screen.
Drawing on its vast expertise in consumer electronics, Panasonic is committed to creating a new photographic culture by introducing innovative, high-performance cameras and other advanced digital imaging products.



*When the date is stamped on a photo, the photo is automatically resized to 3 megapixels, or the original size is maintained for photos smaller than 3 megapixels. However, you can choose either to save or overwrite the original picture.




**Recorded with a Lumix camera.