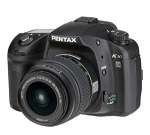 PENTAX Imaging Company announced today the PENTAX K10D digital SLR camera with 10.2 effective megapixels and a host of advanced technologies including a PENTAX-developed Shake Reduction (SR) system and a weather- resistant body.
Designed to deliver high-quality digital images and responsive operation for advanced photo enthusiasts, the K10D features an array of PENTAX innovations in image capture and camera functionality.



The most significant features in the K10D include:


- A PENTAX-developed Shake Reduction (SR) system that effectively offers a 2.5 to 4 stop advantage for sharp, blur-free images even under difficult shooting conditions, such as macro and telephoto photography or low light settings without a flash. The SR mechanism is designed to minimize camera shake by oscillating the CCD image sensor vertically and horizontally at high speed using magnetic force, while adjusting the speed of oscillation in proportion to the amount of camera shake detected by built-in sensors. As a result, the system does not require special anti-shake lenses and can be used with more than 24 million PENTAX lenses produced since 1964.*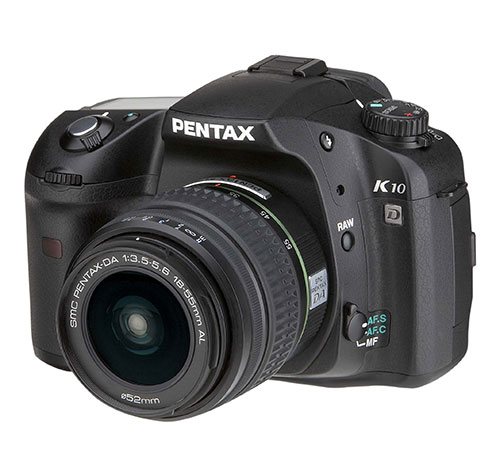 - A newly-developed Pentax Real IMage Engine (PRIME) designed exclusively for PENTAX digital SLR cameras to produce well-balanced, true-to-life images. In order to meet the performance requirement in handling 10 megapixel data, PENTAX also incorporated a new high performance 22 bit A/D converter to quickly transfer images with accurate color tones and richer gradation from the CCD to the imaging engine.
- A new Dust Removal (DR) system incorporating PENTAX-original Special Protect (SP) coating to help keep the CCD surface dust-free, and a shift mechanism to shake dust off the CCD.
- A dependable dust-proof, weather-resistant body construction featuring 72 seals throughout the camera to allow photographers to continue shooting even in dusty or rainy environments.
*Lenses compatible with this mechanism are the PENTAX K-, KA-, KAF- and KAF2-mount lenses; screw-mount lenses (with an adapter); and 645- and 67-system lenses (with an adapter). Some functions may not be applicable with certain lenses.

"

Advanced photographers will not find another 10 megapixel digital SLR that offers features such as a weather-resistant body, shake reduction, and great ergonomics, at any price,

" said

Ned Bunnell

, director of marketing, PENTAX Imaging Company. "

With the K10D introduction, PENTAX is now able to offer digital SLRs for two important users - the first time SLR customer who can buy the K100D and now the K10D for the more advanced users.

"
Along with the body, PENTAX announced a D-BG2 battery grip for exclusive use with the PENTAX K10D. This battery grip can be used in combination with the camera's rechargeable lithium-ion batteries to double the camera's battery life. With a vertical shutter-release button, preview lever, two control dials, AE-lock button and green button, the new battery grip makes vertical-position shooting simple and effortless. It also features the same dust-proof, weather-resistant construction as the K10D camera body.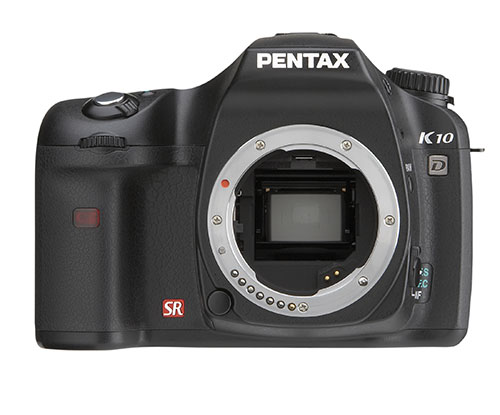 PENTAX also announced the smc PENTAX-DA 70mm F2.4 Limited lens, designed for exclusive use with PENTAX digital SLR cameras and featuring an ultra-thin pancake design and uni-focal, medium-telephoto optics. With a medium-telephoto perspective, this new lens is ideal for many applications including portraiture and landscape. The high-performance optics ensure outstanding image quality, and provide distinctive visual expression. Materials used for this lens are selected for optimum holding comfort and operability, and the new lens is designed to be extremely thin and lightweight, for go-anywhere portability for casual, day-to-day snapshot photography.

The K10D body will ship by November 2006 for US $899.95, and as a kit with the DA 18-55mm lens for US $999.95. The D-BG2 Battery Grip will ship at the same time for less than US $190.00. The PENTAX DA 70mm lens will ship in October 2006 for less than US $600.00.



K10D Digital SLR FACT SHEET





High-quality image reproduction



The K10D features a large, high-performance 23.5mm x 15.7mm CCD with 10.2 effective megapixels as its image sensor, assuring the reproduction of true-to-life, rich-gradation images.



PENTAX-original Shake Reduction mechanism for blur-free images



The K10D is equipped with the exclusive, PENTAX-developed Shake Reduction (SR) system, which effectively reduces camera shake for sharp, blur-free images even under demanding shooting conditions, such as when using a telephoto lens, shooting in the dark or at night without supplementary flash illumination, or using extended exposures for sunset scenes. This innovative mechanism shifts the position of the CCD image sensor vertically and horizontally at high speed using magnetic force, while adjusting the shifting speed in proportion to the amount of camera shake detected by built-in sensors. It offers an outstanding compensation effect equivalent to 2.5 to 4 shutter-speed steps. As a result, it does not require special anti-shake lenses, and can be used with almost all existing PENTAX interchangeable lenses.*

* Lenses compatible with this mechanism are the PENTAX K-, KA-, KAF- and KAF2-mount lenses; screw-mount lenses (with an adapter); and 645- are 67-system lenses (with an adapter). Some functions may not be applicable with certain lenses.



Newly developed A/D converter for truthful image data conversion



The K10D incorporates a high-performance A/D converter, which faithfully converts the analog data collected by the CCD image sensor into digital data. With the highest resolving power (22 bits, or 4.2 million gradations) among all existing digital cameras, it offers a digital-conversion capacity 1,024 times greater than conventional 12-bit, 4,096-gradation A/D converters.



Newly designed PRIME imaging engine



The K10D incorporates the new PRIME (PENTAX Real Image Engine) as its imaging engine. Designed exclusively for PENTAX digital SLR cameras, this new imaging engine produces well-balanced, true-to-life images through efficient control of CCD signals, saturation, brightness, white balance, sharpness and contrast. Its new memory (DDR2: Double Data Rate 2) also serves to enhance speedy image processing and high-speed data transfer.



Dust Removal system to help keep the CCD surface dust-free



The K10D features the new Dust Removal (DR) system to prevent dust from sticking to the surface of the CCD image sensor (or low-pass filter). Applied to the CCD surface through a vapor deposition process of a fluorine compound, the PENTAX-original Special Protect (SP) coating effectively prevents dust and stains from adhering to the surface. In the next step, dust that still remains on the surface will be shaken off when the SR system shifts the CCD at high speed. The dust that is shaken off the CCD will fall onto an adhesive sheet positioned at the bottom of the SR unit, eliminating any possibility of its returning to the CCD surface.



Dust-proof, weather-resistant construction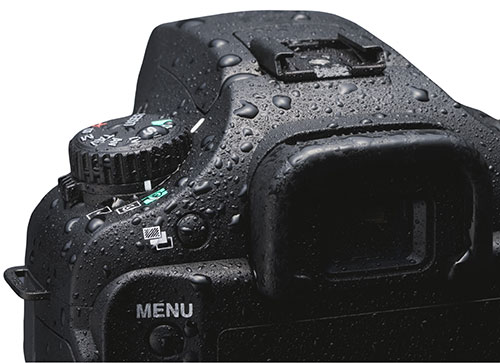 The K10D boasts a reliable dust-proof, weather-resistant construction, with special seals applied to 72 different parts of the camera body, including the shutter release button and switches/levers/dials. This dependable body makes it possible to use the K10D in the rain or at dusty locations without worries.

Original exposure system for faithful reproduction of creative intentions



Hyper Program function



The K10D's Hyper Program function allows the user to instantly switch to the Shutter-Priority AE (Tv) mode or Aperture-Priority AE (Av) mode from the Program AE mode, with a simple turn of the electronic dials on the grip (one on the front for index-finger control, and the other on the back for thumb control). To return to the Program AE mode, simply press the green button positioned next to the shutter release button.



Hyper Manual function



When shooting in the Metered Manual mode, a single push of the green button allows the user to instantly set the proper exposure for the subject.



Sensitivity-Priority mode:



The K10D features a new Sensitivity-Priority AE (Sv) mode, which is designed to automatically select the optimum combination of aperture and shutter speed for user-selected sensitivity. The sensitivity can be shifted instantly (in 1/2 or 1/3 steps) by turning the electronic dial. Since this mode eliminates the need to recall a menu screen for sensitivity changes, the photographer can react more quickly to changing photographic conditions.



Shutter & Aperture-Priority mode:



Another exposure mode offered by the K10D is Shutter & Aperture-Priority AE (TAv) mode, which is designed to automatically select the most appropriate sensitivity for a user-selected shutter-speed & aperture combination.



Bright, clear viewfinder



Featuring a glass pentaprism, the K10D's viewfinder offers a 96-percent field of view and a 0.95-times magnification for easy viewing of the subject and effortless confirmation of focus and composition. Coupled with the acclaimed Natural-Bright-Matte II focusing screen, it delivers a large, bright subject image.



Auto sensitivity control up to ISO 1600



The K10D's auto sensitivity control function automatically sets the optimum sensitivity up to ISO 1600, based on such data as the subject's brightness level and the lens' focal length. Since this function allows the use of higher shutter speeds in poor lighting situations (such as indoor sports events and night scenes), it helps the photographer to effectively reduce camera shake and prevent blurred images. For specialized applications, the sensitivity can be set manually from ISO 100 to ISO 1600.



Continuous shooting at approximately 3 images per second



To trace the movement of an active subject or capture a sequence of the subject's expressions, the K10D offers a continuous shooting mode that allows the photographer to capture a series of images at a maximum speed of approximately 3 images per second. In the JPEG recording format, the user is allowed to take as many images in succession as wished, until the capacity of an SD memory card runs out, or in RAW mode up to 9 images at 3.0 fps.



Reliable shutter unit



The K10D's shutter unit is designed to withstand nearly

100,000 releases

, while assuring high-precision operation over the entire shutter-speed range — up to a top speed of 1/4000 second. It also features a flash synchronization speed of 1/180 second for more versatile flash photography.



11-point wide-frame AF



The K10D's sophisticated SAFOX VIII autofocus system features 11 sensor points (with nine cross-type sensors positioned in the middle) to automatically focus on the subject with utmost precision, even when it is positioned off center. The in-focus sensor point is automatically superimposed in red in the viewfinder for at-a-glance confirmation.



Extra-large, wide-view LCD monitor



The K10D incorporates an extra-large 2.5 inch color LCD monitor on its back panel. Its wide-view design allows the photographer to check the monitor image from 140 degrees both vertically and horizontally, ensuring effortless image viewing even from a diagonal position. With approximately 210,000 pixels, it also offers digital zooming of playback images up to 20 times for easy confirmation of the image's focusing status and details.



Compatibility with supersonic motor-driven lenses



The K10D is designed to be compatible with supersonic motor-driven autofocus lenses (currently under development), which are expected to provide smoother, quieter autofocus operation than conventional lenses.



Additional features:



- Choice of 16-segment multi-pattern metering, center-weighted metering and spot metering to accommodate various photographic applications
- High-rigidity stainless-steel chassis
- 32 custom functions to personalize camera operations
- Extended bracket function to capture three images of the same subject at different contrast, saturation, sharpness or white-balance levels
- Compatibility with conventional SD memory cards and newly introduced SDHC memory cards
- Choice of two preview functions (digital/optical)
- Simultaneous recording of RAW and JPEG images
- Manual fine adjustment of white balance
- Day-by-day folders to simplify the arrangement and search of recorded images
- Six built-in digital filters (Black-and-white, Sepia, Slim, Soft, Brightness and Color) for easy editing of recorded images