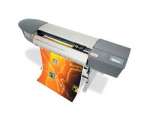 Photomart, one of the UK's leading online sellers of photographic equipment and supplies, expanded it's established wide-format range this month by becoming an authorized reseller for Colourgen, a distributor of wide-format hardware and consumables.
The move will see Photomart branch out into products such as the Kodak 1200i wide format printer, the Seiko LP-1010 wide-format scanner/printer, and an even wider range of Epson wide-format printers, inks and media. The company will also resell wide-format laminators, scanners and consumables, as well as software like RIPs and image manipulation programs, specifically for wide-format.
"

We have an existing base for this product category amongst photo labs, quick printers and copyshops

", Photomart MD, Lewis Martindale, said, "

We leveraged that to achieve success with our 'Photomart For Wide Format' campaign earlier this year. This new relationship with Colourgen will help us to consolidate that base, and should open avenues to the wider graphic arts and proofing markets.

"
Photomart staff have been attending training at Colourgen in preparation for selling the new wide-format products. Product supplied by Colourgen will start to appear on the Photomart website, www.photomart.co.uk , from the end of this month.