Portrait Professional 6 review
Home
news posted on October 16, 2007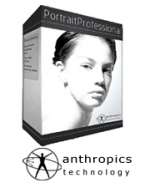 After exactly one year from my last review of Portrait Professional I was once again asked to do a review of Anthropics Technology Portrait Professional 6 MAX software. Last version that I've tested left me in a bit of surprise because I never believed that a piece of software can replace a professional retoucher so fast. That version had some issues that I thought had to be corrected and let's see did Anthropics developer team did everything right with the new version of Portrait Pro 6.

One of the biggest flaws in my opinion was that software needed a constant internet connection to the Anthropics servers because their servers did all the calculations on the photo. Now, in Portrait Pro version 6 things have changed. You don't need constant internet connection with their server anymore because all the calculations on the photograph are done by your computer.
Another thing that was missing was that there was no tool for manual touch up. In version 6 you have this tool with possibility to change brush size and opacity.
But, let us start from the beginning. Portrait Professional comes in two versions, Portrait Professional and Portrait Professional MAX. Only difference aside price is that MAX version gives support for 16 bits per color channel images and it reads RAW image files. On Portrait Professional web site you can download trial version of this software so you can try it and see if it matches your needs.
Installation is quite simple, you just enter your serial number and you can start working. I started testing on the version 6 but in the meantime Anthropics released version 6.1. This version has different start screen, it's a bit faster than the previous version and installation file is a bit larger. Start screen has a few sample photos and you can try to work on them if you don't have any portrait on your computer to work on. But then, you don't need Portrait Professional then, don't you? Beside this sample photos you have START button. After clicking on start you browse for photos on your computer that you'll be working on. Next step is to select the gender of the person that is on the photo.



Define a gender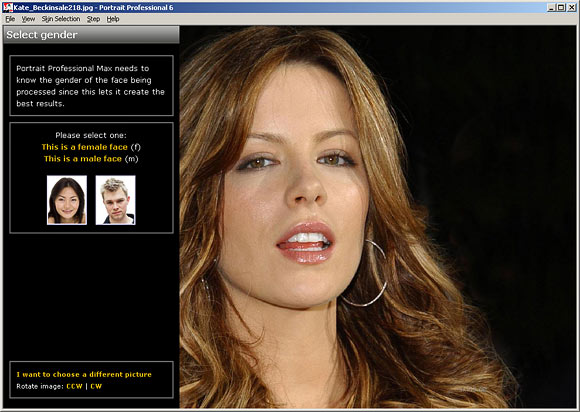 In next few steps you are supposed to define the face. You start by defining the left corner of the left eye, then right corner of the right eye, nose tip, left and right corner of mouth. After this you just have to make slight adjustments to some points on face that are needed for software to complete all the calculations.



Defining a points on a photo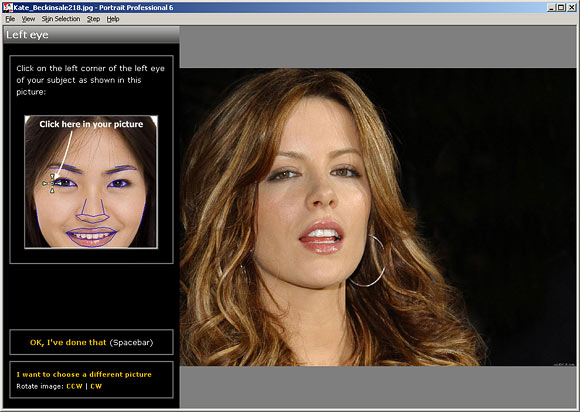 Slight adjustment of points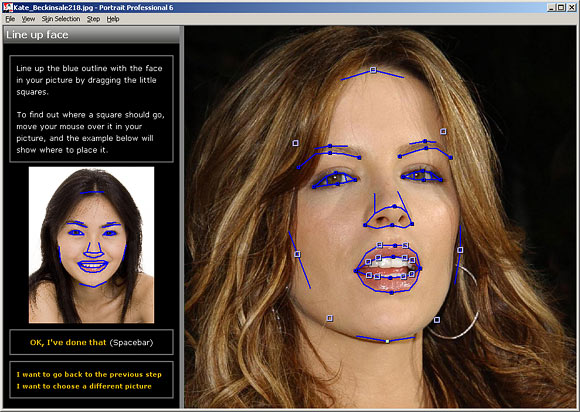 When you done this and press space you have to wait for a few moments for all calculations to be done (this is where the speed of your computer comes into play; slower the machine longer it takes to calculate everything, and just for you to know, 512 MB memory is recommended minimum). All this previous steps were here in the last version I tested and at this point I was a bit disappointed because nothing has changed. But next screen made my face smile.
This screen is divided into 2 halves. Left half contains Before photo and right After photo.



Before and after screen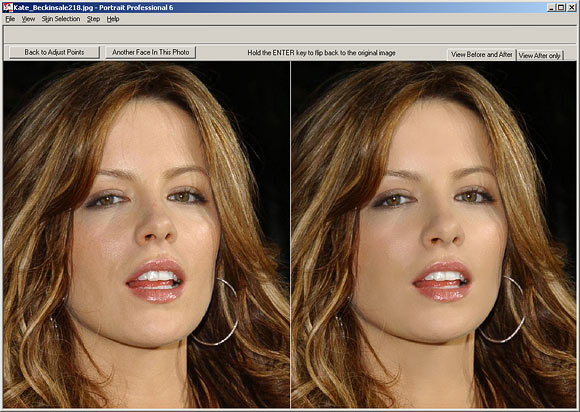 In almost 80% of cases program did great job on retouching without my help. But if you want to do touch up manually and to see how you can do the job you have many options at your disposal. Biggest palette is Slider palette. Here you have 6 groups of settings:
-

Face Sculpt


-

Skin


-

Eye


-

Mouth


-

Lightning


-

Picture





Slider palette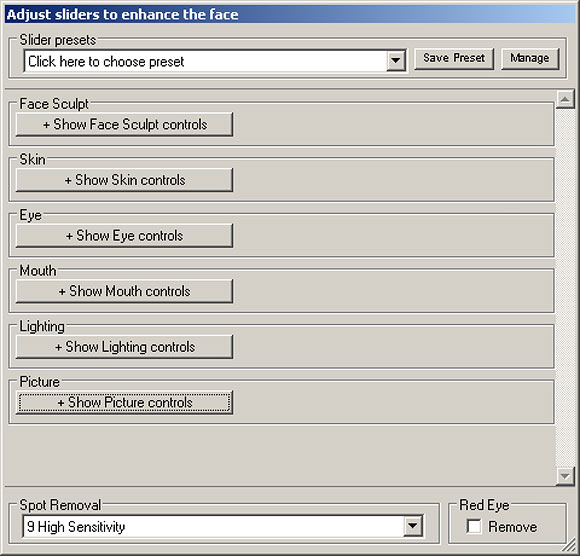 Face Sculpt


When you click on this button you are presented with many sliders. You can adjust head, jaw, nose, eyes and mouth shape. You can also alter face expression. While moving any of this sliders watch your right photo and you'll see what changes you making. Don't go to far, because if you go up to 100% change you can end up with terrible results.



Skin


In this section you work on skin. You can alter settings for skin imperfection, wrinkles, remove pores, add or subtract skin shine and as a bonus you can change skin tan



Eye


In this section you can change some of the eye "properties". You can whiten eye, change eye area and color of the eye.



Mouth


Quite simple section. Here you can change lip saturation, you can darken or lighten lip and change lip contrast and saturation.



Lightning


Change shadows/highlights or contrast



Picture


This is only "global" section of all because it affects whole picture. Set exposure, contrast, fill shadows, saturation and temperature.

On top of each section are 2 buttons and one slider wheel. With buttons you can turn off all values or set them to defaults if you went to far with changes. With slider wheel you affect all sliders in section in more natural way, so I suggest you try it before you touch any slider in that section.

When you finished with adjusting sliders you can save all the settings as the preset, or you can try on of 10 presets that are shipped with this software. On bottom of slider palette is Spot removal sensitivity and option to remove red eye.

In addition to slider palette Portrait Professional gives you tool palette with four tool groups which allows you more control over the face mask.
-

Blemishes


-

Skin selection


-

View


-

Image





Blemishes


In short with blemishes you can touch up some areas or restore original state of photo. You can choose Radius size of brush and opacity which gives you quite a control over the changes you intend to make.



Skin selection


Sometimes program "over selects" areas and you end up with background or person's shirt messed up. With this tool you can extend or cut back selection. When you click on any of those tools you can see how this program "sees" photo and areas it should retouch.



View


Simple group. Zoom in, Zoom out and Pan.



Image


Only one tool here, Crop.

Finally, you need to have in mind that the program works best when making subtle improvements. It can't make miracles but it can make photo retouching easy. There is one handier thing and that is that you can now add another face if there are more than one face in photo.
In video below you can see how easy is to retouch a photo and how long does it take.




Verdict


This version is a major step forward from the last version I tested. Some things that were missing then are now added in this version. It seems that developers were listening to users demands. Biggest minus in this version in my opinion is control of eye retouch. Eye selection is pretty rough and later fine tuning is difficult. Also you can't select and change iris color which is a little bit frustrating because you can't change it's color.
When I was testing Portrait Professional 3 I said that this program is not for professionals and that it can't match pro's work. This statement still stands but the difference between pro's result and program result is so small that I expect that maybe in next version of this program there won't be any difference. What amazed me is programs ability to differentiate what to remove and what not to, what are skin defects and what are pores, what are small wrinkles and what are big ones which should not be removed.
While testing this program I presented some photos retouched by this program to some of my colleagues. Almost all said that Photoshop can make better result but when asked to compare cost, speed and results of this program against cost of pro retoucher they all agreed that for the amateur or even semi pro usage this is the best solution on the market right now.

You can download trial version of Portrait Professional 6 at Portrait Professional download page. Portrait Professional cost

$59.95

and Portrait Professional MAX cost

$99.95

.

Digg this story |

del.icio.us |

Furl this story |

Netscape |
Recent news:
KoffeePhoto adds online photo backup service
Pentax DA 17-70mm f/4 AL [IF] SDM lens
Nikon introduces upgraded Capture NX 2 photo editing software
Silicon-Power Releases Its Touch 210/ 212 Series with 16GB capacity
SanDisk Launches Solid-State Drives Aimed at Ultra Low-Cost PCs
Win a free trip to Photokina with Think Tank Photo
RAID in the Size of a Single 2.5" Hard Drive - Sans Digital Compact Flash Enclosures
Silicon-Power Touch 610 flash disk
Nikon's Small World Contest leads the way
Silicon-Power launches the elegant new Ultima 150

All trademarks mentioned are the property of their respective owners.
Copyright 2006 Digital Photo News. All rights reserved.