Pretec i-Disk Micro Reader
Home
news posted on January 08, 2007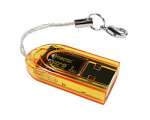 Pretec, the leading technology company of flash business who announced the world record of the highest capacity flash memory cards of CF card (16GB), USB Flash Drive (16GB), and SD card (8GB), has now released i-Disk Micro Reader, which not only stands up to Pretec's reputation of reliability and quality, but is also the smallest USB Micro SD card reader in the world.

Capable of reading Micro SD capacities from 32MB to 2GB and fully compliant with USB 2.0 specification, users of PRETEC i-Disk Micro can easily can share, copy or synchronize your favorite MP3's and other data, even ring tones on a PC or notebook through any standard USB port. i-Disk Micro Reader's cover is designed with rounded corners and edges to prevent scratches when carried around with a mobile phone or PDA. The clear see through window allows the user to easily identify the capacity of the Micro SD.

With more and more new models of hand held device having built-in Micro SD card slot (including cellular, PDA, MP3, DSC and notebook), Pretec i-Disk Micro Reader is ideally the best companion for today's mobile device. It's one of the smallest card readers in the world with stylish design and fast data exchange. Powerful file sharing functionality is definitely a must have accessory for your digital life.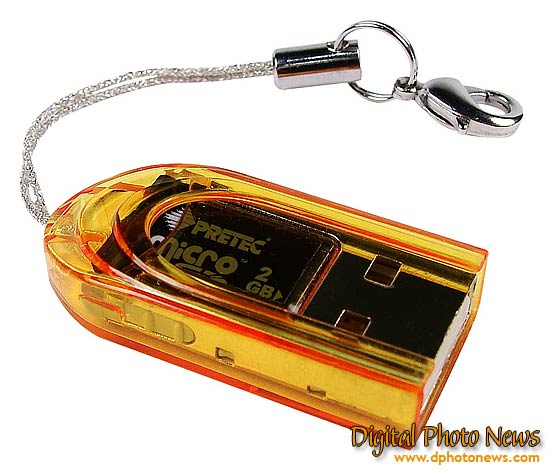 Pretec has also announced i-Disk Reader II/II Plus and 20-in-1 Card Reader at CES in Las Vegas. Both of these card readers can specially support the newest SD2.0 specification (SDHC Card). Pretec SDHC cards (SD 2.0) format differently than standard SD cards (SD 1.1) and are not backward compatible with legacy SD 1.1 host devices. Pretec 8GB SD card is fully compliant with SD 2.0 (SDHC) specification, with theoretical maximum capacity of up to 32GB.

Digg this story |

del.icio.us |

Furl this story |

Netscape |
Recent news:
KoffeePhoto adds online photo backup service
Pentax DA 17-70mm f/4 AL [IF] SDM lens
Nikon introduces upgraded Capture NX 2 photo editing software
Silicon-Power Releases Its Touch 210/ 212 Series with 16GB capacity
SanDisk Launches Solid-State Drives Aimed at Ultra Low-Cost PCs
Win a free trip to Photokina with Think Tank Photo
RAID in the Size of a Single 2.5" Hard Drive - Sans Digital Compact Flash Enclosures
Silicon-Power Touch 610 flash disk
Nikon's Small World Contest leads the way
Silicon-Power launches the elegant new Ultima 150

All trademarks mentioned are the property of their respective owners.
Copyright 2006 Digital Photo News. All rights reserved.