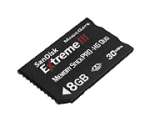 SanDisk Corporation today introduced the fastest card in its Memory Stick product family: the SanDisk Extreme® III Memory Stick PRO-HG Duo with read and write speeds of 30 megabytes (MB)1 per second. The card, available in June in 4-gigabyte (GB)1 and 8GB capacities, is ideal for professional photographers and advanced amateurs who use Sony digital single-lens reflex (SLR) cameras.

SanDisk and Sony jointly developed Memory Stick PRO-HG Duo as an extension of the existing Memory Stick PRO format, to offer faster read and write speeds for PRO-HG capable Sony digital SLRs, point-and-shoot cameras and digital camcorders.

SanDisk is unveiling the SanDisk Extreme III Memory Stick PRO-HG Duo at the PMA Australia 2008 Imaging Technology Show, where the company is exhibiting at Stand 401 in the Brisbane Convention & Exhibition Centre from May 30 to June 1.

"

The SanDisk Extreme III Memory Stick PRO-HG Duo continues our tradition of delivering best-in-class performance in the SanDisk Extreme product line,

" said Susan Park, director of consumer product marketing for SanDisk's performance cards. "

Our customers know SanDisk Extreme cards not only deliver cutting-edge read and write speeds, but are designed for durability – even under harsh conditions.

"



SanDisk Extreme III Memory Stick PRO-HG Duo card





SanDisk Extreme III cards are capable of functioning in extreme temperatures, from -13 to 185 degrees Fahrenheit or -25 to 85 degrees Celsius, and carry a lifetime warranty. The cards also come with RescuePRO™ software for recovering deleted images.



Pricing and Availability


SanDisk Extreme III Memory Stick PRO-HG Duo cards will be available worldwide in June. The manufacturer's suggested retail price for the 4GB card is US $89.99 and for the 8GB card is US $149.99.