Sigma 4.5mm F2.8 EX DC HSM Circular Fisheye lens
Home
news posted on November 15, 2007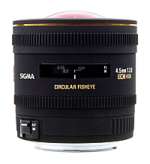 This autofocus circular fisheye lens has an angle of view of 180 degrees in all directions. It is exclusively designed for digital SLR cameras with the APS-C size image sensor. When used in conjunction with digital SLRs with APS-C size image sensors, it produces circular image within the frame.
- The first 180 degree circular fisheye lens designed specifically for APS-C size digital SLR cmaeras.
- THe fast F2.8 maximum aperture making it ideal for low light photography.
- Minimum focusing distance of only 5.3 inches(13.5 cm) and maximum magnification of 1:6.
- Special Low Dispersion( SLD) glass minimizes color aberration.
- Equipped with HypeSonic Motor HSM with full-time manual focus override.
- Equisolid angle projection method is possible for art and scientific use.
- Available for Sigma, Canon and Nikon Digital Cameras.

The F2.8 large aperture value produces a bright image in the viewfinder and allows photographers to take pictures in low light conditions, making it an ideal lens for Astrophotography and Aurora photography. Due to the quantifiable angle/area relationship it produces, this lens can be used for scientific and arts applications such as solid angle measurements of cloud distribution over the sky or vegetation distribution of the forest.
The minimum focusing distance of 13.5cm/5.3inch and maximum magnification of 1:6 make it particularly useful for close-up photography. SLD(Special Low Dispersion)glass provides effective compensation of chromatic aberration. Sigma's Super Multi-Layer Coating minimizes flare and ghosting. It is equipped with an inner focusing system that creates high definition and good image quality over the whole frame. The HSM(Hyper Sonic Motor)ensures fast and quiet autofocusing and allows full-time manual focus override by rotation of the focus ring.


Digg this story |

del.icio.us |

Furl this story |

Netscape |
Recent news:
KoffeePhoto adds online photo backup service
Pentax DA 17-70mm f/4 AL [IF] SDM lens
Nikon introduces upgraded Capture NX 2 photo editing software
Silicon-Power Releases Its Touch 210/ 212 Series with 16GB capacity
SanDisk Launches Solid-State Drives Aimed at Ultra Low-Cost PCs
Win a free trip to Photokina with Think Tank Photo
RAID in the Size of a Single 2.5" Hard Drive - Sans Digital Compact Flash Enclosures
Silicon-Power Touch 610 flash disk
Nikon's Small World Contest leads the way
Silicon-Power launches the elegant new Ultima 150

All trademarks mentioned are the property of their respective owners.
Copyright 2006 Digital Photo News. All rights reserved.