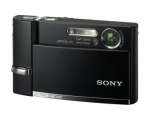 Sony CyberShot T50 is an update model for already existing model DCS T30. There are many similarities between these two models: they are priced almost equally; both have 7.2 MPx CCD sensors; image stabilization; a 3X optical f/3.5-to-f/4.3 zoom lens. Only visible difference is in LCD screen where T30 had 2.5 inches LCD screen and T50 have 3 inch touch-screen LCD. The Imaging Resource and CNet both reviewed this model.

The Imaging Resource reviewed Sony T50 and wrote:
"

The ultimate judgement will have to await a complete test of a production-level model, but the Sony T50 looks like another winner. I personally dislike the touch-screen interface, but have to acknowledge that a lot of people really like it, so don't take my word for it. Find one in a store someplace and play with it to see what you think of it yourself. (Or, if you already know you like touch screens, just click through to one of the retailers listed below and buy yourself one, at great internet prices. ;-) Touch screen bias aside, this looks like a great little digital camera, with a huge, beautiful LCD screen and great anti-shake technology built in. The slightly larger body also gives it better battery life and much better flash range than the similar T10 model. Based on what we saw in our casual usage of the Sony T50, it actually expands on the capabilities of the T10, which was awarded a Dave's Pick. On that basis, we'll make the T50 a Dave's Pick as well, conditional on our eventual full tests of it.

"
Read whole review at this address
See sample photos on Imaging resource

CNet reviewed Sony T50 and wrote:
"

Performance was fast. The time from pressing the power button to capturing its first image took 1.5 seconds, and the shot-to-shot time between subsequent images was also 1.5 seconds without flash, jumping slightly to 2.1 seconds with the flash turned on. The shutter lag measured 0.5 second in our high-contrast test, and 1.5 seconds in low-contrast conditions. Continuous shooting clocked in with 1.3fps when capturing VGA-size JPEGs, and 1.4fps when capturing 7.2-megapixel JPEGs. If you like its touch-screen interface, then Sony's Cyber Shot DSC-T50 is a great choice in a pocket camera. If you'd rather stick with time-tested, old-fashion controls, then Sony's DSC-T30 offers everything this camera does and is just as great a choice. We suggest you go to a store and try this camera alongside the T30, if possible, before buying, though both can produce beautiful images, especially in decent lighting conditions.

"
Read whole review at this address



Press release


It's easy to pocket your screen gems and dazzle audiences with Sony's new Cyber-shot® DSC-T50 and DSC-N2 digital cameras, featuring three-inch touch-screen displays and built-in slide show capability.
The new models' extra-large screens with intuitive menu options allow for less physical buttons on the camera bodies, resulting in a sleeker design. They also incorporate Sony's Clear Photo Plus LCD technology for higher resolution (230K), higher contrast and optimal viewing from various angles.
You can use your photos to craft dynamic, personal narratives with in-camera slide shows – complete with your own music and transition effects such as pans, wipes and fades.

"

With digital photography, the social interaction that happens when people share their pictures has become as important as making great photographs,

" said Phil Lubell, director of marketing for digital still cameras and photo printers at Sony Electronics. "

Large, durable, scratch-resistant touch screens with enhanced photo-viewing capabilities are a means to ensuring that photo buffs get the maximum enjoyment out of using their cameras.

"



High-Tech Features for Creative Sharing


The ultra-slim and stylish DSC-T50 model is the new top-of-the-line camera in the T-series. It is equipped with a seven-megapixel CCD imager, a Carl Zeiss® Vario Tessar® 3x optical zoom lens, and 56 MB of internal memory. This camera shines with its performance and looks, shipping in bold red, black and silver. With pictures stored on an optional four-gigabyte Memory Stick Duo™ or Memory Stick PRO Duo™ media cards, the camera can play back more than 1,100 high-resolution images in slide show mode.
The elegant DSC-N2 camera debuts in champagne gold and is a ten-megapixel powerhouse with an extending Carl Zeiss® Vario Tessar® 3x optical zoom lens. With its built-in photo album function, this model can be a photo diary in your pocket, loaded with up to 500 of your favorite images.
Every time you snap a picture, the DSC-N2 model will store a full-resolution image on the optional media card or in the camera's 25 MB of internal memory. Additionally, it automatically resizes that same image in VGA resolution and stores it in a portion of the camera's internal memory dedicated to pocket album. No matter how many pictures are offloaded from the media card, you can choose to protect the images you want to keep and, over time, you have a collection of your favorite shots in the camera.
Taking great photos with the DSC-T50 and DSC-N2 cameras will be as enjoyable as sharing them. With shutter lag reduced to milliseconds, you can snap away until the whole story is told. Sony's Real Imaging Processor® circuitry delivers fast response times and helps to prolong the life of the cameras' supplied Stamina® InfoLithium batteries -- up to 400 shots per full charge for the DSC-T50 model and 300 shots per full charge for the DSC-N2 camera.



Blur the Storylines, Never the Photos


These new models feature blur reduction technologies to help you get the shots you want, even in some of the most challenging conditions.
The Cyber-shot DSC-T50 camera offers Super SteadyShot® optical image stabilization to minimize blur caused by shaky hands. Both of the new models incorporate high light sensitivity, up to IS0 1000 for the DSC-T50 camera and IS0 1600 for the DSC-N2 model, to facilitate shooting without blur at faster shutter speeds– a necessity when capturing fast-moving subjects or taking photos in low-light environments.



Print and Share


You can spark your audience's imaginations even further with one of Sony's print and share solutions. Tell your story one snapshot at a time, from the convenience of your own home, with the Sony DPP-FP55 photo printer. Or, order multiple digital prints at www.imagestation.com, have them delivered to your home or pick them up at retail, and weave a yarn that's sure to impress your family and friends.
The Cyber-shot DSC-T50 camera ships in October for about $500. Optional accessories include the HVL-RLS ring light, used for close-up shots, for about $100, NP-FR1 InfoLithium® battery, and LCJ-THA leather carrying case for about $40.
The DSC-N2 model also hits stores in October for about $450. Optional accessories include the MPK-NA marine pack for about $200, NP-FT1 InfoLithium® battery for about $50, and LCS-NA leather carrying case for about $50.
It will be available online at sonystyle.com, at Sony Style® retail stores (www.sonystyle.com/retail), and at authorized dealers nationwide. Pre-orders begin on Sept. 12 at www.sonystyle.com/T50 and www.sonystyle.com/N2.