The World's Largest Telephoto Lens
Home
news posted on September 30, 2006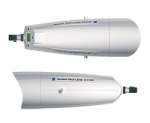 Never before has the world of photography seen such a lens. The ZEISS Apo Sonnar T* 4/1700 was developed by Carl Zeiss for a customer with very high demands and a special interest in long distance wildlife photography. To achieve the highest possible image quality, the customer decided on the Hasselblad 203FE 6x6cm medium format camera and ZEISS lenses as the best combination for his special needs.
At a focal length of 1700mm and a speed of f/4, this project even challenged the manufacture of the optical glass. The delicate, special glass types required for this unique design had never been cast before in such huge dimensions. Some of the resulting lens blanks weighed more than 25 kg (55 lbs.) and were valued more than a luxury sedan! Turning these blanks into the finished lens elements added even more to their value.



The design of the ZEISS Apo Sonnar T* 4/1700 required new lens assembly techniques and quality assurance methods never before applied in photo lens production – even by Carl Zeiss' normally high standards. The finished lens weighs a staggering 256 kg (564 lbs.), placing unique demands on the focusing mechanisms. To address this issue, Carl Zeiss developed a totally new way of operating a telephoto lens, including servo controlled aiming and focusing systems like those used in large telescopes and similar instruments for astronomical scientists.
Drawing from its expertise in developing and producing satellite and space optics, as well as ultra-high resolution microlithography lenses for semiconductor fabrication, Carl Zeiss was happy to accept this challenge.
The resulting Carl Zeiss Apo Sonnar T* 4/1700 lens consists of 15 optical elements in 13 groups. It is the largest telephoto lens ever produced for civilian photographic purposes and a testament to the precision design and manufacturing capabilities at Carl Zeiss.



Digg this story |

del.icio.us |

Furl this story |

Netscape |
Recent news:
KoffeePhoto adds online photo backup service
Pentax DA 17-70mm f/4 AL [IF] SDM lens
Nikon introduces upgraded Capture NX 2 photo editing software
Silicon-Power Releases Its Touch 210/ 212 Series with 16GB capacity
SanDisk Launches Solid-State Drives Aimed at Ultra Low-Cost PCs
Win a free trip to Photokina with Think Tank Photo
RAID in the Size of a Single 2.5" Hard Drive - Sans Digital Compact Flash Enclosures
Silicon-Power Touch 610 flash disk
Nikon's Small World Contest leads the way
Silicon-Power launches the elegant new Ultima 150

All trademarks mentioned are the property of their respective owners.
Copyright 2006 Digital Photo News. All rights reserved.