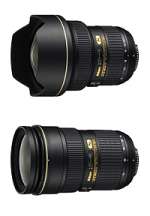 Nikon announced two new high performance Nikkor lenses that offer remarkable sharpness, clarity and contrast. The new AF-S Nikkor 14-24mm f/2.8G ED lens is one of the fastest 14mm ultra-wide angle zoom lenses available today while the new AF-S Nikkor 24-70mm f/2.8G ED lens is a highly versatile lens ideal for a broad range of applications and lighting conditions. While designed for use with either of Nikon's FX and DX format digital SLR cameras, these new lenses truly maximizes the potential of Nikon's recently announced D3 FX-format professional digital SLR camera. Combined with Nikon's venerable AF-S Nikkor 70-200mm f/2.8G ED VR, these new lenses now offer professional photographers the ideal three-lens solution with a constant f/2.8 aperture across all three lenses.

"

The AF-S Nikkor 14-24mm f/2.8G ED represents one of Nikon's best optical designs with performance that rivals that of prime lenses. And we anticipate the AF-S Nikkor 24-70mm f/2.8G ED will become very popular among professional photographers due to its remarkable versatility and optical performance. Both lenses maintain an astounding level of sharpness from the center of a picture to its edges and corners throughout their zoom range,

" said Edward Fasano, general manager for Marketing, SLR Systems Products at Nikon Inc. "

Nikon produced its 40 millionth lens during the summer of 2007 and the introduction of these new lenses is a wonderful example of why Nikkor lenses have been so successful.

"



Nikkor AF-S 14-24mm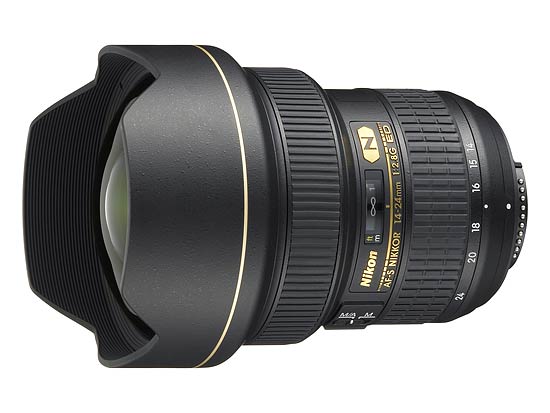 Optical Innovations for Outstanding Image Quality


The two new lenses feature a variety of Nikon innovations that address the needs of professional photographers from a standpoint of focal length versatility and optical performance. Both lenses feature optical designs that incorporate ED (Extra-low Dispersion) glass elements for minimal chromatic aberration, and aspherical lenses including large-diameter PGM (Precision Glass Molding) elements to reduce coma and other types of aberration even at the widest aperture. Both lenses benefit from Nikon's exclusive Nano Crystal Coat – an extra-low refractive index coating that virtually eliminates internal lens element reflections across a wide range of wavelengths, and is particularly effective in reducing ghosting and flare. The lenses also feature Nikon's highly regarded Silent Wave motor (AF-S) that provides super fast and quiet auto focus operation. The result of all these innovations produces images that are vivid, sharp and deliver optimum contrast.

The AF-S Nikkor 14-24mm f/2.8G ED lens is highly versatile and can be ideal for a range of different photographic applications. Photojournalists can tell the entire story with a single shot, interior photography can be done without fisheye distortion, or a breathtaking landscape can be captured in one frame.



Nikkor AF-S 24-70mm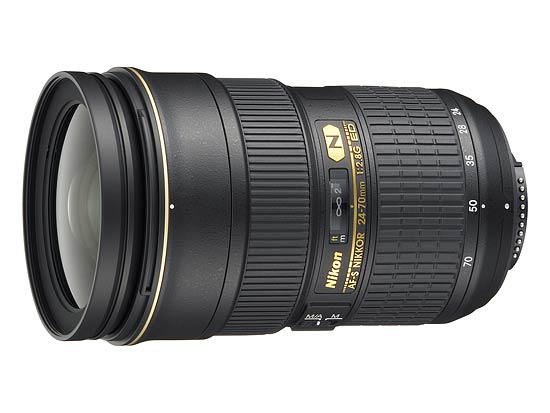 The AF-S Nikkor 24-70mm f/2.8G ED is a highly practical and multi-talented lens that allows photographers to photograph anything from tight portraits to expansive landscapes with just one high-performance fast aperture lens.



Pricing and Availability


Both lenses will be available beginning in November 2007. The estimated selling price* for the AF-S Nikkor 14-24mm f/2.8G ED lens will be $1,799.95, and the estimated selling price* of the AF-S Nikkor 24-70mm f/2.8G ED will be $1,699.95.



* Estimated selling prices listed are only an estimate. Actual prices are set by dealers and are subject to change at any time.