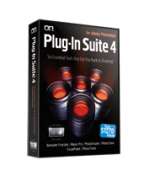 onOne Software announces Plug-in Suite 4 software for Adobe Photoshop. Available in early May, onOne Software's Plug-In Suite 4 combines full versions of six essential software tools — Genuine Fractals 5 Print Pro, PhotoTools 1.0 Professional Edition, PhotoFrame 3.1 Professional Edition, Mask Pro 4.1, PhotoTune 2.2 and FocalPoint 1.0 — an affordable combination that includes everything a photographer needs to make their images look their best.

The onOne Software Plug-In Suite 4 for Photoshop CS2 and CS3 is the latest upgrade to the award winning Plug-In Suite product line that combines several of onOne Software's individual Photoshop plug-ins into a highly affordable package.

"

We are pleased to be able to offer this affordable full suite of onOne Software products to the photographic and graphic arts communities,

" said Craig Keudell, president of onOne Software. "

Plug-in Suite 4 contains all the tools needed to quickly and easily improve workflow and overall image quality at a tremendous savings.

"



Plug-In Suite 4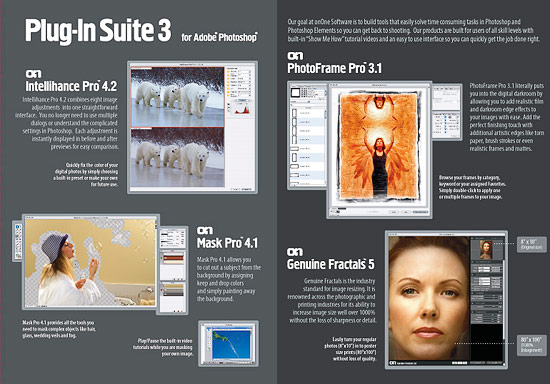 Plug-In Suite 4 includes full versions of the following onOne Software products:



Genuine Fractals 5 Print Pro

can resize digital images over 1,000% with no loss of detail or sharpness. It allows poster-sized prints to be made from almost any image.


PhotoTools 1.0 Professional Edition

is a flexible yet powerful Photoshop plug-in that utilizes the power of Photoshop Actions to provide a complete library of effects created by Kevin Kubota and Jack Davis. These effects may be previewed, stacked and blended together just like filters over a camera lens to improve creativity. Its built-in batch processing engine improves photographers productivity.


PhotoFrame 3.1 Professional Edition

can be used to create stunning border and edge effects right out of the darkroom. Select from thousands of edges, including authentic film and artistic mediums.


Mask Pro 4.1

can easily create high-quality masks and selections even from tough subjects like hair and glass, making it easy to place a subject in a new background.


PhotoTune 2.2

is a plug-in that provides professional quality color correction in an easy to use plug-in.


FocalPoint 1.0

is a new plug-in that simulates selective focus or tilt-shift lenses, helping photographers selectively blur and/or vignette an image to focus the viewers attention.

The new Plug-In Suite 4 will be available in early May to new users for $499.95 - a savings of $799.75 if purchased separately. Existing users of Plug-in Suite version 1, 2 or 3 can upgrade to Plug-In Suite 4 for only $199.95. Customers who own any one or more of the products in Plug-In Suite 4 will be able to upgrade as well. For more information on the Plug-In Suite 4, please visit http://www.ononesoftware.com.