Make film role using Diplacement Map



Step 1
Create new image, size 800px by 300px.
Make new layer and call it "film". Pick marquee tool, select STYLE - FIXED SIZE and enter value of 800px for width and 150px for height. Now click on "film" layer. This will make a selection. Pick Bucket tool, select color (I used #a54702) and fill in the selection. Click "film" layer, hold SHIFT and click on Background layer. Align these two layers by choosing Align vertical centers.
Step 2
Now we have to make holes on the edges of film.
Make new layer called "holes". Go to the shapes tool and select Rounded rectangle tool.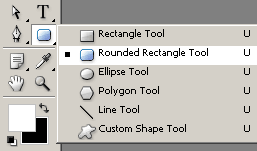 For the radius value type in 2 px, mode Normal. For the color use black. Draw rectangle on the "holes" layer. Now comes tricky part.
Press CTRL on the keyboard and click on "holes" layer. This will select this layer. Now go to the EDIT - DEFINE BRUSH PRESET. Name this brush as you like (I've named it dphotonews brush).



Click OK. Now we have our own brush. You can now deselect CTRL + D and delete "holes" layer.
Step 3
Now make new layer and name it "film holes". Click on brush tool (B) and then select brush that we made (as I said I've named it dphotonews brush). Go to the properties menu for the brush



click on the Brush Tip Shape and in the Spacing dialog enter value of 180% and diameter of 12px.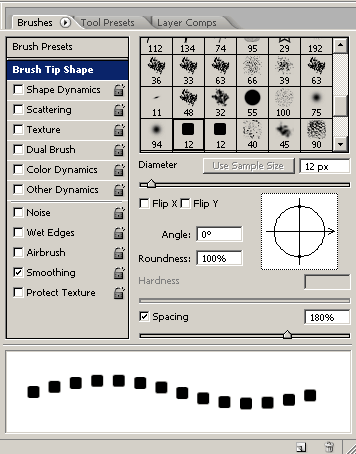 Now select Pen Tool (P)



and on the "film holes" layer draw straight line near the upper edge (you'll make this by holding down SHIFT after clicking the first point). Select Foreground color to be white. Go to the Path palette and select STROKE PATH.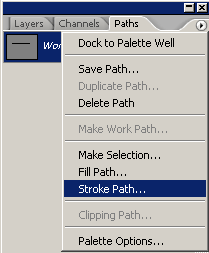 Select brush, deselect Simulate pressure and click OK.



Now hit DEL on the keyboard twice. This will delete path.
Step 4
Go to the Layers palette and copy "film holes" layer. You'll do this by pressing CTRL + J on the keyboard. Now move the copy of the layer on the other edge of film. Now we have film role.
Now we have to add some pictures on the film. But first let's make guides so that we have easier task on adding this pictures later.
Go to the VIEW - NEW GUIDE and select Horizontal and enter value of 100px. Repeat this step once more but enter value of 195px. Now we have two guides.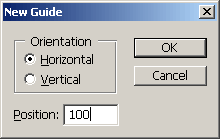 Go to the FILE - OPEN and open a couple of pictures. Scale down the size of the image (you can go to the IMAGE - IMAGE SIZE or just press CTRL + ALT + I). I used height of 95 px. Select Move tool (V) and drag this pictures on our project. Use these guides to position them as you see fit.
Click "film holes" layer, hold CTRL and click again on that layer. This will select holes. Now click on "film" layer and press DEL on the keyboard. Deselect and delete "film holes" layer. Do the same procedure with "film holes copy". Also delete it.
Now select top layer, hold down SHIFT and click on "film" layer. Merge these layers by pressing CTRL + E. Make that new layer "film". Now clear guides (VIEW - CLEAR GUIDES).
Step 5
Now we have to make waving effect. First make new document by pressing CTRL + N or go to the FILE - NEW. Dimensions of new image are the same as our working project, so make them 800px by 300px.
Make new layer and pick Gradient tool. Click to edit gradient,



select Black,White and add some points as I did.


Click OK. Now make gradient on previously made layer. We have to blur it now so go to the Blur menu and select Gaussian Blur. Enter value of 40 for blur. Save this document as PSD file somewhere you can find it later. Name it "displace". Close this document.
Now we are back to our original project. Click on the "film" layer, go to the FILTER - DISTORT - DISPLACE and select values as I did.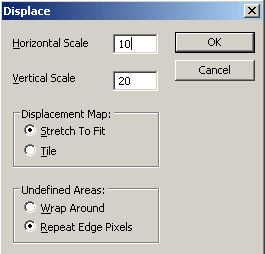 Click OK. You'll be asked to choose Displace Map. Find and select our displace.psd file. Click Open.
Now we'll scale down the size of this layer by pressing CTRL + T.
For the end, you can add some layer effect like Drop shadow or you can experiment with something else. And here is our final picture




See you!

author of this tutorial is Vladimir Markovic

Some FAQ's

May I publish your tutorial(s) on my website?

NO - DEFINITELY MAY NOT! I don't mind, of course, any form of back link to Digital Photo News tutorials section, but taking any one of the tutorials whole and supplanting it on your website is theft. If you really like the tutorials and want to advertise them, why not just hyperlink directly to their URL?

Is it possible to submit some of my own tutorials?

Yes! I love to add new and original tutorials to ever-growing database! If you would like to submit a tutorial, fill in the contact form with as much detail as you can manage and we'll get back to you with details. There's no need to stick to a specific format when submitting, as we will do all the boring work for you if needed... and fully credit you as the author on your tutorial pages if your submission is accepted.

Can I request a tutorial?

Of course you can! I make no guarantees i'll be able to get around to your specific tutorial in any given timeframe, but I listen to audience, and if there is demand out there for a guide to a specific technique/effect, I'll be only too glad to offer my assistance. Just ask via the contact form.