Half wire model
Transform this photo into this one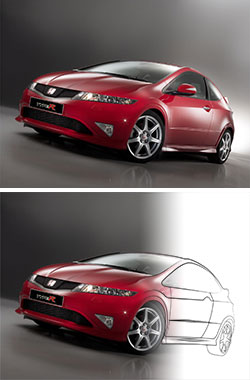 Step 1
Open our photo (you can download original from here)
Step 2
Copy "background" layer to a new one (CTRL + J) and name it "copy"
Step 3
Now you have to create two new layers so press CTRL + SHIFT + N and then OK twice. First of those two layer should be named "white" and the second one "wire frame". Click on the "white" layer and fill it with white (there are few ways of doing this, a prefer pressing D and then CTRL + BACKSPACE; you can also go to Paint Bucket tool select white and fill in the layer).
Step 4
Click on the "wire frame" layer and hide "white" layer by clicking on the eye icon in front of it.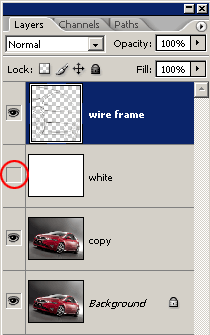 Now we see our car model. Now we have to start drawing paths on then stroke them on "wire frame" layer, but only on the right half of the photo. So, go to VIEW - NEW GUIDE, select vertical and enter a value that is approximately half of photo width. This guide will be our starting point from now. Zoom in on the car, pick Pen tool (P) and draw path over the edge of the car. This process is slow so take your time because more time you spend in drawing paths final result will be better. For this line on image below a draw a path from our guide to the back of the car.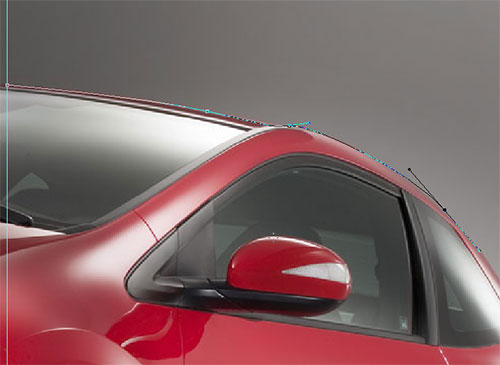 Then I picked brush tool, set size to 3, click Brush options menu and set values as shown on images below.


HINT: Note that value in red. With Fade turned on this value represent how many pixel would our line be long. You can experiment with this value for different lines

Next I clicked Path palette, clicked Stroke Path, choose Brush Tool and clicked OK.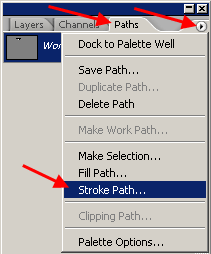 And there is our first line. Now follow other lines, draw path over them and again stroke path. You can change brush size and change Shape Dynamics - Control: Fade to OFF and then you won't have this fade and the line will have same size on both ends. When you finish you should have wireframe like this.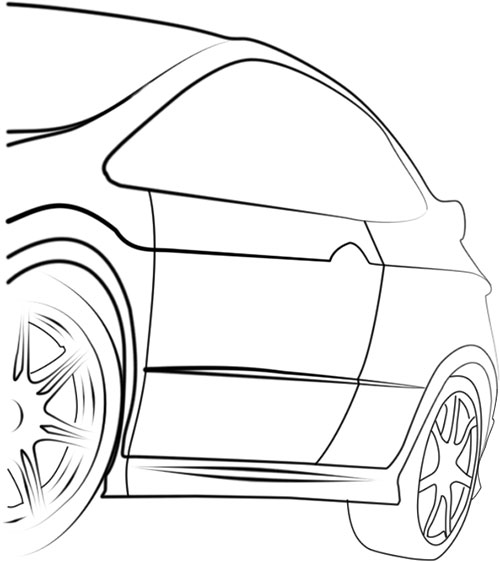 Step 5
Click on "white" layer and unhide it. Click on Add Layer Mask to add layer mask to "white" layer. Click on the mask, pick Gradient tool, select black to transparent and then draw gradient as I did on the picture below.

Step 6
Click on "wire frame" layer and add layer mask on this layer also. Once again click on the mask then pick gradient tool (same settings as in the previous step) and draw gradient as I did on the picture below.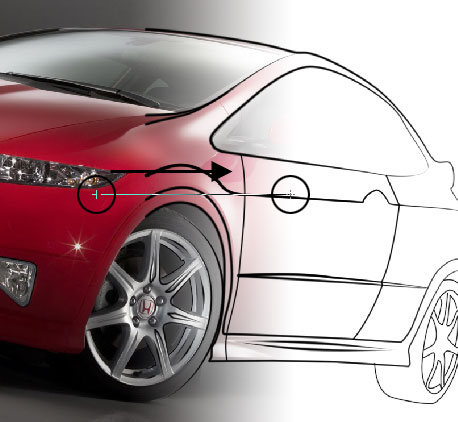 You can optionaly play with opacity of layers.
And the final photo: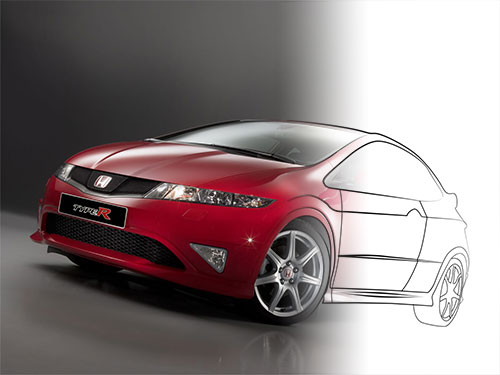 See you!

author of this tutorial is Vladimir Markovic


Some FAQ's
May I publish your tutorial(s) on my website?
NO - DEFINITELY MAY NOT! I don't mind, of course, any form of back link to Digital Photo News tutorials section, but taking any one of the tutorials whole and supplanting it on your website is theft. If you really like the tutorials and want to advertise them, why not just hyperlink directly to their URL?

Is it possible to submit some of my own tutorials?
Yes! I love to add new and original tutorials to ever-growing database! If you would like to submit a tutorial, fill in the contact form with as much detail as you can manage and we'll get back to you with details. There's no need to stick to a specific format when submitting, as we will do all the boring work for you if needed... and fully credit you as the author on your tutorial pages if your submission is accepted.

Can I request a tutorial?
Of course you can! I make no guarantees i'll be able to get around to your specific tutorial in any given timeframe, but I listen to audience, and if there is demand out there for a guide to a specific technique/effect, I'll be only too glad to offer my assistance. Just ask via the contact form.