Correction of a lightning photo
Transform this photo into this one



When you are taking photos of a lightning with a cheap digital camera photos tends to be noisy and over/under exposed because it is very hard to determine what the right settings of exposure and shutter are. So here is the simple way how to correct lightning photo from one that is bad exposed and noisy to one that is perfectly exposed and noise-free.
Photoshop itself has Noise reduction filters but often I don't get the right result with it. That is why I use Noise Ninja or Neat image for noise correction, particularly in these low light conditions.
Step 1
Open our lightning photo (you can download this one from here).
Step 2
Copy our "background" layer to a new one (press CTRL + J on the keyboard) and name this new layer "copy"
Step 3
Our photo is badly exposed so we have to adjust levels on the photo. So, go and click on the Create new adjustment layer and select Levels. Adjust values as I did on the picture below.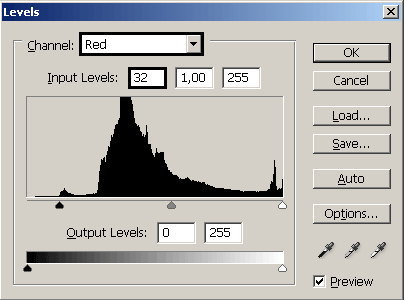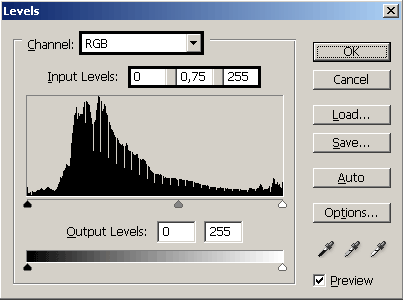 Step 4
Now we have to make adjustments to colors on the photo so click on Create new adjustment layer, select Color balance and set values as I did.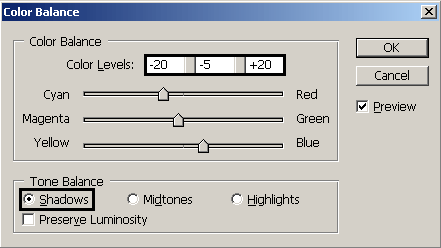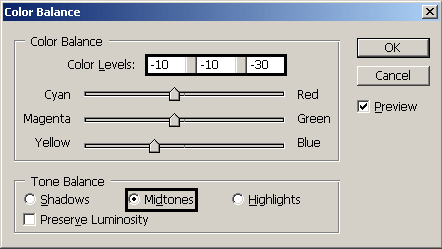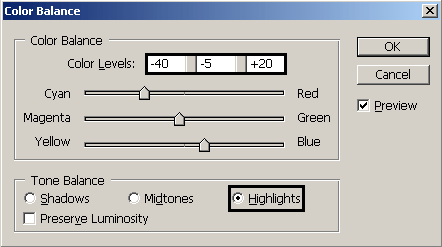 Step 5
Lets concentrate on the lightning itself. We have to add more dramatic to scene. So copy this last layer (from previous step) using CTRL + J on keyboard or drag and drop this layer onto Create new layer from Layers palette. Now double click on this layer and only thing that you have to change is to turn ON Preserve transparency button.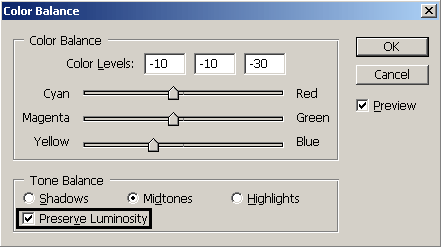 Now you have to fill this layer's mask with black (two ways to do this; press D on keyboard and then CTRL + BACKSPACE or pick Paint bucket tool, select black as color and fill in the mask). Now pick Brush tool, zoom in on the lightning, select some medium size brush, set opacity to around 10-20% and start painting over the lightning several times. Concentrate on the point where lightning has left the cloud.
Step 6
Last thing that we have to correct on this photo is the town on the bottom of the photo. Easiest way to do this is by using Brightness/Contrast. So once again go and click Create new adjustment layer and select Brightness/Contrast, fill the mask with black. Now pick the brush tool, medium size brush, white color and paint over the town. You can work on the clouds but remember to lower the opacity of the brush. I used very small opacity, 5%. This is how the mask looks like when I finished working on it.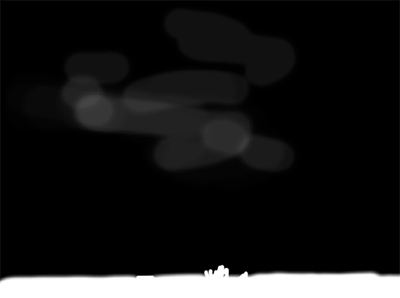 Step 7
Merge all layers and apply Sharpen filter, FILTER - SHARPEN - SMART SHARPEN and set these values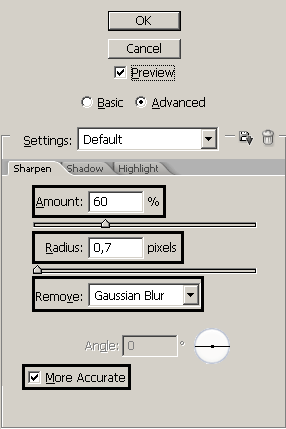 And the final image looks like this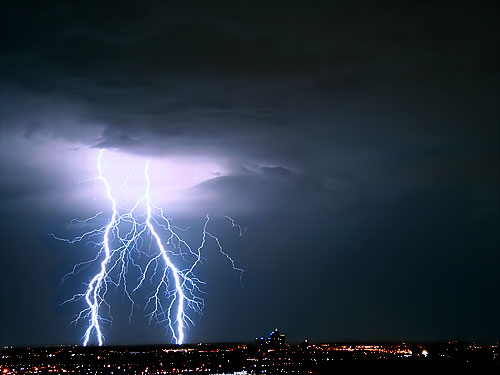 See you!

author of this tutorial is Vladimir Markovic


Some FAQ's
May I publish your tutorial(s) on my website?
NO - DEFINITELY MAY NOT! I don't mind, of course, any form of back link to Digital Photo News tutorials section, but taking any one of the tutorials whole and supplanting it on your website is theft. If you really like the tutorials and want to advertise them, why not just hyperlink directly to their URL?

Is it possible to submit some of my own tutorials?
Yes! I love to add new and original tutorials to ever-growing database! If you would like to submit a tutorial, fill in the contact form with as much detail as you can manage and we'll get back to you with details. There's no need to stick to a specific format when submitting, as we will do all the boring work for you if needed... and fully credit you as the author on your tutorial pages if your submission is accepted.

Can I request a tutorial?
Of course you can! I make no guarantees i'll be able to get around to your specific tutorial in any given timeframe, but I listen to audience, and if there is demand out there for a guide to a specific technique/effect, I'll be only too glad to offer my assistance. Just ask via the contact form.