Subtract a decade of someone's age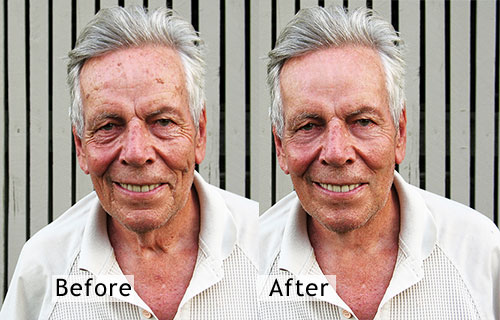 Retouching of someone's face is very often in my everyday work. You can easily fix some things that are almost impossible in real life. You can change color of eyes, you can make eyebrows thinner or thicker, you can change someone's skin color, make teeth whiter.... But ultimate challenge is to unite all of this effects to make someone look 20 years or younger. Let us see how we can make this step by step.
Step 1
Open photo of a face you want to retouch (you can download our photo here)
Step 2
First thing that you want to do is to carefully observe face and to try to identify areas that you want to correct. So, go and copy "background" layer using CTRL + J on the keyboard. Name new layer "notes". This is not obligatory step; I just do this so I can have end goal in my head. You can see in the picture below how this looks like.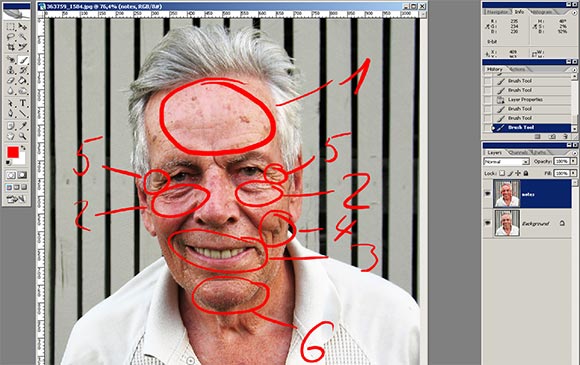 Step 3
Now, when we have identify areas that we have to alter let's get to a real work. Click on the "background" layer and copy this layer by pressing CTRL + J. Now, name this layer "start_point". After this you have to drag this layer above "notes" layer. You can now make "notes" layer non visible by pressing eye icon near "notes" layer image.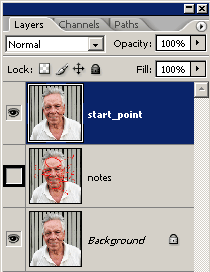 Why we are doing this? One and only answer is that we can very easy return to "notes" layer and see next step by pressing and holding ALT and then clicking on the eye icon. By doing this all other layers becomes invisible and "notes" layer is the only one visible. To return just repeat procedure (ALT + left click on eye icon).
Step 4
Forehead correction. Make new empty layer (ALT + CTRL + SHIFT + N). Name new layer "forehead". Pick Zoom tool (Z on the keyboard; another shortcut is to press and hold Space + CTRL) and zoom in the forehead. We have to remove those wrinkles and moles. There are several techniques but easiest is combined usage of Patch tool and Healing brush tool. Go and pick Patch Tool (J) and start removing moles.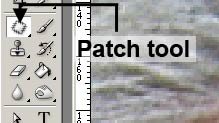 First click on "start point" layer, select around mole and then drag area to a place near the mole where the skin is "clear".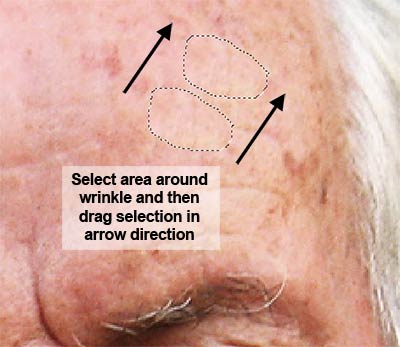 After you have finished with removing moles change your tool and pick Healing Brush tool. Usage is almost the same but with this tool you have to first pick spot from where you are copying. One more thing worthy of mentioning; with Healing brush tool you can make changes to another layer, in our case we are going to make changes of skin on the empty layer "forehead" so we can later in our work change this layer and its opacity. So, click on "forehead" layer, make sure that Aligned is selected, press ALT and pick that spot. Then drag your brush over the wrinkle. Repeat this until you clean whole forehead.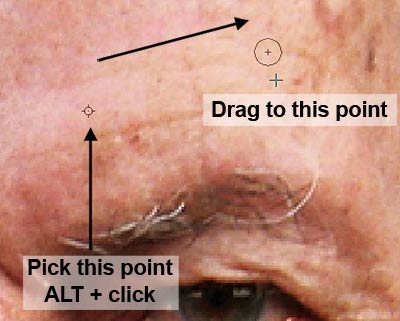 When done change opacity of "forehead" layer to around 50%.
Step 5
Next is correction of dark circles under eyes. Make new layer (CTRL + SHIFT + ALT + N) and name it "under_eyes". Pick Healing Brush tool (J) and start removing wrinkles under both eyes. Use the same approach as described in the previous step. When finished set opacity for this layer to 50%.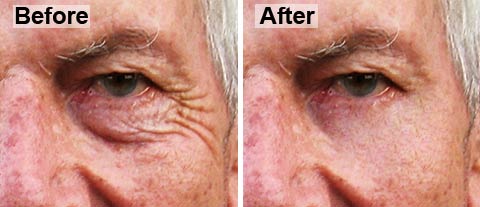 You can use another value and by doing this you make face younger or less.
Step 6
Whitening teeth. Really a simple step. Make new layer and name it "teeth". Set layer Blending mode to Soft Light. Then pick a brush, soft round, and start painting over the teeth. Try to avoid painting over the area in between the teeth. When finished change the opacity of brush to around 30% and paint over areas in between the teeth. Finally, go to FILTER - BLUR - GAUSSIAN BLUR and set blur value to be somewhere in between 0.5 and 1. Set layer opacity to 40%.
Step 7
Now to the left cheek. Make new layer and name it "left_cheek". Zoom in on the left cheek and remove that mole and wrinkles using Healing Brush Tool.
Step 8
In this step we have to correct skin on the chin. Once again make new layer, call it "chin". Pick Healing Brush tool and remove those wrinkles on chin. Set opacity of this layer to 80%
Final photo looks like this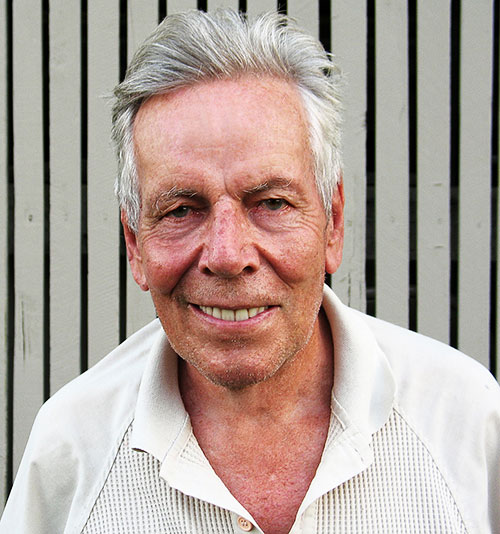 See you!

author of this tutorial is Vladimir Markovic


Some FAQ's
May I publish your tutorial(s) on my website?
NO - DEFINITELY MAY NOT! I don't mind, of course, any form of back link to Digital Photo News tutorials section, but taking any one of the tutorials whole and supplanting it on your website is theft. If you really like the tutorials and want to advertise them, why not just hyperlink directly to their URL?

Is it possible to submit some of my own tutorials?
Yes! I love to add new and original tutorials to ever-growing database! If you would like to submit a tutorial, fill in the contact form with as much detail as you can manage and we'll get back to you with details. There's no need to stick to a specific format when submitting, as we will do all the boring work for you if needed... and fully credit you as the author on your tutorial pages if your submission is accepted.

Can I request a tutorial?
Of course you can! I make no guarantees i'll be able to get around to your specific tutorial in any given timeframe, but I listen to audience, and if there is demand out there for a guide to a specific technique/effect, I'll be only too glad to offer my assistance. Just ask via the contact form.